As an electric utility, we know how valuable electricity is to you in almost every part of your life. Electricity is a powerful tool, but we also know how important it is to be safe around electricity. In our power plants, along our transmission lines and in our electrical substations, our employees are focused on electrical safety, just as you are in your homes and businesses.
Electricity is also a powerful force of nature, and there's no better demonstration of that power than what we see in the spring and summer lightning season.  If you've spent some time on the plains or in the mountains across the West, where electric cooperatives serve, you know all about spring and summer storms. Especially noteworthy are the intense storms that begin in March and can last into May. For those who enjoy outdoor activities during this season, it is especially important to be aware of the dangers and take precautions while camping.
We just can't think about safety inside, as hikers, campers, and others who participate in outdoor recreation are among the highest group of lightning storm-related deaths and injuries. If you're heading out this season for a weekend camping trip, there are some important safety tips to be aware of before you go.
Storm Safety Tips While Camping
Plan ahead and familiarize yourself with the location, weather forecast and conditions before venturing out. Keep in mind that even if you're staying close to home, bad weather can strike at any time. Locate nearby shelters close to your camping site and keep an eye on the National Weather Service for updates. Carry a battery-powered NOAA radio with you to stay updated. Be prepared to flee to a safe shelter if a thunderstorm watch or thunderstorm warning is issued.
If you're setting up a tent, avoid placing it on high ground. Large, open fields, grasslands, or pitches under trees and metal poles should be avoided as well. In the event of a lightning strike, a large open area can be struck by a ground current, while tall objects like trees can be struck by a side flash. Learn more about the different types of lightning strikes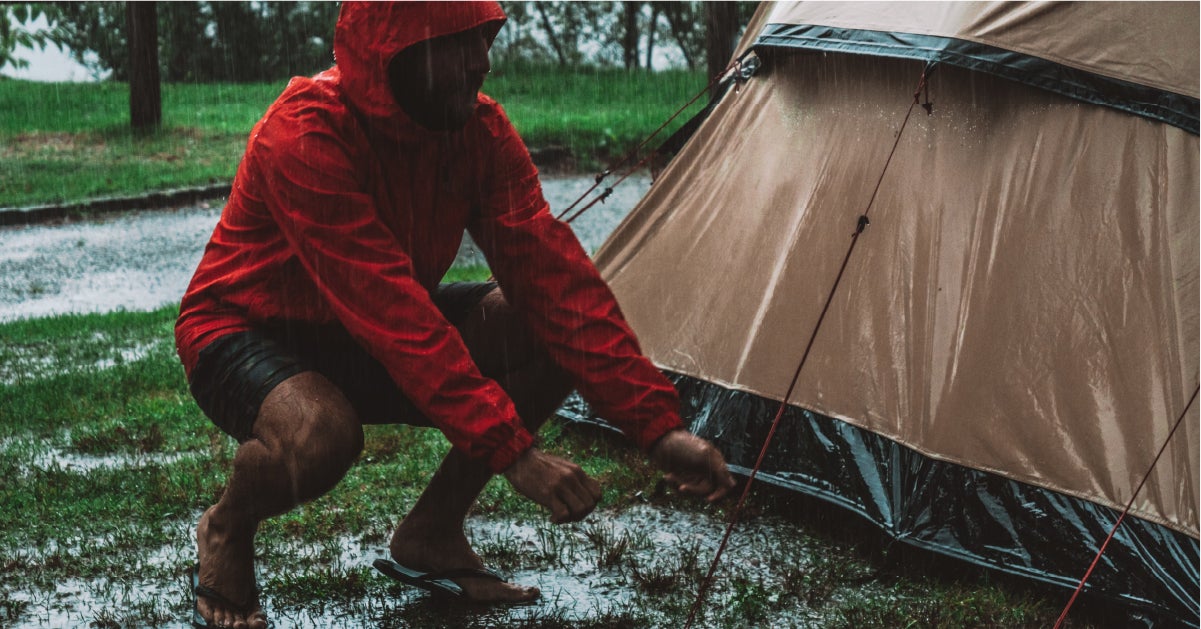 If you find yourself caught in a storm while camping, your tent is only a shelter from the rain and offers no protection from lightning strikes. Keep in mind there are secondary dangers associated with thunderstorms such as flash floods, mudslides, exposure/hypothermia, high winds, tornadoes, forest fires and hail. In the case of a heavy storm, your tent can easily be ravaged by hail, high winds and rain.
During a thunderstorm, the safest place to be is inside a large, structurally sound building with plumbing and electrical wiring. Electricity is carried from the building to the ground by the electrical wiring and plumbing, so it will not travel through the rooms. These structures are typically sturdy enough to remain structurally sound even if struck by lightning. A fully enclosed small building with plumbing and electricity, such as a bathroom, convenience store, or ranger station would be the next safest place.
If neither of those options is available, get into your vehicle (unless it is a convertible). Your car's metal frame acts as a Faraday Cage. Rather than dispersing electricity within the car, your automobile's metal frame will disperse electricity via the frame and to the ground through the tires. However, avoid touching the steering wheel or doors, as they are connected to the frame.
If you are camping in an RV, follow the same safety precautions when setting up and have an evacuation plan for a nearby safety shelter. RVs can be blown over in high winds and susceptible to dangers if flooding occurs. If you see lightning or hear thunder, stay inside. If you are unable to get to a safer building, try to stay in a hallway and away from windows, cabinets, and areas where flying objects can occur. Unplug electronics like TVs, microwaves, computers, and coffee pots, and only use battery-powered devices. 
Safety Tips for Hikers
If you're hiking a 14er, fishing, or out on a trail away from a shelter, be prepared for anything with an emergency kit that includes weather safety gear, a waterproof jacket, some essential camping gadgets and a portable lightning detector. If you're hiking away from your vehicle, avoid high ridges or peaks. If you find yourself caught in a storm unexpectedly, get down to lower levels as soon as you can and crouch as low as you can on the ground, stabilizing yourself with your feet only.
There are many western residents who enjoy hiking 14ers ("fourteeners", a term used to describe mountains that are at 14,000 feet or higher elevation), especially during the summer months.
One thing to keep in mind during the summer monsoon season in the west is the consistent storms that occur around 1 or 2 PM, though it is not unusual for them to show up earlier. These storms create a lot of lightning at high altitudes. Anyone exposed on alpine terrain is at significant risk because there is nothing above the tree line to strike – but you.
Due to these consistent storms, many savvy hikers, no matter where they are on the mountain, will set a non-negotiable turnaround time in order to allow for the time needed to get back down below the tree line before the mountain peak thunderstorms appear.
If you do get caught in rain, it's critical to get out of wet clothing and into dry clothing as quickly as possible. Water transfers heat 25x faster than air, and you will get cold quickly when wearing wet clothing.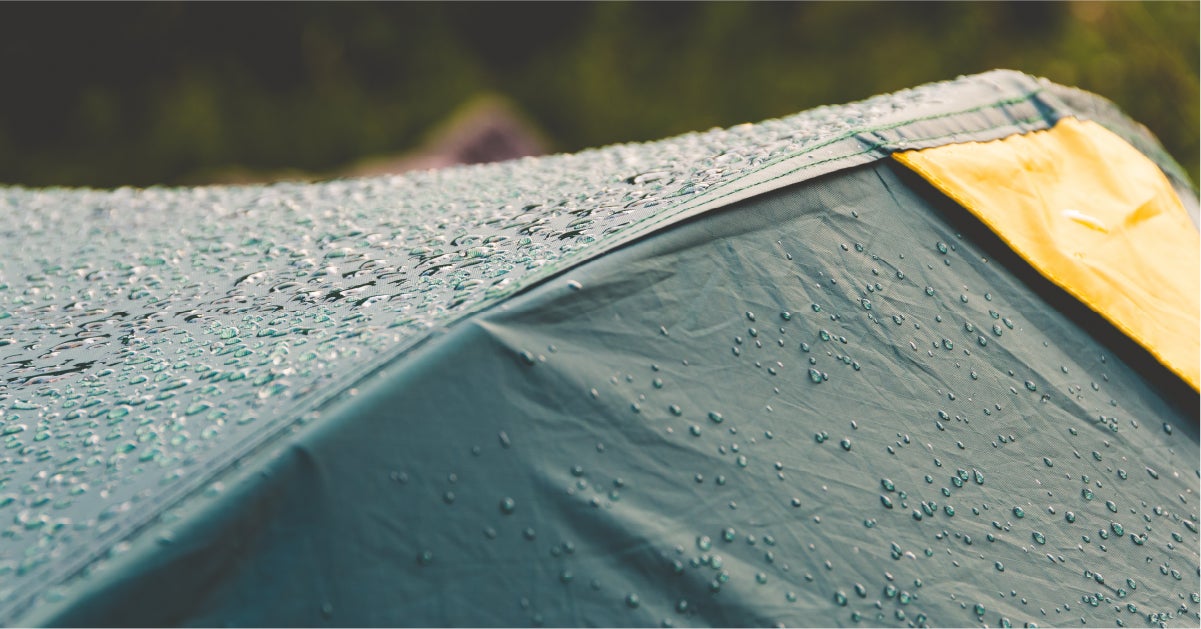 Quick Tips for Safe Camping During Thunderstorms
Be observant of the weather at all times.
Don't be, or be next to, the tallest object in the area – pitch your tent in lower-level areas away from the highest objects or trees.
Don't touch your tent's frame or cover.
Try to stay in the very middle of your tent. Sit in a squatted position as compact as possible, touching the ground only in one spot with your feet. Never sit on the bare ground. Use a dry, deflated air mattress folded several times, a camping mat, or your backpack to help enhance insulation making you less grounded. Wear hiking boots, if you have them.
Don't stand in open buildings such as barns, picnic pavilions, sheds or buildings without plumbing or wiring.
Use your car if there is no other shelter, but avoid touching the sides, handles or steering wheel.
Do your best to stay warm and dry – bring waterproof and warm clothing.
Get off the water or the mountain if a storm is rolling in.
Be prepared with an evacuation route and safe shelter location.
Pack and carry a safety kit.
While lightning strikes are considered rare (1 in 500,000 per year), the potential dangers of lightning are something that should always be taken seriously. If you do find yourself stuck in a storm, reducing your risk is achievable with lightning safety procedures. For more information on safety during lightning storms, refer to the CDCs Lightning Safety Tips 
Just as you are aware of risks around electric wires and devices, whether inside and outside your home or workplace, awareness of the power of electricity from storms can help you safely enjoy being outside across the wonderful areas of the west served by our member cooperatives and public power districts.
_______
Tri-State is a not-for-profit cooperative of 45 members, including 42-member utility electric distribution cooperatives and public power districts in four states, that together deliver reliable, affordable, and responsible power to more than a million electricity consumers across nearly 200,000 square miles of the West.