6/21/2021
7 Great Benefits of Electric Bikes
The switch to electric cars may get more media attention, but in the immediate future, it is electric bikes that will create a renaissance of two-wheelers. Rapidly growing in popularity, and for good reason, e-bikes offer extended range and easier commutes than gas-powered scooters, motorcycles, or cars. 
For inner-city living, electric bikes may be the future of transportation. The features and benefits they provide make them an enticing option for college students, local commuters, and anyone who wants exercise while getting from point A to B. Not to mention it's a cost-effective and eco-friendly solution to fossil fuel-powered vehicles.
What is an e-Bike?
An electric bike is a standard bicycle outfitted with a motor that provides a boost, also called pedal assist. That extra electric push can be a huge benefit for riders on mountainous terrain, hauling goods, or going long distances. Like standard pedal bikes, e-bikes can be outfitted with larger tires, cargo trailers, racks or baskets.
Those in the market for electric bikes should test a variety of models and styles since there are many variations in both power and speed. In the U.S., there are three classes of electric bikes, all with different means of acceleration and top speeds; Class 1 is pedal-assist without a throttle, Class 2 has a throttle assist with speeds up to 20 mph, and Class 3, which also has no throttle, and speeds up to 28 mph.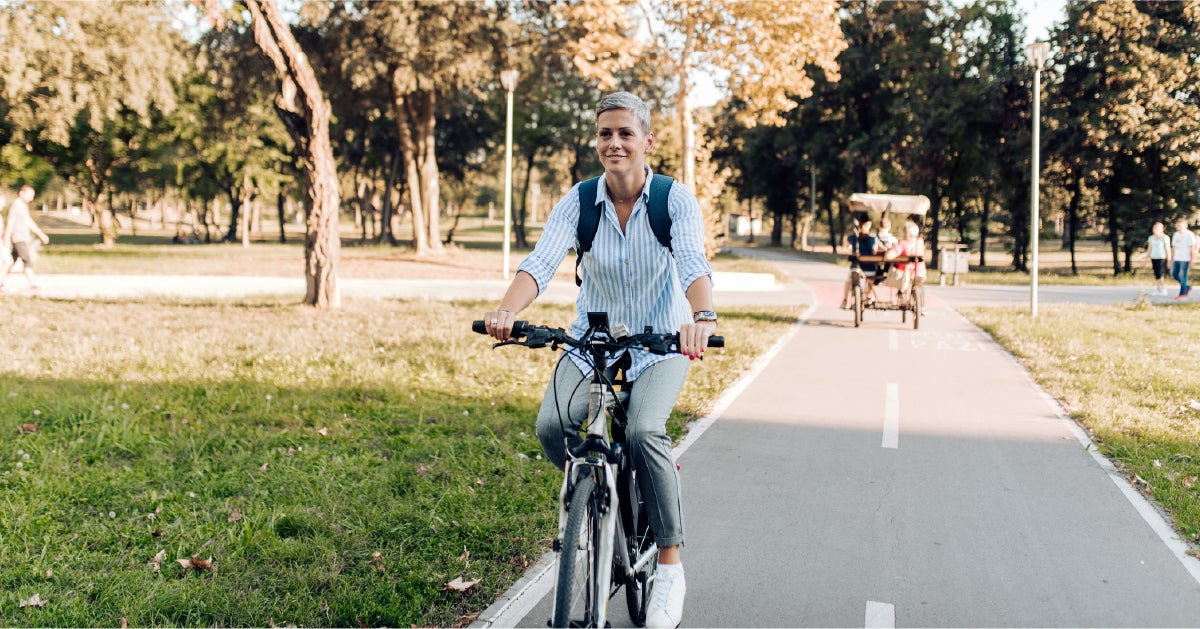 Electric Bike History
The very first electric bicycles were documented in the 1880s and 1890s in the patent offices in both France and the United States. In France, one of the earliest was a three-wheeled electric contraption, the motor power controlled with a hand-held lever system without any pedals.
In 1989, the first 'Pedelec' or Pedal Electric Cycle (now referred to as pedal-assist) was created. Rather than using a throttle mechanism to control the motor, as all previous models had, pedal-assist allowed riders to utilize an electric bike not so dissimilar to how one would ride a regular bike.
Today, the use of electric bicycles worldwide is steadily rising. Their availability and mobility have not only made biking more accessible but has also elevated the sport to levels previously unimaginable with bicycling now a choice for riders new or old, whether they are on roads high in elevation or leisurely cruising city streets. 
7 Great Benefits of an Electric Bike
Convenience and ease of use for anyone, including the elderly or disabled. Commuting by bike that would be too far, too long, or too slow are made possible with an e-bike.

Easier commute to work without excessive sweating

Energy efficiency. According to a study conducted by Efficiency Vermont, e-bikes were shown to displace meaningful amounts of driving miles. On average, e-bike owners displaced 760 driving miles annually.

Cost efficiency (no parking fees, no gas expenses, no high maintenance fees)

A cleaner alternative of transport for commerce and products for inner-city deliveries

No red tape! E-bikes are still considered a bicycle, so if you don't like the process of registration or getting license plates or insurance, getting an E-bike can be a good choice!

Healthy and aids in stress relief; regular physical activity from the electric cycle will boost your blood circulation, work your core muscles out, relieve you of stress, and release feel-good endorphins in your body.
Considering an e-bike? For first-time riders, it is recommended to spend some time learning about safe riding through a class to get a better sense of the rules of the road. This way new riders will be able to avoid accidents and manage their routes safer and easier. 
Electrify and Save™ 
________
Tri-State is a not-for-profit cooperative of 45 members, including 42 member utility electric distribution cooperatives and public power districts in four states, that together deliver reliable, affordable, and responsible power to more than a million electricity consumers across nearly 200,000 square miles of the West.