3/12/2021
The Surge of Electric Vehicles in 2021
According to Edmunds, 2021 is predicted to be a "pivotal year" for electric vehicles, with U.S. sales rising to 2.5% versus 1.9% last year. With a surge of new models entering the market in the next 11 months, EVs will be hard to ignore.
More Electric Vehicle Options in 2021
Edmunds analysts anticipate that 30 EVs from 21 brands will become available for sale this year, compared to 17 vehicles from 12 brands in 2020. Notably, this will be the first year that these offerings represent all three major vehicle categories: Consumers will have the choice among 11 cars, 13 SUVs, and 6 electric trucks in 2021, whereas only 10 cars and seven SUVs were available last year. See below the different types of EVs to choose from. 
(Image source: Electric Power Research Institute)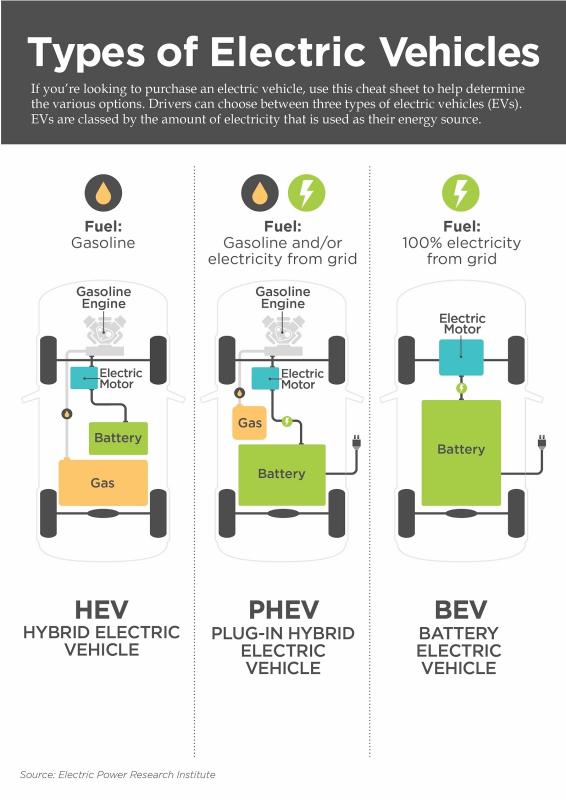 Increasing Electric Charging Stations
Many consumers have hesitated in buying fully electric vehicles due to a lack of abundant charging stations, however, charging equipment manufacturers, automakers, utilities, hotel chains, businesses, municipalities, and government agencies are rapidly establishing a national network of charging stations. 
The number of publicly accessible charging stations reached over 44,000 in 2021 with over 221,000 charging outlets, according to the Department of Energy's Alternative Fuel Data Center, up from 22,000 in 2019. With this increase in locations, odds are there is a public charging station near you. EV charging info is even better with handy apps such as PlugShare to find nearby charging stations. 

10 Reasons You Should You Buy an Electric Car in 2021
Should you buy an EV in 2021, or wait? For many analysts, the answer to buying an EV is a resounding yes. America's electric vehicle industry trails China and Europe when it comes to adopting EVs, however, with so many new EVs being introduced, sales are steadily climbing. The market has reached a point where electric vehicle options span from compact cars to SUVs, with trucks set to arrive later this year and next.
Reasons to Buy an Electric Car This Year
Electric cars have great performance - Many of today's electric vehicles have acceleration that rivals supercars. The Tesla Model S, for example, can launch from zero to 60 mph in 2.4 seconds, according to the automaker.

Money-saving deals are available for EVs - Like any car, electric vehicles and plug-in hybrids are sometimes available with special buying and leasing incentives designed to increase their pace of sales. The used EV market can also be a good place to get a discount price and low operating costs.

Incentives - The purchase of an EV comes with the potential of substantial federal, state, local, and utility incentives. They include the Federal Electric Car Tax Credit of up to $7,500. 

More EV options available - The options for electric vehicles are rapidly expanding. By the end of 2021, we'll start to see SUVs arriving in more market segments, including larger SUVs and pickups. Some will come from legacy automakers, including Mercedes-Benz, Ford, Nissan and Range Rover, with others emerging from new car companies, such as Rivian, Lordstown Motors, and Lucid.

Home charging stations are easy and affordable - The most convenient and affordable way to recharge your electric vehicle is at home with a 120- or 240-volt home charging station. 

More public charging stations - As mentioned above, the number of charging stations from 2019 to 2021 has doubled! As more EV models are coming on-line,  rural communities are installing electric vehicle charging stations to meet consumer needs.

Improvements in EV ranges - Early EVs were limited to around 100 miles per charge, but most of today's electric vehicles can go 200 miles or more on a single charge.  The 2020 Kia Niro, for example, has a range of 239 miles, while the Tesla Model 3 can go 320 miles between charges.

Used EVs make great commuter cars - Average daily commuting in the U.S. is around 30 miles per day, making used, early model EVs an affordable way to commute.   In fact, average commuters could easily recharge overnight with a standard 120-volt outlet.

Electric vehicles have cutting-edge tech - Many newer EVs are loaded with state-of-the-art safety, infotainment, and driver assistance technologies.

Lower maintenance and total cost of operation - Electric cars have far fewer moving parts and mechanical subsystems than internal combustion engine vehicles. A recent Consumers Report study estimates the potential total cost of ownership savings of $6,000 to $10,000 with EVs.  
Electrify and Save™ 
______
Tri-State is a not-for-profit cooperative of 45 members, including 42 member utility electric distribution cooperatives and public power districts in four states, that together deliver reliable, affordable, and responsible power to more than a million electricity consumers across nearly 200,000 square miles of the West.