6/10/2021
There's nothing like gathering around a table with your family and friends for dinner on the patio. Outdoor string lights provide an elegant touch to any dinner party or wedding. They are perfect for adding a romantic ambiance to a special day, and they can be used as part of the décor. If you want your guests to feel like they're in a fairy tale, outdoor string lights will help make that happen!
We'll show you some outdoor string light tips so you can enjoy the ambiance of your backyard or porch, while also keeping safety in mind.
Where to Use Outdoor String Lights
1. Use string lights anywhere outdoors where you want to create ambiance and add décor
2. String lights can be used in many different ways - on a porch, around a tree, gazebo, hung above an outdoor dining table, along the driveway, or in a courtyard
3. Get creative with your lighting design by mixing up color schemes and patterns
4. String lights are great for weddings, parties, and other social gatherings 
5. Make sure you have enough light bulbs to last through the party and replace them as needed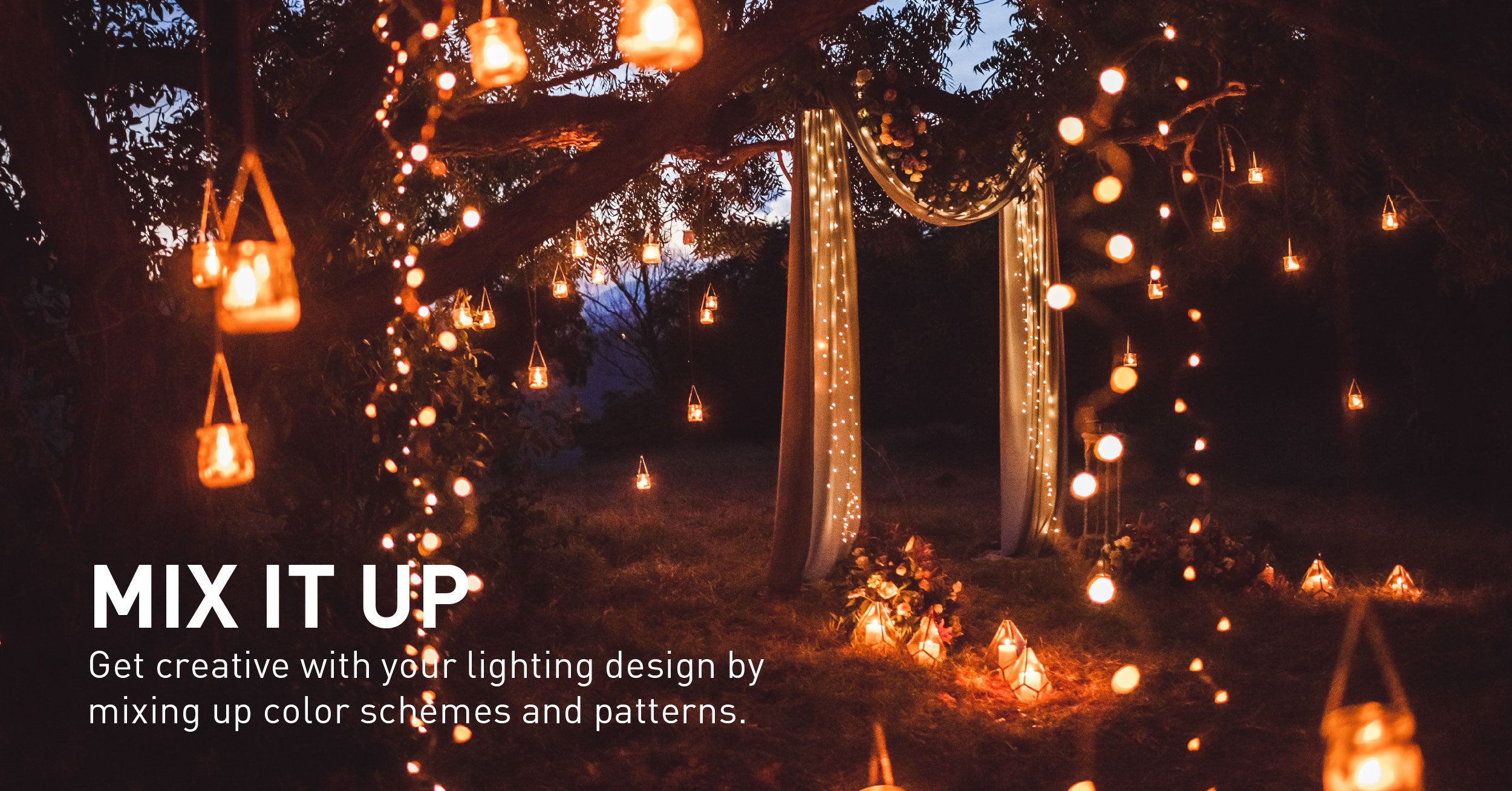 Can you Leave String Lights Outdoors?
While the majority of C7 and C9 bulbs, which are often used in outdoor holiday lighting, are suitable for outdoor use, the same cannot be said for other types of bulbs used in patio light strings. Incandescent bulbs are appropriate for outdoor use as long as they are protected from direct contact with water, but it's advisable to use string lights that are designed for 'all-weather' conditions. Incandescent bulbs are not energy efficient compared to LED bulbs. 
Choosing the Right Outdoor LED Bulbs
Underwriters Laboratories has ratings for different types of LED lights, which include dry, damp and wet ratings.  
Damp-rated LED lights and fixtures can only handle indirect exposure to water, such as a bathroom or under a patio awning. There may be some slight moisture accumulation, but very little. 
Wet-rated LED lights and lighting fixtures can handle direct exposure to water and may be within dripping or flowing water, as they're tightly sealed against water. These may be near a pool, fountain, or in an area that receives rain or snowfall. 
Keep in mind, neither one of these lights should ever be submerged. While they can be exposed to water to some degree, they are not fully waterproof. Electric shock can occur, so use caution.
Not all LED lights are damp-rated. LED bulbs that have neither of these ratings are not totally enclosed, and therefore, are not suitable for use around wet conditions or water.
String Light Safety Tips
Only use outdoor-rated extension cords

Use outdoor-rated bulbs

Carefully read instructions before using any type of light system and follow manufacturer guidelines when hanging

Keep cords away from doorways or other walkways outside by placing strings under eaves

Install lights above ground level in shrubs, trees, or vines where they cannot pose as tripping hazards

Make sure there is nothing that will come into contact with the cord that might move around during high winds (such as umbrellas) which could knock over lights

Avoid leaving open sockets

Protect connected plugs from water

Use GFCI outlets for protection against electrical circuit failure

Do not overload your circuits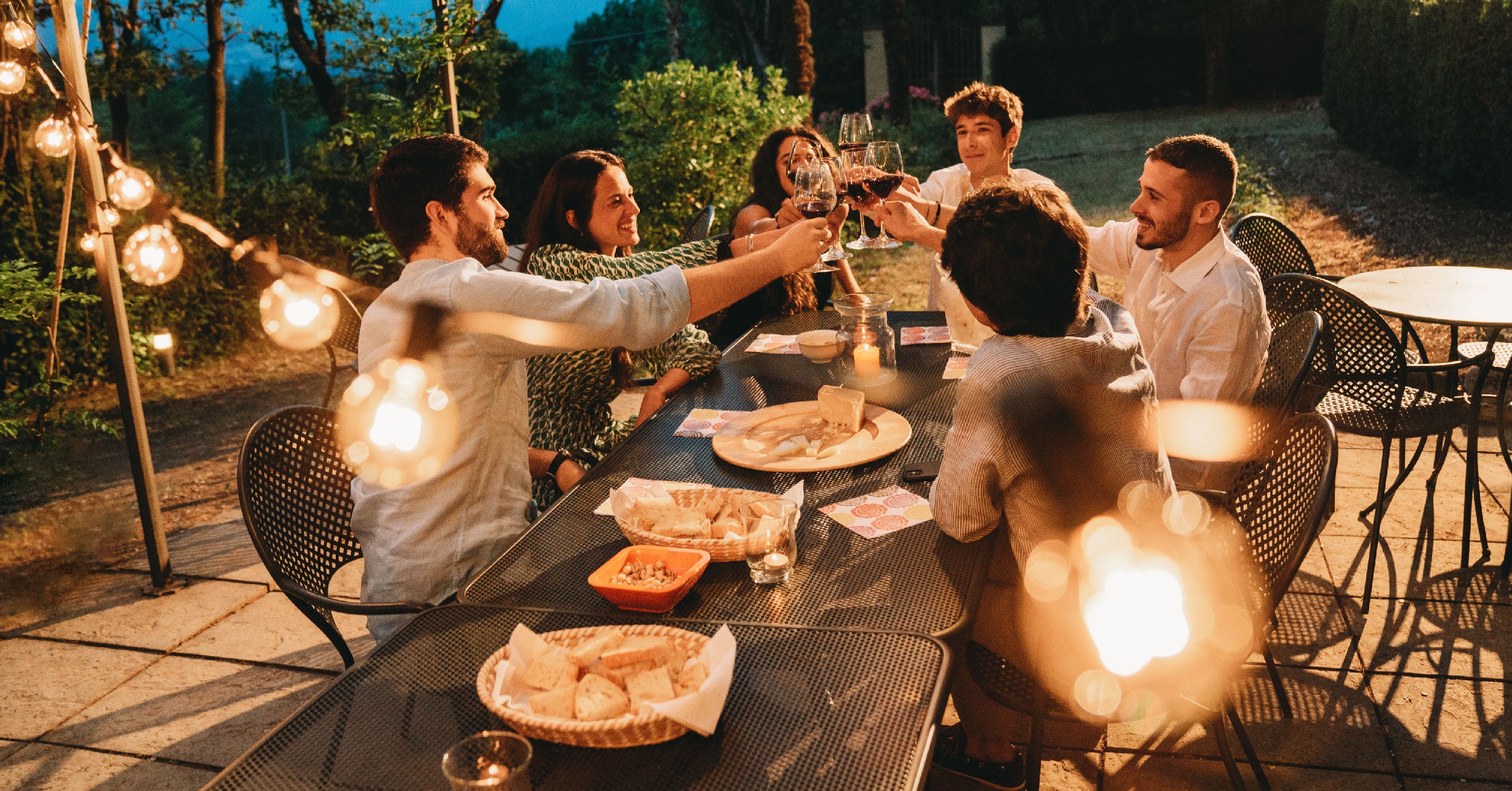 Fire Safety Precautions for Outdoor String Lights
Outdoor lights should not be left on for prolonged periods of time or overnight. Even LED lights can overheat and cause a fire if exposed to dry leaves or flammable substances. When used properly, LED lights are safe and an energy-efficient way to add lighting outdoors while cutting costs.
Outdoor string lighting provides a beautiful ambiance for your home and garden. But it can also be dangerous if not used correctly. Following these safety tips will ensure you are keeping yourself and your guests safe from electric shock or fire hazards in your yard this summer!
Electrify and Save™ 
____
Tri-State is a not-for-profit cooperative of 45 members, including 42 member utility electric distribution cooperatives and public power districts in four states, that together deliver reliable, affordable, and responsible power to more than a million electricity consumers across nearly 200,000 square miles of the West. For more information about Tri-State and our Responsible Energy Plan, visit www.tristate.coop.