11/17/2023
Rethinking the American Dream in Colorado's Mountain Towns 
It's no secret that demand for housing in Colorado's mountain towns has skyrocketed, and it's easy to see why. Nestled in the Rocky Mountains, these communities have long been a haven for outdoor enthusiasts and those looking for a serene vacation escape.  
Communities like Crested Butte, Buena Vista, Telluride, and Ouray are among the most sought-after destinations in the United States. As a result, property values and rents in these areas have soared, making it increasingly difficult for residents to afford homes. The housing crisis is particularly acute for essential workers, including teachers, healthcare professionals, firefighters, and service industry employees, who are the lifeblood of these towns. 
San Miguel Power Association (SMPA) has experienced that problem firsthand in their service territory which spans across Western Colorado, including Telluride, where the median home price was well over a million dollars in August 2023.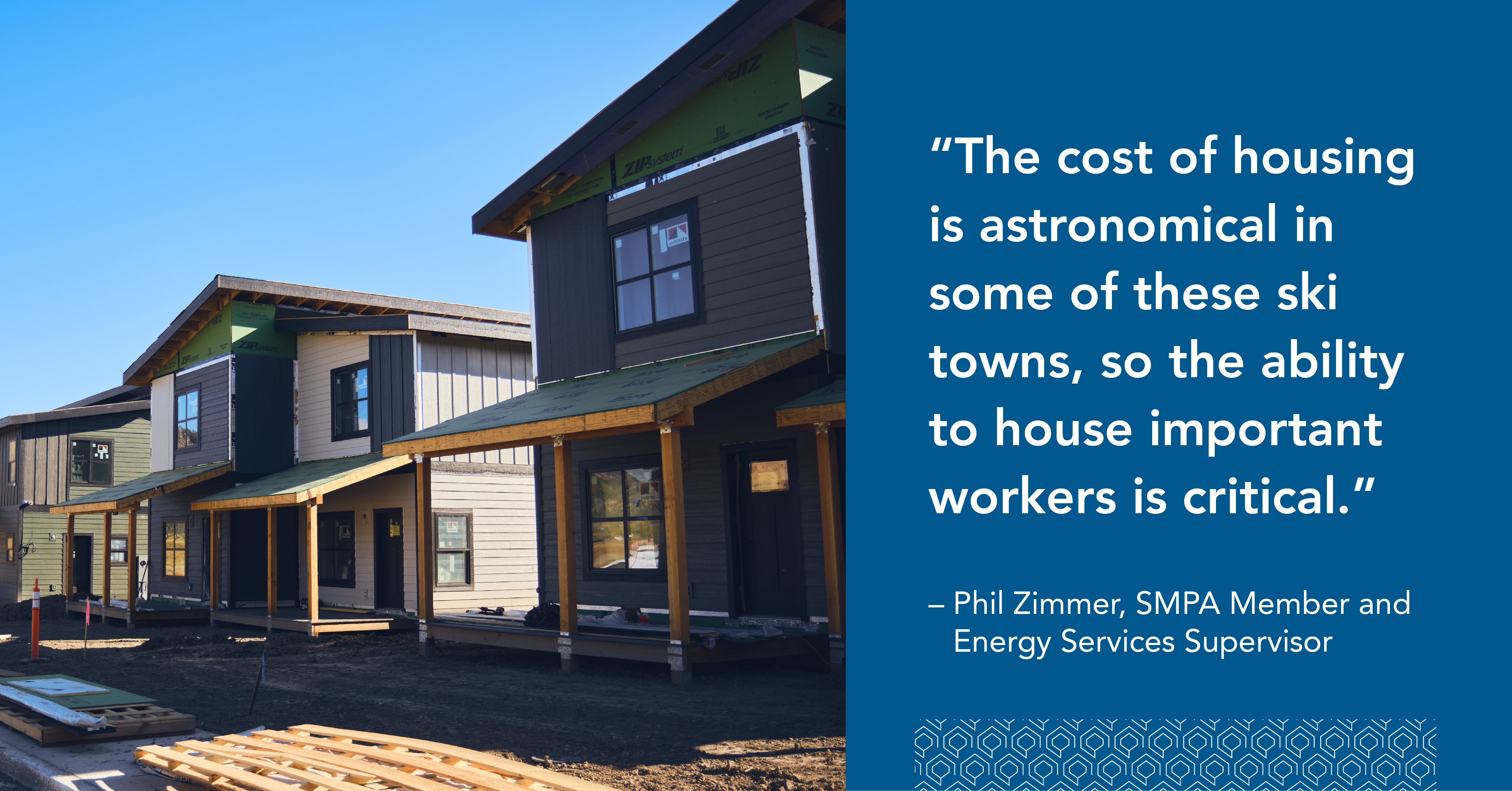 "We have a vast need for low to moderate-income (LMI) housing in our territory," explained Phil Zimmer, SMPA Member and Energy Services Supervisor. "The cost of housing is astronomical in some of these ski towns, so the ability to house important workers is critical." 
Finding Solutions for Low to Moderate-Income Housing in Rural Colorado 
Thankfully, SMPA didn't have to look far to find a solution to their problem. Located about five hours away in Buena Vista, Colorado, served by Tri-State member Sangre de Cristo Electric Association, real estate developer Fading West was finding solutions to meet the needs of essential workers in the community. In 2016, founder Charlie Chupp saw a tremendous need for LMI housing in the region and Fading West was born.    
Fading West started with a one-off project called The Farm at Buena Vista, which introduced 218 new contemporary housing units ranging from attached and detached single-family homes, as well as a planned 107-unit apartment project. The neighborhood was designed with shared green spaces, grills, and a fire pit, along with stunning mountain views. Both in photos and in person, the homes leave nothing to be desired.  
Although The Farm was intended to be a one-off project, Charlie realized their work was far from over. The need for affordable housing, paired with the difficulty finding contractors and construction crews, meant there were numerous opportunities to expand in rural mountain towns in Colorado, and around the nation. 
"There just aren't enough homes being built for the missing middle, for the attainable workforce," explained Chief Business Development Officer Eric Schaeffer.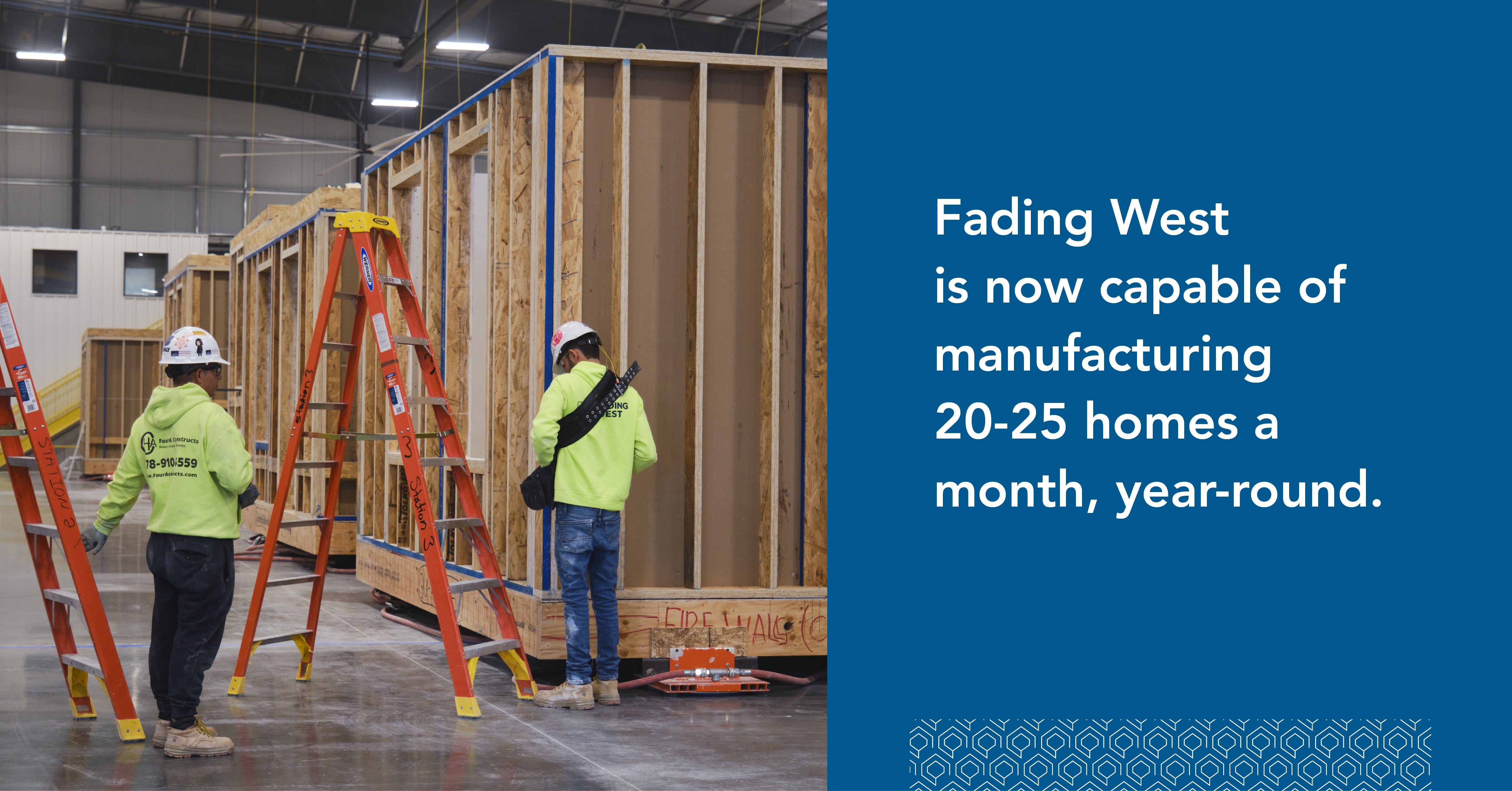 In 2021, construction was completed on a 110,000-square-foot modular home factory in Buena Vista, where Fading West is now capable of manufacturing 20-25 homes a month, year-round. The homes are built in a controlled space with designated building materials, which means they're built affordably, while still maintaining architectural interest and quality.  
"We almost overbuild our houses," Eric said. "Affordable doesn't mean cheap." 
Each home is built with double-pane windows, high-quality insulation, electric stovetops, and air-source heat pumps. They're designed to withstand Colorado's extreme weather while being energy efficient. 
Transforming Rural Communities in Southwest Colorado with Affordable Housing Initiative 
As a cooperative, SMPA recognized their role in supporting their community and stepping in was an easy next step. They worked with the Telluride Foundation and Colorado Clean Energy Fund (CCEF) to pilot a housing program in Norwood, Ridgway, and Ouray. According to SMPA, the program integrates donated land, prefabricated panelized home design, low-cost construction finance, and innovative cost recovery into a toolkit, to restructure the way rural homes can be financed affordably for the region's essential workforce. 
The first neighborhood introduced was Pinion Park in Norwood, Colorado, about 45 minutes northwest of Telluride. Now complete, the neighborhood has 24 modular homes that were sold to homeowners through a lottery system. A second neighborhood, Wetterhorn, is under construction in Ridgway, an hour north of Telluride and 15 minutes from Ouray.  
Wetterhorn will have 16 homes completed by the end of 2023, which will also be sold through a lottery system for those who qualify for LMI housing. SMPA has contributed nearly $4,000 per home, and Tri-State contributed $750 per home for energy-efficient upgrades. An additional 60 homes are set to be built in Ouray and will receive similar financial incentives.  
In addition, SMPA partnered with CCEF to provide on-bill financing for new homeowners, which eliminated financing hurdles for ownership of rooftop solar panels and energy-efficient heating and cooling. With rooftop solar and air-source heat pumps installed in every home, homeowners experience lower monthly utility bills without adding to the home's cost.  
It was important to SMPA that the homes had modern technology so that their members could not only afford their home, but also incorporate new efficient energy technology into their homes. Phil smiled sharing some of the sentiments he's heard from homeowners, including a story about one homeowner who called to tell him they couldn't believe their electric bill was only $24.  
"At the end of this project, what we're excited about is the quality these homeowners are ending up with," Phil said. "They get to enjoy a lot of technology that is usually only seen in affluent households." 
The Benefits of Affordable Housing 
Building affordable housing in Colorado mountain towns not only helps residents but also brings several benefits to the community. Affordable housing stabilizes the local workforce and economy, fosters diverse and inclusive communities, and enhances quality of life by reducing the burden of housing costs. 
Local utilities, partnering with their community and power supplier to make homeownership a reality. That's the cooperative way.  
About Tri-State  
Tri-State is a not-for-profit cooperative of 45 members, including 42 electric distribution cooperatives and public power districts in four states, that together deliver reliable, affordable and responsible power to more than a million electricity consumers across nearly 200,000 square miles of the West. For more information about Tri-State and our Responsible Energy Plan, visit www.tristate.coop.  
About San Miguel Power Association: 
San Miguel Power Association, Inc. is a consumer-controlled rural electric cooperative with offices in Nucla and Ridgway, Colo. It is the Mission of the San Miguel Power Association, Inc. to provide our members with safe, reliable, cost-effective, and environmentally responsible electrical service, while demonstrating both co-operative responsibility and support for the communities we serve.  SMPA serves approximately 10,000 members and 15,000 meters and supports local communities with over $300,000 annually in property taxes, over $100,000 in energy efficiency and renewable energy rebates and over $80,000 in scholarships, community donations and economic development grants.  San Miguel Power Association is an equal opportunity provider and employer.