April 27, 2020
Tri-State's wholesale rates are stable, and forecasted to remain so to 2050
Forecast for 2050 shows lower rates than today when considering important inflation factors
By dramatically increasing our use of lower-cost renewable energy and with a strong focus on cost management, Tri-State's wholesale rates have not increased in the past four years, and we forecast rates to remain stable or decreasing for the next decade. After 2030, rate changes are less than the rate of inflation. 
Looking out to 2050, Tri-State's wholesale rates are actually forecasted to decrease when one accounts for inflation. Recent comments by one of our members, La Plata Electric Association, and others suggest however, that our rates will "increase an additional 50%." I'll explain in this blog why their statements are misleading.
As a co-op and a public utility, Tri-State shares its financial filings and annual reports with our members, regulators and the public. We recently provided our members and regulators with a forecast of our wholesale rates over the next 30 years, with estimates extending to 2050.
Near-term forecasts are more accurate than long-term forecasts, and Tri-State's forecast shows no upward rate pressure through 2030, with the real possibility of rate decreases. Beyond 2030, forecasts become less accurate and indicate general trends. Still, a few of our detractors used the information in our forecast for 2050 in a disingenuous way. 
Inflation affects all of us, including utilities, and Tri-State incorporates inflation in our financial forecasts. Because of inflation, the value of a dollar declines over time. Assuming normal inflation, a dollar today may only be worth 40-50 cents in 2050.
To compare a value in the future to a value today, like a utility's rates, one must consider the "real value," which accounts for inflation and provides important insight on the actual trends.
Tri-State's financial forecasts include a conservative inflation rate of 2% a year (historically, the U.S inflation rate has been a little over 3%). When examining our forecasted 2050 wholesale rate in light of inflation, our forecasted rate of $118 per megawatt-hour (MWh) in 2050 has a value of approximately $65 MWh in terms of 2020 dollars; this is below our existing rate of approximately $76 MWh. 
The graph below illustrates the decrease in Tri-State's wholesale rate over the next 30 years. The "real value" of Tri-State's forecasted Class A average wholesale rate is reflected in red and shows the downward trend. The blue line is the "nominal value" of the forecasted rate, which includes inflationary pressures.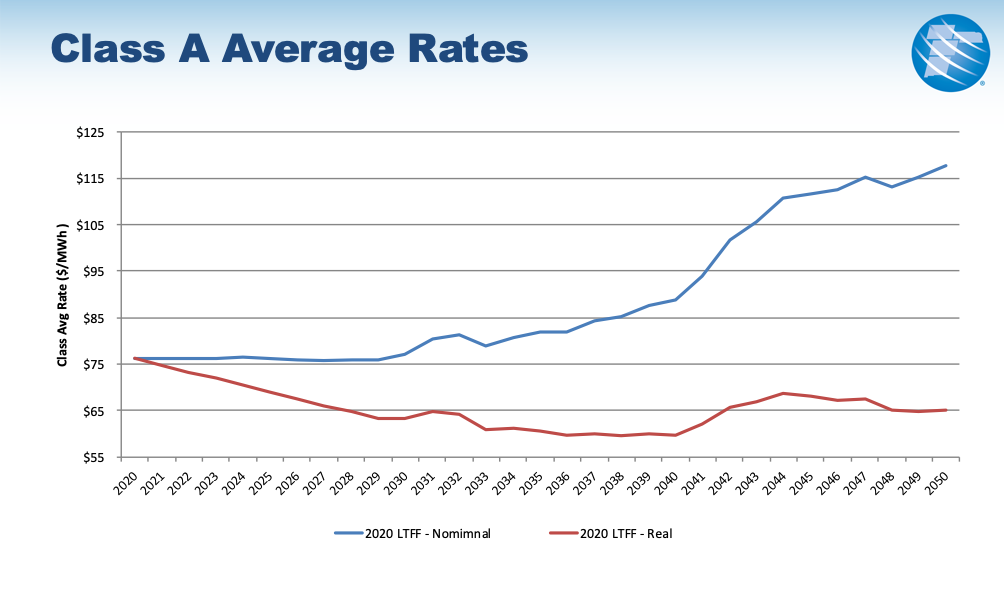 There are many factors that could further reduce Tri-State's wholesale rates through 2050. These include the development of an organized market in the West that would decrease our costs and increase market efficiencies, and changes to load requirements that would reduce our need for more generation resources.
We remain confident that our rates will be competitive for decades to come as we further increase renewable energy consumed to 50% by 2024 and decrease emissions, and as our members generate more power locally as part of our Responsible Energy Plan.  
So next time someone tries to throw out information about Tri-State that seems just too bad to be true, look to us for information about how our cooperative will provide reliable, affordable and responsible power for our members long into the future.