How to Prepare Your Home for a Summer Heat Wave
During summer heat waves, air conditioning can be a real lifesaver.  Many homes in cooler climate states aren't always equipped with air conditioning, so when an unexpected heat wave hits, many residents rely on other ways to stay cool without AC.
No matter where you live, it's important to be prepared for hot summer days with efficient cooling and a plan in place to stay comfortable.
 
Cooling Tips During a Heat Wave
Whether it's installing a wall unit, a portable AC, or having a list of other places you can go if temperatures soar, it's always a good idea to plan ahead for a heat wave. Fortunately, there are some simple steps you can take to find relief when the temperatures climb to uncomfortable levels.
Attic Fans
Attic fans are a powerful way to beat the heat. Attic air circulation has a significant impact on both indoor temperature and energy usage. An attic fan pushes out stale indoor air and brings in fresh outside air. You can also reduce your cooling expenses by using attic fans since the attic is where heat rises to. 
 
Create Airflow with Ceiling Fans
During warmer days, ventilation is key. Creating airflow in your home with a fan makes a big difference. Placing ceiling fans in the main living areas throughout your home helps your cooling system work more efficiently. On hotter days ceiling fans act as an assistant to your air conditioning, keeping the air flowing and allowing you to turn the air down by about four degrees while maintaining the same room temperature. 
 
Heat Pumps or Water-Cooled Fans
Heat pumps do a lot more than just heating. In fact, they also provide air conditioning and humidity control. Heat pumps work a lot like a refrigerator or air conditioner, using electricity and a refrigerant to pump or move heat from one location to another.
Portable, stationary and window mount evaporative cooling fans, evaporative air coolers, or swamp coolers are a great way to achieve a cooler space. They can also save you money on air conditioning and utility costs. These fans work by drawing warm air into pads soaked with water, then the air is cooled by evaporation and recirculated back into the space.
 
Close the Curtains and Windows
Think twice before you open all the windows to keep cool. If the temperature outside is higher than the temperature inside your home, you will lose the cool air. Close the blinds or curtains in rooms that receive direct sunlight. 

Cold or Warm Shower to Cool Off?
One of the easiest ways to stay cool is by taking a lukewarm shower or going for a swim to help you cool down quickly. 
Stay Out of the Heat 
Stay out of the sun between 11 a.m. to 3 p.m. as this is usually the hottest time of the day. Try to stay indoors or in a shaded area and drink plenty of water.
 
5 Safety Tips for Heat Waves and Power Outages
Public Cooling Centers - Keep a list of local places you can go in the event of a power outage. Libraries, stores, and schools are often used as cooling-off locations.
Battery Operated Fans - As a good backup plan, choose battery-operated or rechargeable fans in case of power outages. Place fans where they will draw in the coolest air — a fan in a window from a shaded backyard is best.
Generators - Consider a small generator to cool a room with a portable air conditioner. An automatic whole house generator is another option if you lose power. It will turn on automatically when the power goes out, keeping your refrigerator and air conditioner running.
If you have an underground or partial basement, this is often the coolest place in your home. When temps are high, go low. 
Emergency Prep Kit – Put together a kit with enough food, water and other essential items to last your family for at least 72 hours during an outage. A few items to include are a flashlight, batteries, a portable radio, one gallon of water per person per day, non-perishable foods and a first aid kit.
Prepare Your Home for a Heat Wave
Preventative steps and home maintenance can keep your home cool during the hot summer months. Follow these tips on how to prepare your home for hot weather.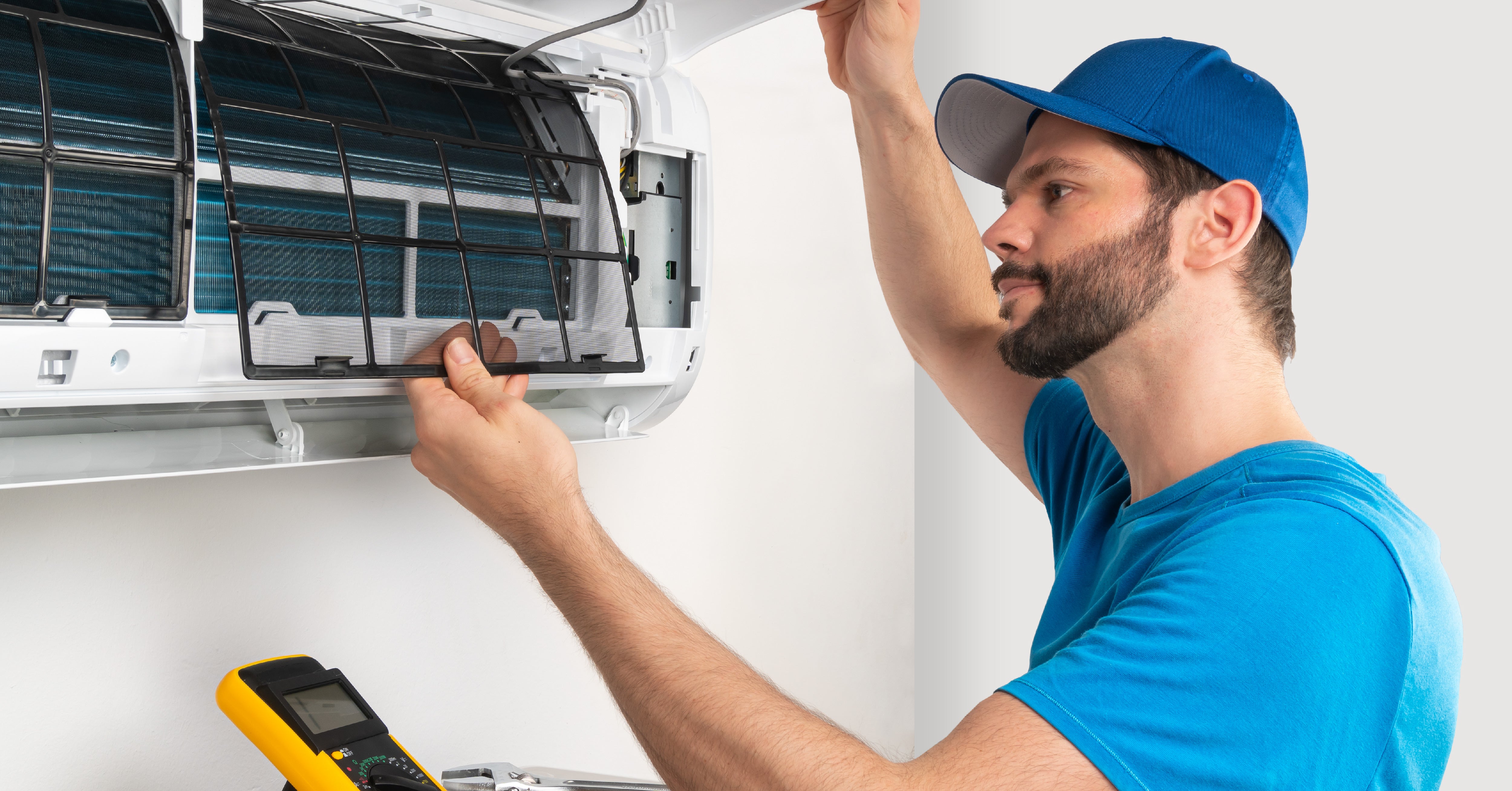 Service Your HVAC System Regularly
Heating and air conditioning equipment, no matter what kind you have, should be inspected, cleaned, and serviced at least once a year. The best practice is to have the heating checked in the fall and the air conditioning checked in the spring. 
Check Your Home's Insulation
Insulation, like window covers, forms a barrier that helps your home maintain a certain temperature. You may find that some areas of your home, such as a 2nd-floor bedroom, or a room that gets a lot of direct sunlight will need more insulation. If your HVAC seems to be working overtime, or the level on your thermostat doesn't seem to match the temperature in all the rooms of your home, adding more insulation in the attic or walls should help.
Set a Comfortable Temperature on your Thermostat
Maintaining a cool, comfortable environment in your home is easier than quickly lowering the setting when temps spike. Finding a comfortable, middle-of-the-road setting between the inside temperature of your house and the outdoors will help you get accustomed to warmer weather.
Somewhere around 78 degrees is a reasonable temperature to save energy and meet your needs when you're at home. Installing a smart thermostat will help keep a regular cooling schedule.
Replace Door and Window Weather Stripping
Tightly sealed windows and doors help keep cooled air from escaping and block hot air from entering your home. Spring and early Summer is the perfect opportunity to perform routine home maintenance and update weather stripping or caulking around windows and doors. 
Change HVAC Filters Regularly
You depend on your air conditioner during the summer, so the last thing you want is a malfunction during the hottest days of the year. Your HVAC system's lifespan and power can be increased by replacing worn-out filters. The energy efficiency of your air conditioner can be reduced by five to fifteen percent by using clean air filters.
Switch out Bulbs for LEDs
Making your home more energy efficient along with investing in renewable energy solutions can enable you to keep your home cooler and energy efficient. Light bulbs are a source of heat in homes and should be kept off when trying to cool your home during a heat wave. Conventional incandescent light bulbs generate light inefficiently, giving off heat in the process. Switching to LED light bulbs helps reduce overheating while saving money.
Electrify and Save™ 
______
Tri-State is a not-for-profit cooperative of 45 members, including 42 member utility electric distribution cooperatives and public power districts in four states, that together deliver reliable, affordable, and responsible power to more than a million electricity consumers across nearly 200,000 square miles of the West.