8/7/2023
E-Bikes Increase Mobility for Older Adults in Cortez 
Cooperatives around the world, including Tri-State, operate according to the same set of core principles and values. One of those principles is cooperation among cooperatives, which for us means working with our members towards a common goal. We have many goals at Tri-State but in this feature, we're highlighting our efforts towards reducing emissions in the communities we serve.    
One way we do this is by offering rebates, or money back, to consumers that adopt energy-efficient technology in their homes or businesses. Tri-State offers a catalog of different rebates that our members can choose from based on their communities' interests and needs. One rebate that is steadily increasing in popularity is the electric bike or e-bike. Located in Cortez, Colorado, Empire Electric Association, Inc. (EEA) claims that e-bikes are their second most popular rebate, following closely behind electric outdoor power equipment.  
Electric bikes are an eco-friendly mode of transportation, contributing to reduced carbon emissions and a cleaner environment which makes them a great rebate offering for electric cooperatives like EEA and Tri-State. By opting for e-bikes over traditional vehicles for short trips, riders can actively participate in sustainable practices. 
In addition to being eco-friendly, e-bikes are a fantastic option for older adults seeking enhanced mobility. E-bikes provide a gentle, assisted pedaling experience, allowing riders to cover greater distances with less effort. Whether it's running errands, visiting friends, or enjoying leisurely rides through the park, e-bikes help to maintain independence and freedom of movement for older adults. 
Understanding the many benefits of e-bikes, 4CORE set out to increase accessibility to older adults in the Cortez area. 4CORE is a non-profit serving five counties in Southwest Colorado by promoting resource conservation, energy efficiency and renewable energy through education and programs. One of their programs, Cortez 55+, provides free e-bikes for older, income-qualified adults in the Cortez area.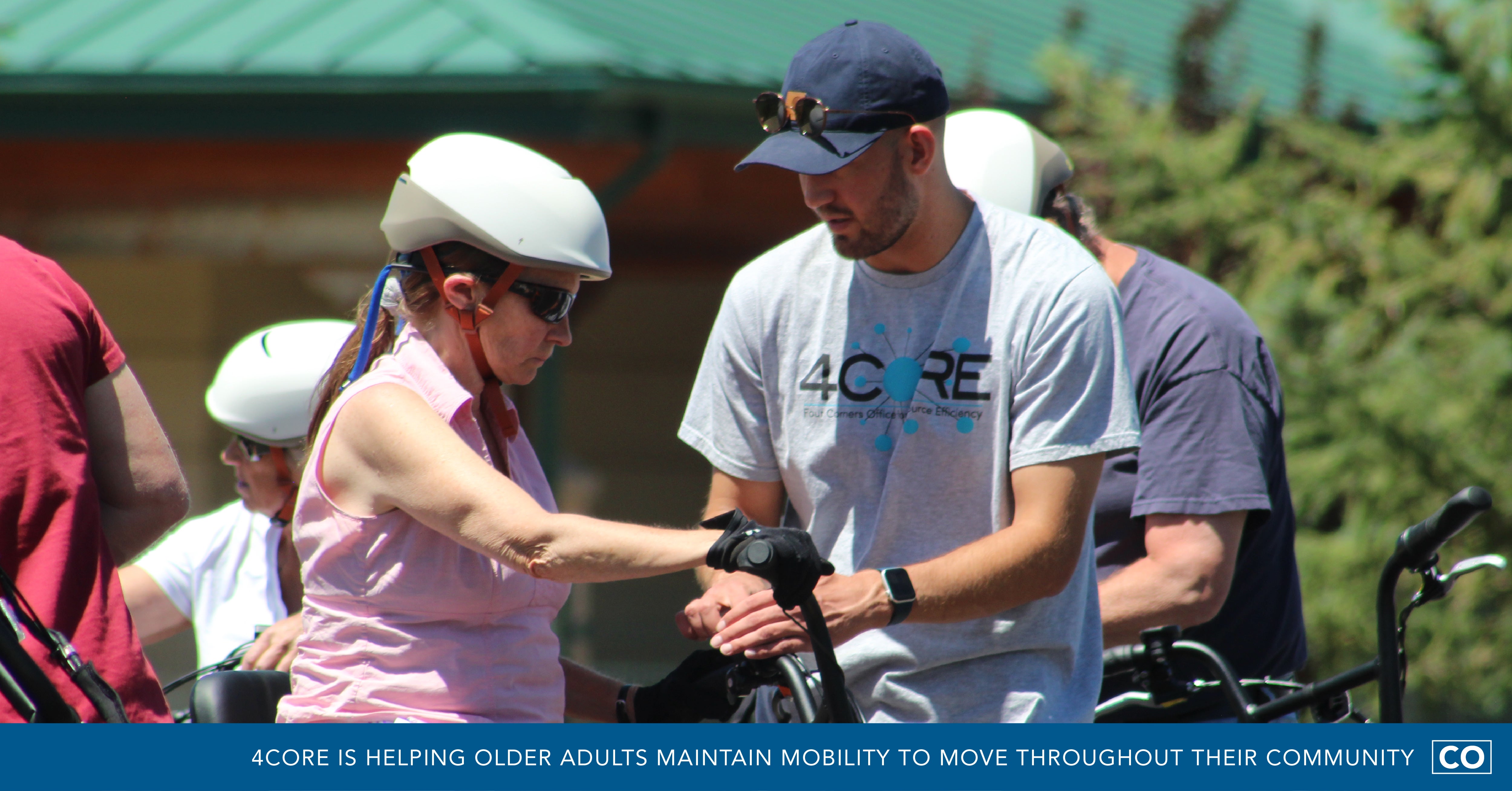 "Older adults are often impacted by limited transportation and mobility options," said 4CORE Director Laurie Dickson. "We felt like this would be a great demographic to serve and the results have been heartwarming." 
Dickson applied for and was granted funds through the Colorado Clean Energy Office's Community Access to Electric Bicycles program. The grant, combined with rebate dollars from EEA and Tri-State, ensures each participant receives an e-bike or e-trike free of charge. To date, the program has granted 22 e-bikes or e-trikes. In return, participants are asked to use an app to track their rides to provide data for future grant opportunities.  
Along with their new rides, locally owned Kokopelli Bike and Board pitched in to provide each participant with a helmet, gloves, and bike lock to keep participants safe. Kokopelli staff assembled the bikes and were on-site the day they were handed out to teach each participant how to safely operate their new equipment.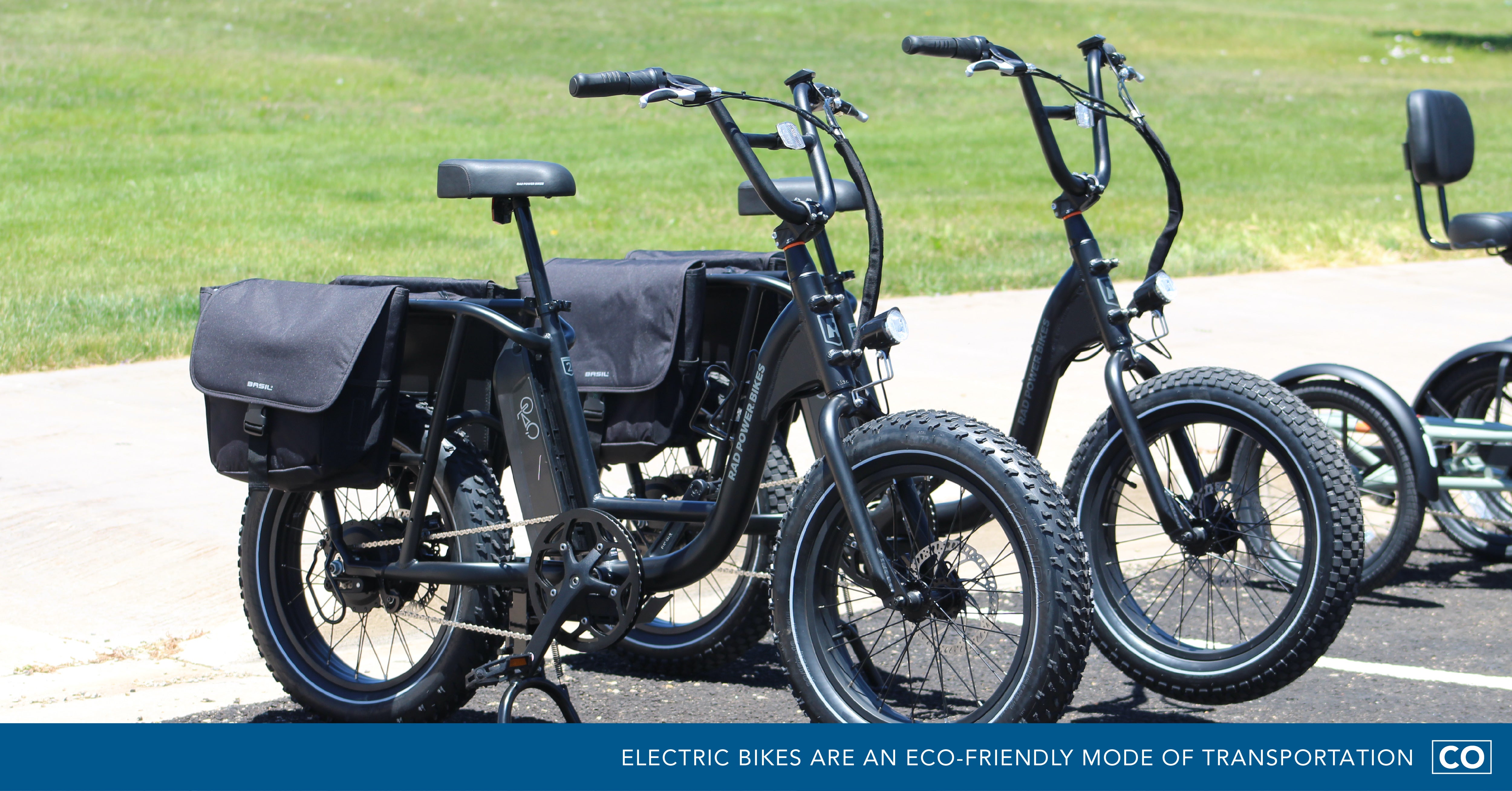 "The Cortez 55+ program is a great example of how different parts of a community can come together to provide access to technology that can improve lives in many ways," said Andy Carter, EEA Member Engagement Manager. "Helping people keep their mobility by using technology that is good for the environment is a win-win." 
Electric bikes have emerged as a game-changer for older adults, providing them with newfound freedom, physical activity, and social engagement. By embracing this innovative and empowering form of transportation, individuals can continue to lead active and fulfilling lives, breaking down barriers to mobility and remaining an integral part of their communities.  
"Tri-State is proud to partner with 4CORE and EEA to support transportation electrification," said Mike Frailey, Tri-State Senior Electrification Analyst. "We look forward to more opportunities to provide energy-efficient rebates for stronger communities." 
In addition to the organizations mentioned above, the Cortez 55+ program is made possible with the support of the Montezuma Senior Center, City of Cortez, Montezuma County, Kokopelli Bike and Board, and Richard Ballantine with the Cortez Journal. 
About Tri-State    
Tri-State is a wholesale power supply cooperative, operating on a not-for-profit basis, with 45 members, including 42 utility electric distribution cooperatives and public power district members in four states that together deliver reliable, affordable and responsible power to more than a million electricity consumers across nearly 200,000 square miles of the West. For more information about Tri-State, visit www.tristate.coop.