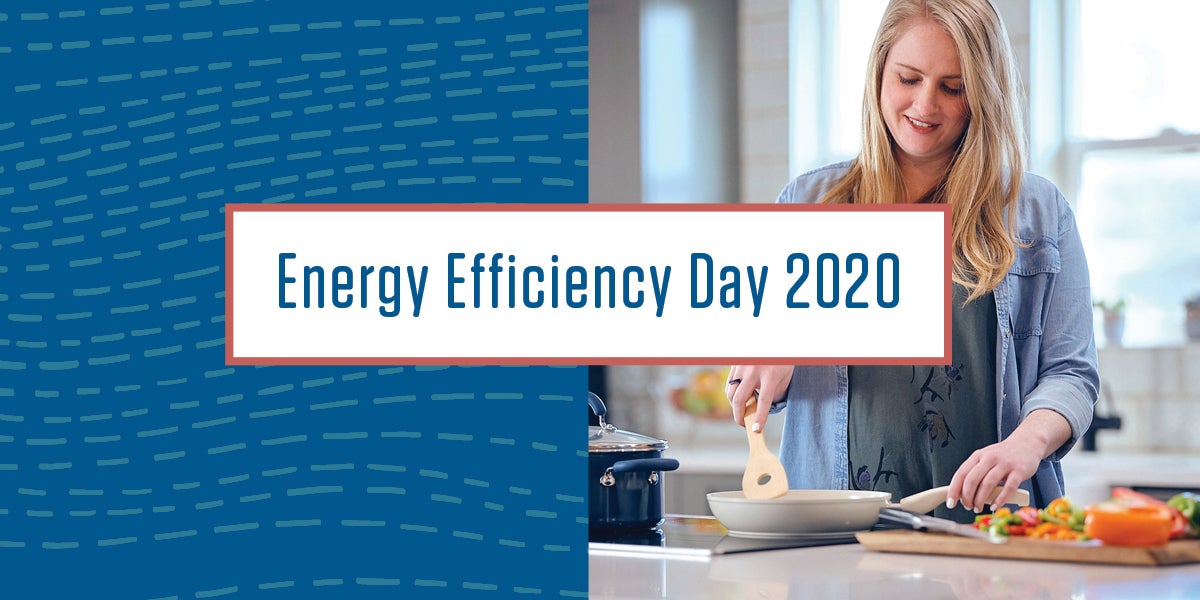 Highlighting Member Projects for Energy Efficiency Day 
Today marks a special day as we celebrate a few of our cooperative members' Energy Efficiency project stories for 2020. Tri-State works with its member distribution systems to implement member consumer energy efficiency through a variety of products and services.  Tri-States' Energy Efficiency program started in 1985 and has evolved over the years with input from all of the member systems and Tri-State staff. Our program awards over 10,000 Energy Efficiency rebates per year.   
What is National Energy Efficiency Day?
Today, October 7th gives a platform for energy advocates, companies, government agencies, utilities, and more to highlight projects and communities that support energy efficiency! Today we are joining Energy Efficiency Day to share our member's projects within their community. Follow us on Facebook and Twitter to see these amazing stories. 
Tri-State Member Projects
Below are the following projects Tri-State has been a part of in 2020:
Children's Hospital North Campus Expansion
On Friday, August 21, United Power and Tri-State presented Children's Hospital North Campus with a rebate check for $28,761 to reimburse them for the purchase and installation of energy-efficient commercial LED lighting at their new hospital addition in Broomfield, Colorado.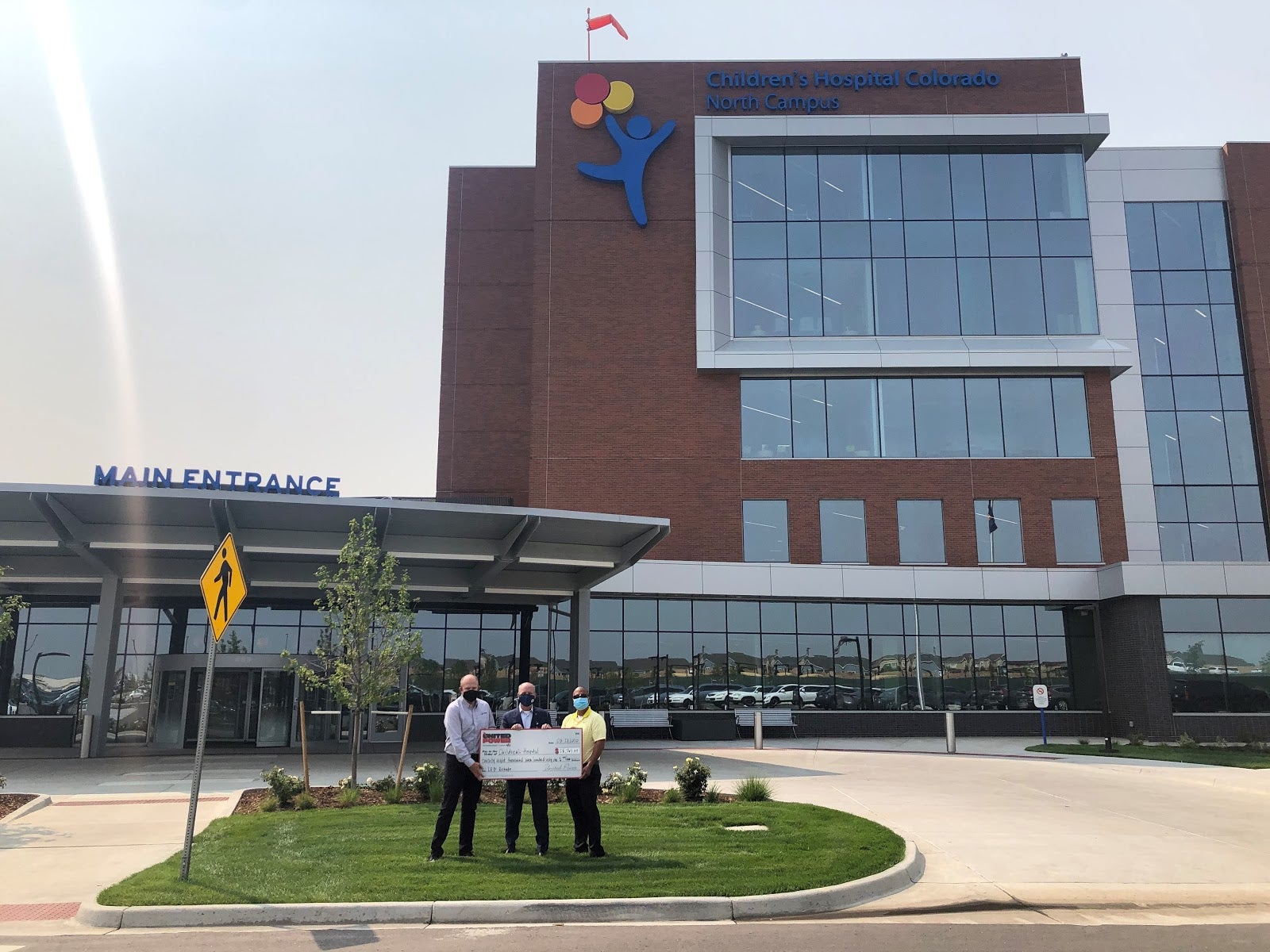 "This rebate check, along with the energy savings from installing LED lights, means a lot to us, as the more we can save in these areas, the more money that goes into the care for kids," - Dan Coxall, Vice President Support Services at Children's Hospital Colorado. Read the full story here highlighting this project.
"We're proud to power The Children's Hospital's North Campus. The Hospital recently received a rebate from United Power and Tri-State Generation & Transmission for an LED lighting upgrade. LED lighting will provide energy-efficient and low maintenance lighting for many years to come allowing the hospital to focus their resources on providing the best healthcare outcomes for children." - Jay Mendoza, Community Affairs Representative at United Power
Akron School District LED Lighting
Partnering with the community is just one benefit of cooperative energy efficiency programs.  Recently, Y-W Electric Association, Inc. was able to present the Akron School District with a $13,494 rebate check for a LED lighting retrofit. Tri-State's Transmission crews helped install the lights with their larger bucket trucks. Saving Akron school district money on energy costs frees up the budget for other more important services at the school district. Overall a 98 kW demand savings!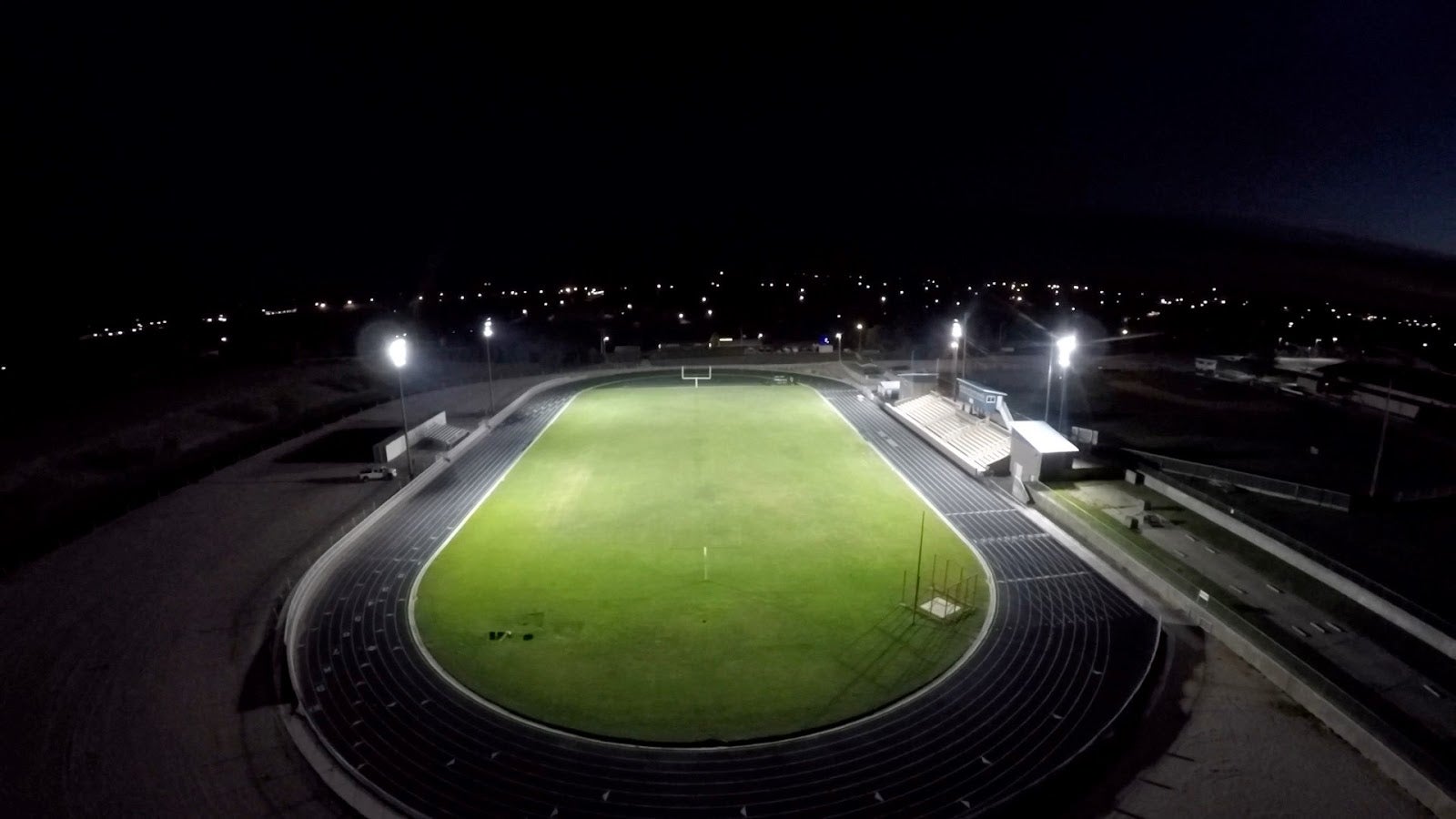 LED Lighting Retrofit for Football Field & Track, service provider Y-W Electric Association
Socorro Consolidated Schools Sets a Shining Example in Energy Efficiency
Socorro Consolidated Schools recently completed a high-efficiency LED lighting upgrade project in their school district located in Socorro, New Mexico. This project is located within Socorro Electric Cooperative, Inc's service territory and we're delighted to provide rebates for these LED lights installations to Socorro High, Midway and Parkview Elementary schools, and the district's Administration Building. The project was part of the district's energy performance contract which identified several ways to save energy and money. The result for Socorro Consolidated Schools - a reduction in the energy demand of 234 kW, which will result in a lot of energy savings!
"This is an incredible opportunity for Socorro Consolidated to save energy and money for many years," - Jimmy Capps, Director of Communications & Public Affairs at Socorro Electric Cooperative, Inc.  
The savings from this project funded other developments such as the installation of dimming, occupancy, and daylight harvesting controls in classrooms. Socorro Consolidated Schools was also able to add high-efficiency HVAC equipment to replace room-sized evaporative coolers. They also installed new roofing with improved insulation that will reduce their year-round energy costs.
"Socorro Consolidated schools recently installed high-efficiency LED lights in our Socorro High, Midway and Parkview Elementary schools, and our district's Administration Building. We are continuously looking at ways to save money and the LED lighting project will help us achieve this goal," says Ron Hendrix, Socorro Superintendent. "Socorro Electric Cooperative and Tri-State Generation and Transmission recently presented a commercial lighting rebate in the amount of $51,627 to Socorro Consolidated for the LED lighting project. The estimated savings are more than $794,000 on our electric bills over the next 22 years."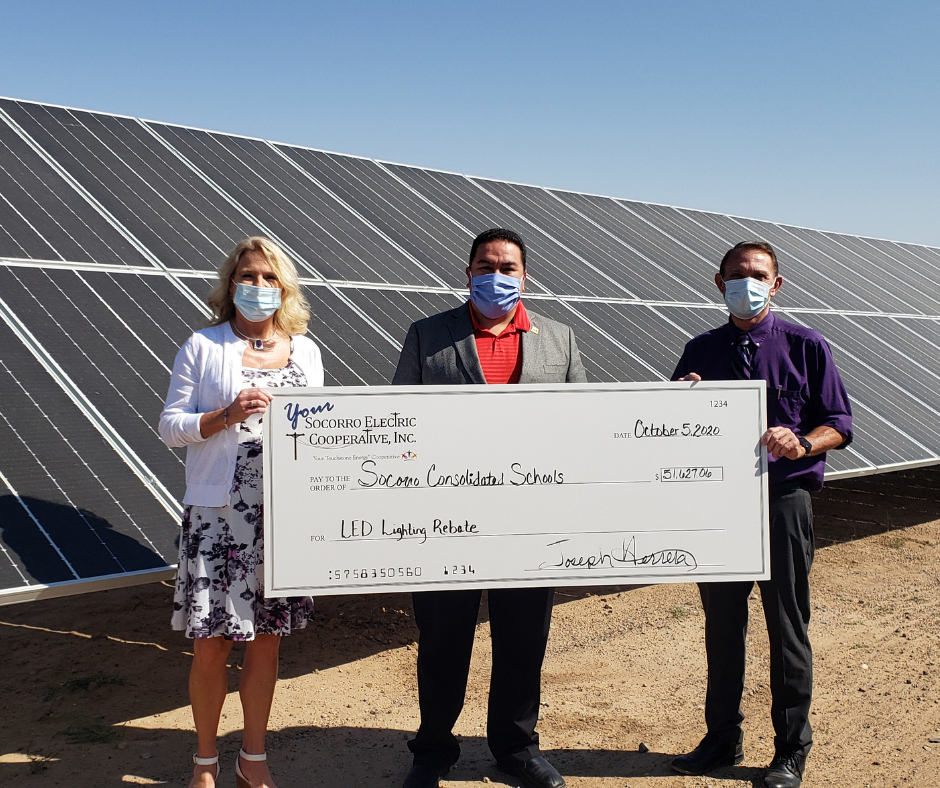 Standing in front of the new solar array at Midway Elementary, SEC GM Joseph Herrera presents the $51,627 rebate check to (far left) Denise Cannon, Socorro Asst. Superintendent, and (far right) Ron Hendrix, Socorro Superintendent.
Chimney Rock PPD Installs 27.5 Tons of Air-Source Heat Pumps
Chimney Rock PPD (CRPPD) may be small but are making some energy efficiency waves. Based on the total number of meters, CRPPD is one of the smaller members in the Tri-State service territory.  Despite their size, CRPPD is on an air-source, heat pump roll!  
With three months left in 2020, CRPPD members have installed 27.5 tons of air-source heat pumps and garnered $11,375 in associated rebates for member-consumers.  This almost doubles the annual average number of air-sourced, heat-pump installations of the last three years.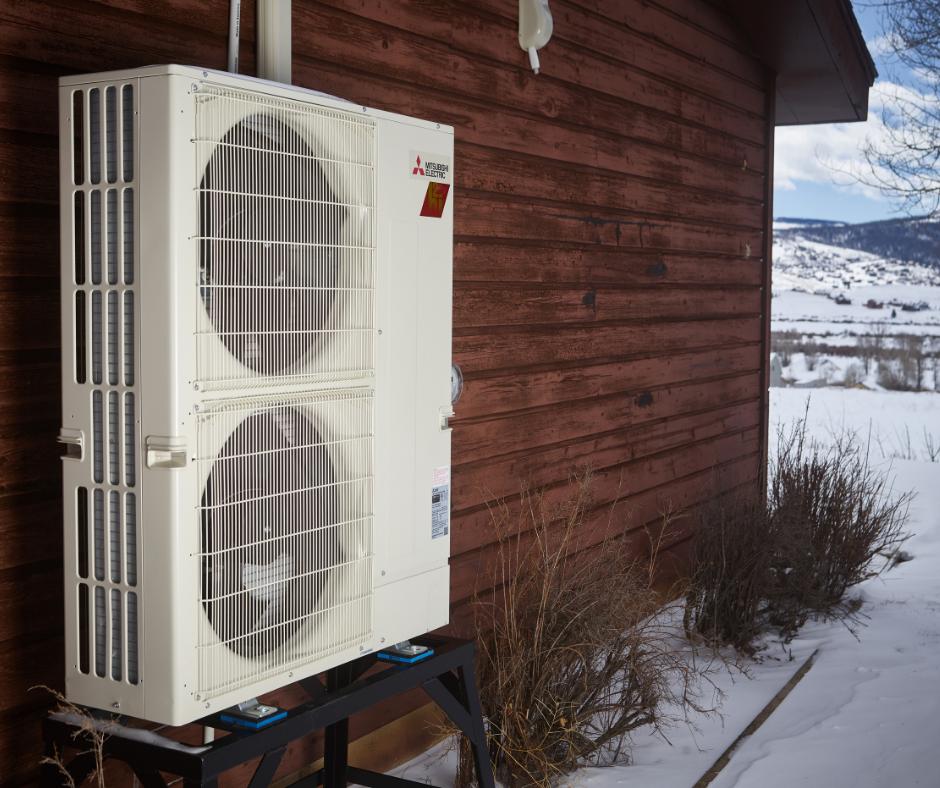 Energy Efficiency Tips While Saving Money 
The first steps to reducing your electricity bill are to understand where you're using the most energy, and then look for ways to reduce the amount of energy you use. 
Here we have highlighted 10 ways you can reduce your energy consumption to save money on your monthly utility bills. 
A Few of our Favorite Energy-Saving Tips:
 
Swap out your incandescent light bulbs for energy-efficient light bulbs. On average, you can reduce consumption by 75% and save $75-$198 per year just by swapping out the bulbs in your light fixtures with Energy Star LED bulbs.

Lower or raise your thermostat at least 2 degrees or as much as 10 degrees at night while you sleep. Replace your old thermostat to a new digital, programmable thermostat that adjusts for day and nighttime temps automatically.

Adjust your refrigerator and freezer temperatures. Setting your refrigerator to 38 degrees and your freezer to 5 degrees will keep your food fresh, but your refrigerator and freezer won't need to work as hard to maintain the temperature.
Check with your local electric cooperative or public power district to see if they offer rebates towards the purchase and/or installation of energy-efficient measures mentioned below.  The measures save energy and money in the long term, and the rebates will help reduce your installation costs. 
About Tri-State
Tri-State is a not-for-profit cooperative of 45 members, including 42 member utility electric distribution cooperatives and public power districts in four states, that together deliver reliable, affordable and responsible power to more than a million electricity consumers across nearly 200,000 square miles of the West. For more information about Tri-State and our Responsible Energy Plan, visit www.tristate.coop.