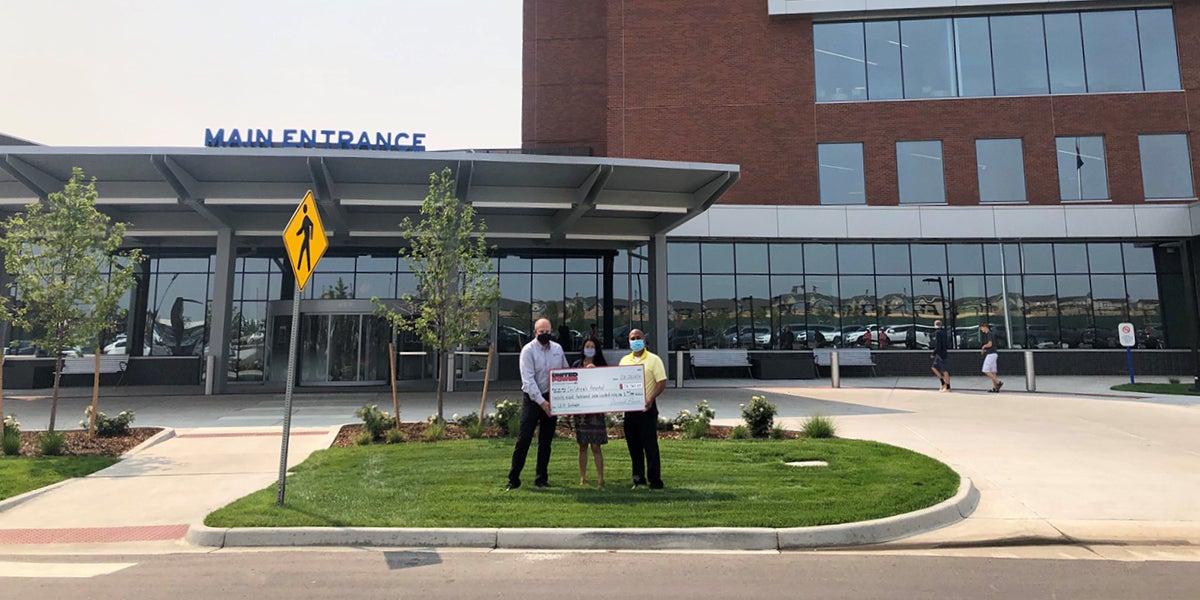 On Friday, August 21, United Power and Tri-State presented Children's Hospital North Campus  with a rebate check for $28,761 to reimburse them for the purchase and installation of energy efficient commercial LED lighting at their new hospital addition in Broomfield. 
"This rebate check, along with the energy savings from installing LED lights, means a lot to us, as the more we can save in these areas, the more money that goes into the care for kids," said Dan Coxall, Vice President of Support Services at Children's Hospital Colorado.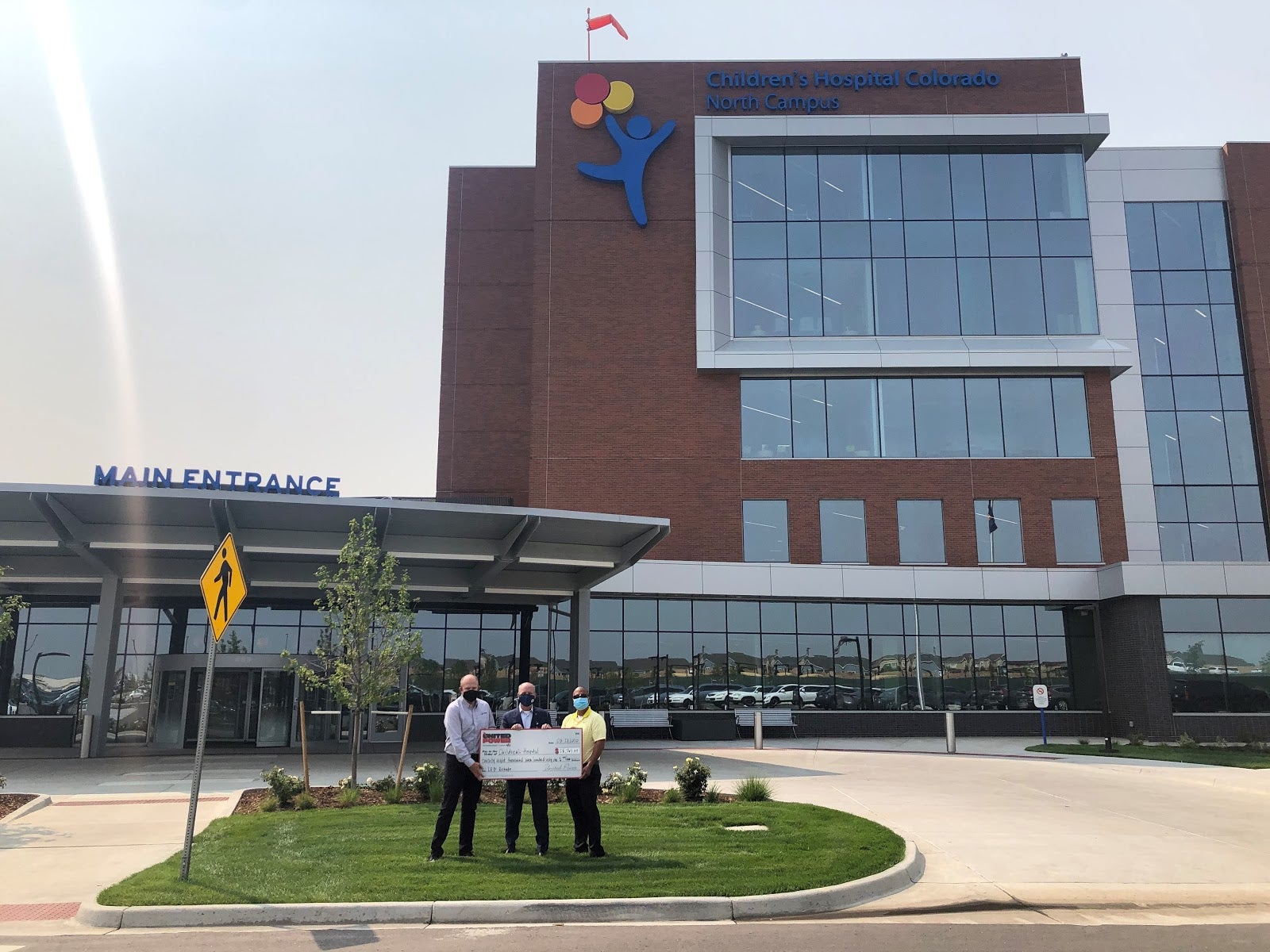 Left to Right Sander Blackburn, Dan Coxall and Jay Mendoza at Children's Hospital North Campus
The celebration was limited due to COVID-19. In attendance was Dan Coxall, Jay Mendoza, Community Affairs Representative at United Power, and Sander Blackburn, Member Relations Program Manager at Tri-State. Also in attendance but not pictured was Jamie Staton, of Children's Hospital Colorado.
"As a hospital we operate on a pretty slim profit margin, thus any way we can save through sustainability, lower energy costs and participating in energy efficiency programs the better, as it has a substantial impact on our bottom line," - Dan Coxall of Children's Hospital Colorado 
 
Tri-State Rebate Assists Hospital LED Lighting Upgrade
"We're proud to power The Children's Hospital's North Campus. The Hospital recently received a rebate from United Power and Tri-State Generation & Transmission for an LED lighting upgrade. LED lighting will provide energy efficient and low maintenance lighting for many years to come allowing the hospital to focus their resources on providing the best healthcare outcomes for children." - Jay Mendoza, Community Affairs Representative of United Power
Tri-State Energy Efficiency Products Program (EEP)
The Tri-State rebate contribution was made possible through our Energy Efficiency Products (EEP) program. The EEP program has been in place since 1985, and the program is a partnership between Tri-State and our member systems and is designed to promote efficient electric products, the wise use of electricity and new electric technologies.
"Tri-State's EEP program is one of many ways we bring value to our members and their member owners," said Sander. "Tri-State appreciates the opportunity to be a part of these check presentations to see our members in action and how they can help make a difference in the communities they serve." - Sander Blackburn, Relationship Manager of Tri-State
Tri-State is working with others to promote beneficial electrification to increase efficiency and productivity, reduce carbon emissions, and enhance safety for Tri-State, our member systems, and their member-owners. All Tri-State member systems are eligible to participate in the EEP program and they may tailor their offerings to meet specific goals. In 2019, the program successfully paid our member systems over $3 million in EEP program rebates.
Check out more of our Energy Efficiency programs of 2020 here. Tri-State works with its member distribution systems to implement member consumer energy efficiency through a variety of products and services.  Tri-States' Energy Efficiency program started in 1985 and has evolved over the years with input from all of the member systems and Tri-State staff. Our program awards over 10,000 Energy Efficiency rebates per year.   
__

Tri-State is a not-for-profit cooperative of 45 members, including 42 member utility electric distribution cooperatives and public power districts in four states, that together deliver reliable, affordable and responsible power to more than a million electricity consumers across nearly 200,000 square miles of the West. For more information about Tri-State and our Responsible Energy Plan, visit www.tristate.coop.