11/05/2020
Smoking a Thanksgiving Turkey in an Electric Smoker Safely
With Thanksgiving right around the corner, many families are already planning their meals and deciding how to cook the turkey. Over the years, smoked turkey has become increasingly popular due to its juicy, flavorful qualities. But most people shy away from this method because getting a turkey right with a smoker can be challenging, not to mention risky if it doesn't work out.  
As beneficial electrification efforts work to improve electrified cooking methods, such as electric smokers, smoking a turkey this Thanksgiving isn't as difficult as you might think. With a little time and patience, you can have an award-winning turkey that everyone will talk about for years to come.
According to expert pitmasters, the key to a perfect smoked turkey is "slow and low." Slow (as in a longer cook time), with a lower heat setting than what you're used to with typical roasting. 
Before you get started with your electric smoker, there are some precautions and electrical safety tips to consider.
Electric Smoker Safety
Smokers are for outdoor use only. 

Do not use an electric smoker when exposed to wet weather. Remember, it is an electrical appliance. 

If an outdoor extension cord is needed, make sure it is a grounding-type 3-wire cord, marked with a "W" and with the statement "Suitable for Use with Outdoor Appliances"

The electrical rating of the extension cord should be at least as great as the electrical rating of the smoker.

Never leave your smoker unattended, and unplug after use.

To prevent a fire hazard, your smoker should be at least 10 feet away from any structure. 

Do not operate under any overhead construction such as roof coverings, garages, overhangs, or awnings. 

Make sure your smoker is on a level surface of the ground

Do not operate a smoker on a wooden deck

Make sure you can use pellets with your smoker. Some electric smokers use wood chips only. Check with your owner's manual to make sure.

Do not use glass, plastic, or ceramic cookware in a smoker. 
Thanksgiving Turkey Smoker Tips
Before you get started, there are a few tips you'll want to keep in mind for your smoked turkey. A little bit of planning will go a long way. 
For one, make sure your turkey fits! Whatever type of electric smoker you use, make sure the bird you buy will fit into it. Usually, a bird between 12 to 14 pounds is ideal. If you have a tall smoker and a large family to feed, you can consider two birds. With a tall electric smoker box, you should be able to fit 2 smaller birds on the upper and lower shelves.
Make sure you thaw the turkey completely before beginning. Most home chefs will agree that a frozen turkey can take 2-3 days to thaw in the refrigerator.
Some experts recommend brining the bird for up to 12 hours to make it juicier. Whether you brine or not, thoroughly rinse the bird under cool running water and pat the inside and outside of the turkey with paper towels until it is completely dry. Some chefs stuff the cavity with halved apples or celery to lock in moisture while it's cooking!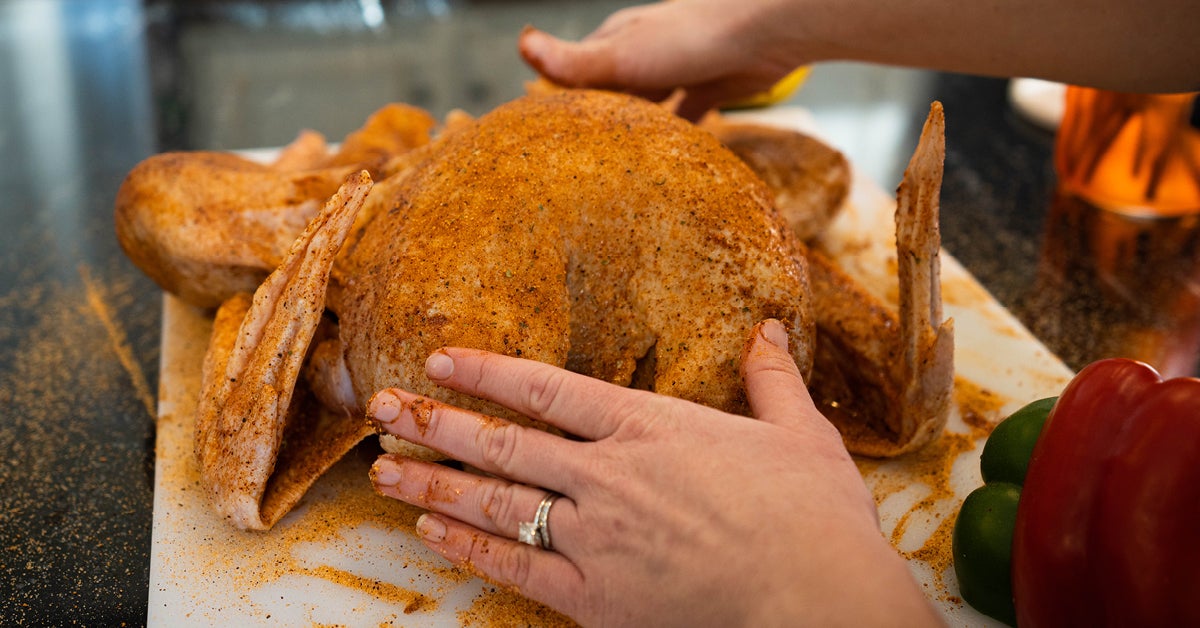 Electric Smoker Tips
Every electric smoker is slightly different, however, many will have their share of quirks. The good news is, electric smokers, like many electrical cooking devices, can be as easy as setting a temperature, time, and touching the 'on' button. For first-time use, many manufacturers suggest doing a test-run to "season" your smoker. 
You'll also want to use a grease pan on the lower shelves to catch the grease and make clean-up easier, as well as a separate water pan to keep moisture in the box while you're cooking.
Always preheat your smoker. Because electric smokers can take more time to heat than other types of smokers, you'll want to make sure you give it ample time to warm up to the right temperature. Keep in mind the top rack temperature will be higher than the bottom shelves, so you'll want to arrange your turkey accordingly. 
Wood chips are some of the favorite ingredients in a smoked turkey! Whether you choose applewood, hickory or even post oak is up to you. Keep in mind, some electric smokers may not perform well with soaked wood chips, so follow the manufacturer's instructions for use.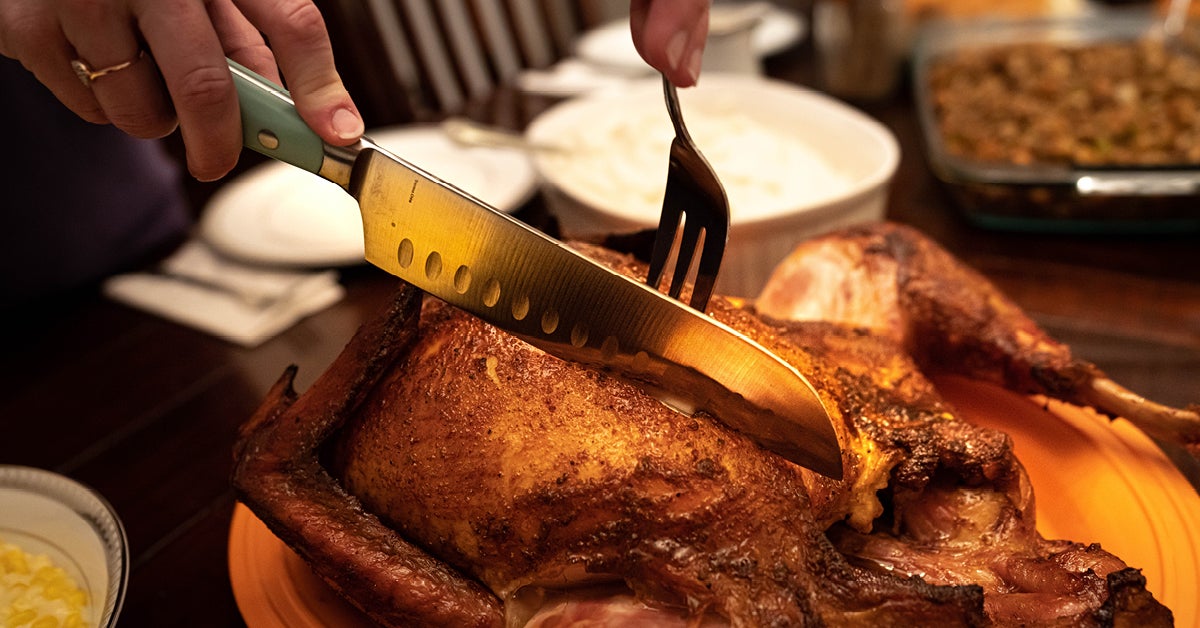 Herb Smoked Thanksgiving Turkey Recipe
(Courtesy of mrecipes.com)
Ingredients:
12 to 14-pound turkey, prepared as directed above.

2 Tbsp dried thyme

1 Tbsp powdered sage

2 tsp dried oregano

2 tsp paprika

2 tsp sea salt

1-1/2 tsp cracked black pepper

1 tsp dried rosemary

1 tsp onion or garlic powder (optional)

Zest of 1/2 an orange

1/4 cup extra virgin olive oil (EVOO)

1/2 cup apple cider

1/2 cup water

Apple or pecan wood chips
Total time: 6 hours 30 min – Prep time: 30 min – Smoke time: 6 hours
Serves: 16 people
Directions:
1. Preheat the smoker to 225˚F.
2. In a small bowl, mix together all the dry herbs and spices. Rub the interior cavity of the turkey with 1/3 of the dry seasonings.
3. Add the EVOO and orange zest to the rest of the seasonings and rub all over the outside of the turkey.
4. Place the water and apple cider in the water pan in the bottom of the smoker, filling it only halfway. Place a drip pan on the next shelf above the water pan to collect drippings from the turkey. Fill the side drawer with the wood chips.
5. Tuck the wing tips tightly beneath the turkey. Place the seasoned turkey on the middle rack of the smoker, close the door, and set a timer for approximately 6.5 hours. The turkey should smoke for 30 to 40 minutes per pound until the inside temperature reaches 165˚F.
6. Check every hour for smoke. Add wood chips if you don't see any smoke. Start checking the internal temperature of the bird after 3 hours and every 45 minutes with an accurate meat thermometer. Alternatively, use the digital probe thermometer that came with your smoker.
7. Remove the cooked turkey to a cutting board, tent it with aluminum foil, and allow it to rest for a minimum of 20 minutes to 2 hours before carving.
Electrify and Save™ 
___________
Tri-State is a not-for-profit cooperative of 45 members, including 42 member utility electric distribution cooperatives and public power districts in four states, that together deliver reliable, affordable and responsible power to more than a million electricity consumers across nearly 200,000 square miles of the West. For more information about Tri-State and our Responsible Energy Plan, visit www.tristate.coop.