We're taking bold steps
We are leading a clean energy transition. Together with our electric cooperatives and public power district members, we are expanding renewable energy generation and reducing emissions while ensuring reliable, affordable and responsible electricity for the communities we power.
We have a vision for the future in which the benefits of an economy-wide energy transition – from cleaner air to economic opportunity to a greener grid – are shared with everyone.
Our Responsible Energy Plan (REP) outlines our commitments and goals to help make that vision a reality. With this plan, we can achieve an energy transition that allows us to be responsible to our members, our communities, our employees and our environment.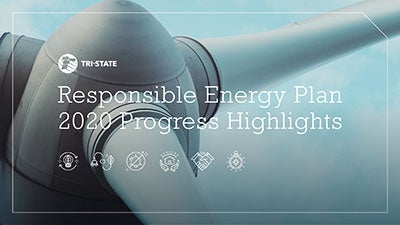 Click to view
Responsible Energy Plan: 2020 Progress Highlights
Tri-State and our members have made great strides implementing the plan, which has allowed us to set new goals beyond those identified in January 2020.