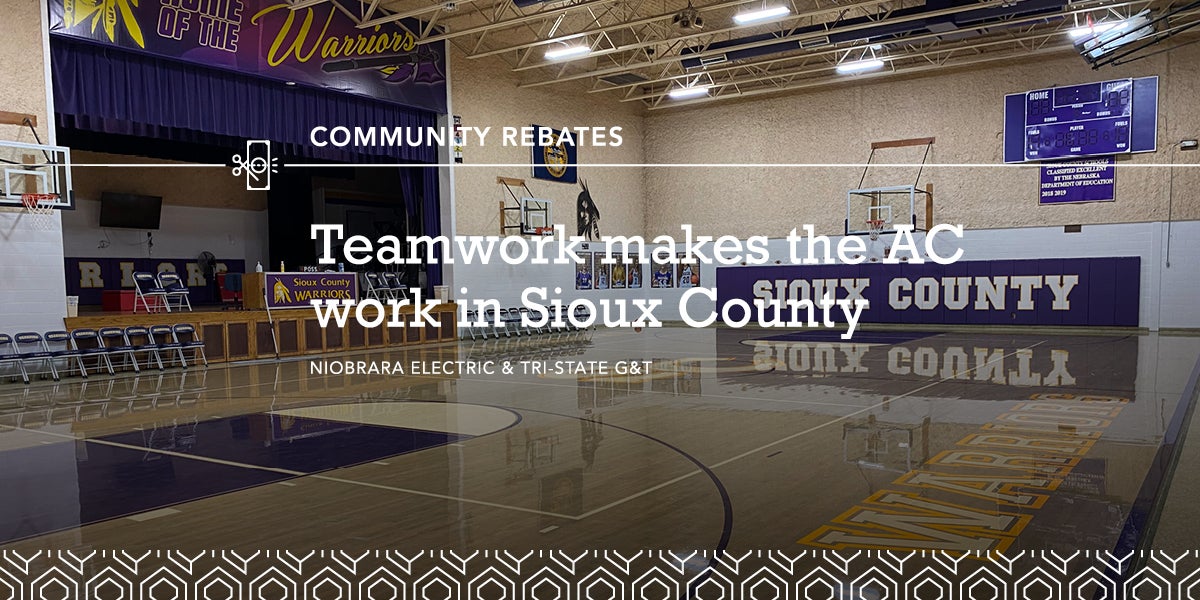 1/15/2021
As school districts respond to state education budgets squeezed by the pandemic, managing facility costs has become a hot topic – literally – as in controlling heating and cooling bills for half-empty buildings.
Sioux County Schools has made returning to the classroom more enjoyable for students and is saving energy and money in the process.
The Nebraska school district recently completed a heating, ventilation, and air conditioning (HVAC) and LED lighting system project at its high school that created a more comfortable learning environment and is expected to generate energy efficiency cost savings for the next 15 years.
Ameresco was the contractor for the project, which replaced the oil-fueled steam boiler with a high-performance electric heat pump, upgraded ventilation, and LED lighting that uses half the energy of traditional bulbs.
Energy-Efficient Heat Pump Rooftop Units Replace Unreliable Steam Boiler
A heat pump, as part of a central heating and cooling system, is highly energy-efficient because it acts like an air conditioner when it's hot outside and a heater when it's cold outside. Highly popular in moderate climates for years, air-source heat pumps are now rated for temperatures as low as zero degrees Fahrenheit.
For commercial applications, the heat pump system is packaged into a set of Roof Top Units (RTU). The high school's HVAC system includes smart learning and programmable settings controlled through a mobile app. The project replaced noisy window AC units and improved air quality in the gymnasium and locker rooms. 
Students and staff immediately noticed an improved overall comfort in the building.
"It's a bit of a wonderful project. We didn't have proper air circulation," said Dr. Brett Gies, Sioux County Schools Superintendent. "It just feels so nice. And we have night setbacks to help us save energy and money."
Energy Performance Contracting (EPC) for Commercial Buildings
An Energy Performance Contract (EPC) is a turnkey service delivered by an Energy Service Company (ESCO). The ESCO provides all of the services required to design and implement a comprehensive project at the customer facility, from the initial energy audit through long-term Monitoring and Verification (M&V) of project savings.
The ESCO tailors a comprehensive set of measures to fit the needs of a particular facility, and a guarantee that the savings produced by the project will be sufficient to cover the cost of project financing for the life of the project.
The $1.4 million district project was funded through low-interest financing and $30,000 in rebates from Niobrara Rural Electric Association (NEA) and Tri-State as part of the U.S. Department of Energy programs that promote conservation efforts. The district expects to pay off the project in half the time of the 20-year loan.
New System Provides Improved Air Quality and Lower Energy Bills
Combined, the upgrades are expected to produce over $3,000 in annual utility bill savings. But that's only a portion of the full operational savings the district expects to achieve when you factor in the steam boiler was difficult to keep in service and pass state inspection.  
The boiler's inefficiency led to rooms being too hot or too cold, and a lot of wasted heat never reaching classrooms.
 "We were having pipes break in the classrooms," Dr. Gies said, creating frequent disruptions to student learning and further damage to floors and radiators.
The building's electrical service was upgraded to a 460-volt, three-phase service to bring it up to code and allow the new heat pump system to operate. Niobrara Rural Electric Association contributed $16,000 in work to the project to upgrade the line to the building, and the district paid for the transformer and underground cable, said Rick Bridge of NEA.
"We appreciated the opportunity to participate in this project with Niobrara to play a part in providing the Sioux County Schools state-of-the-art energy-efficient equipment that will save the school money and provide comfort to students and staff," said Sander Blackburn, Tri-State's member relations manager.
Your local electric cooperative or public power district is a good resource to understand more about this technology, potentially can help answer questions on contractors, financing, and incentives for this energy-efficient option. Contact your coop or public power district for more details.  
About Tri-State
Tri-State is a not-for-profit cooperative of 45 members, including 42 member utility electric distribution cooperatives and public power districts in four states, that together deliver reliable, affordable and responsible power to more than a million electricity consumers across nearly 200,000 square miles of the West. For more information about Tri-State and our Responsible Energy Plan, visit www.tristate.coop.