Brittany Willison
Energy Innovation in Agriculture
The 1930s marked a turning point for rural electrification when President Franklin D. Roosevelt established the Rural Electrification Administration, enabling rural electric utilities to build distribution systems and bring electricity to previously underserved areas. Electric cooperatives were formed by local communities, farmers, and ranchers, allowing them to invest in and manage their own electricity infrastructure.  
With access to electricity, technological advancements came quickly and by the 1940s electric pumps, irrigation systems, and modern agricultural equipment were developed, further transforming the farming and ranching industries.  
Revolutionizing Agriculture: Electrification's Role in Sustainable and Efficient Energy Use 
Today, the focus has shifted from simply providing affordable electricity to improving the efficiency of energy use and supporting sustainable practices in agriculture. One significant development in this regard is the integration of electrification into various aspects of agriculture. Electrification, which involves the use of electricity to power machinery, tools, and processes on the farm, holds the potential to revolutionize the way we cultivate, harvest, and manage our crops. This transition offers several benefits that contribute to increased efficiency, productivity, sustainability, and improved quality of life for farmers.  
Electric equipment is more energy-efficient than their internal combustion engine counterparts. Electric motors convert a higher percentage of energy into useful work, resulting in lower energy consumption and operating costs. Electric equipment has fewer moving parts and requires less frequent maintenance compared to traditional machinery. This can lead to reduced downtime and lower maintenance costs for farmers. 
Lastly, electric machinery produces less noise compared to traditional combustion engine equipment, contributing to a quieter and more pleasant working environment for farm workers and neighboring communities. Additionally, electric vehicles and machinery produce zero tailpipe emissions, improving air quality on and around farms. 
Electrification Applications Within Tri-State Membership   
Last year, the Tri-State Communications team visited our member La Plata Electric Association (LPEA) in Durango, Colorado. There we were introduced to James Ranch, a family-owned regenerative farm producing 100% grass-fed beef, artisan cheeses, farm-fresh eggs, and a myriad of other foods. The entire James family takes sustainability seriously and has thoughtfully incorporated it into their operations. Starting with installing solar panels on their large freezers that store their meat. The solar panels provide 50% of the energy needed during the day and are connected to a generator that holds the temperature at a safe level in the event of an outage.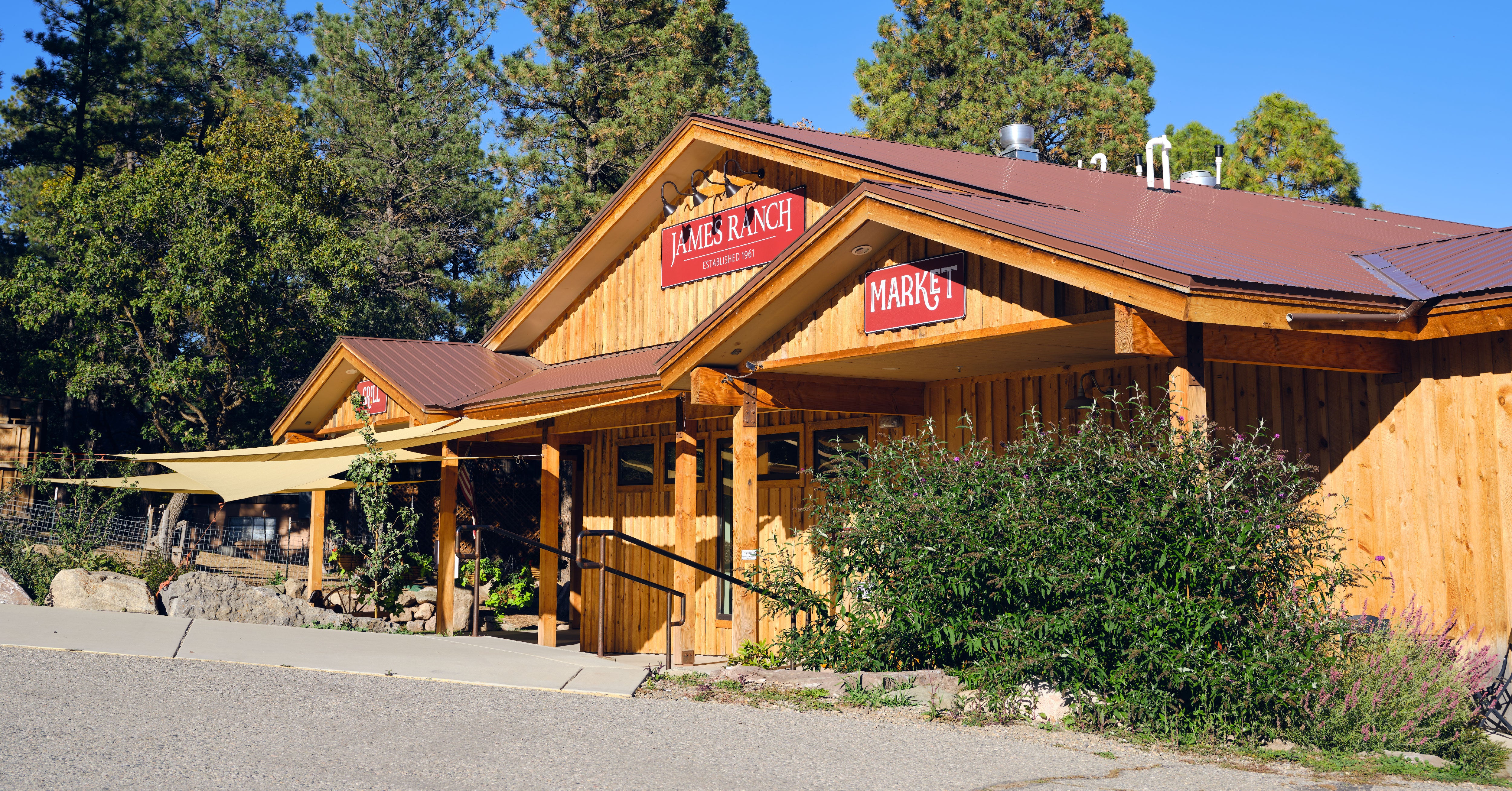 They also decreased their water use by installing a center pivot to their existing K-line irrigation system. K-line irrigators use a slow-absorption method that results in greater forage growth. Electrification can enhance irrigation systems by enabling efficient water pumping and distribution. Electric pumps can be paired with smart irrigation technologies to optimize water usage based on real-time weather data and soil conditions. Read the full James Ranch story.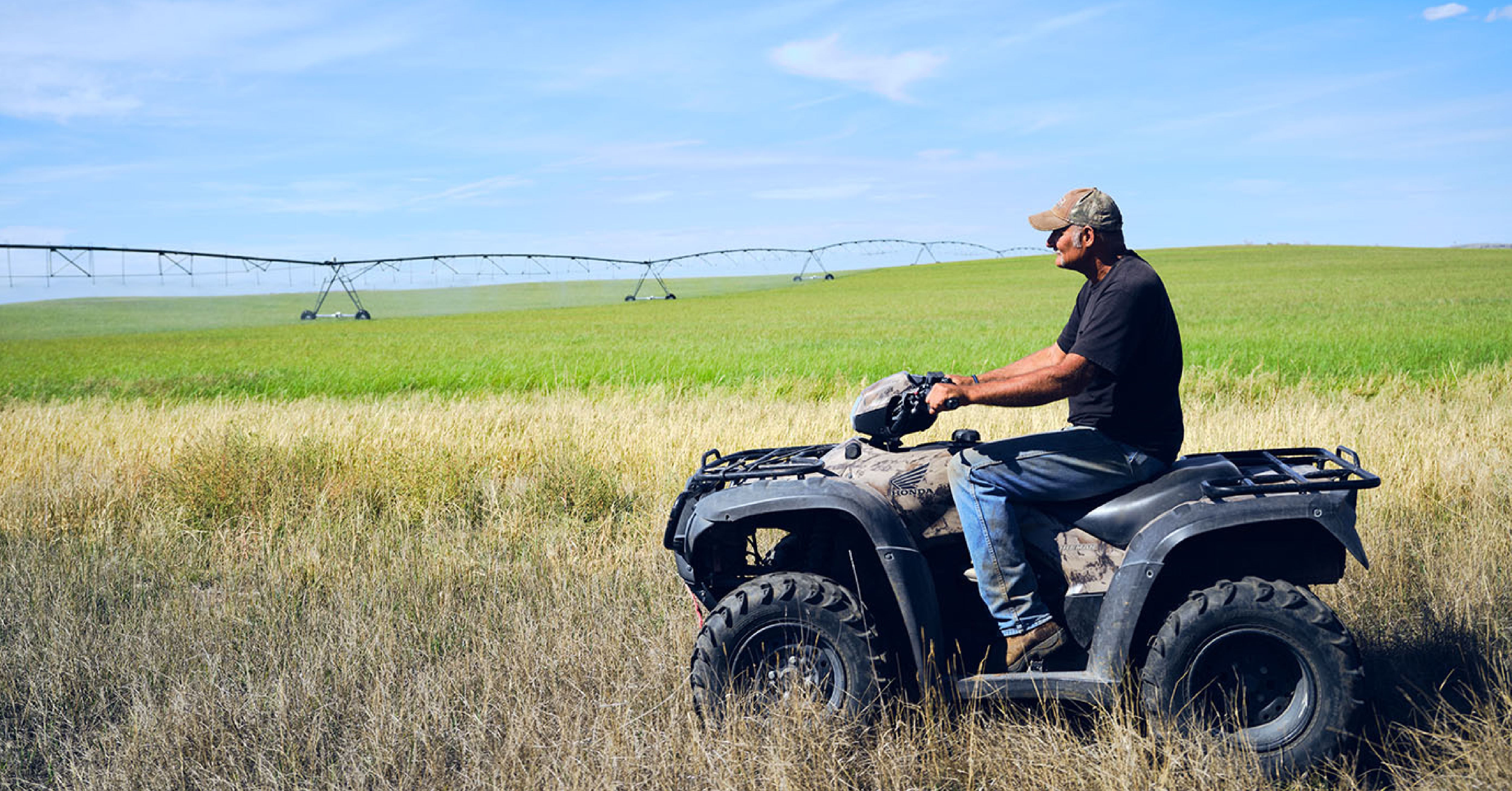 While in Durango, we also met Vincent and Shandra Akin, who had recently inherited a 10-acre hay field just outside of town. Neither had farming experience, but they wanted to learn to bale the hay themselves in an efficient and environmentally friendly way. They were pleasantly surprised to find an electric tractor that had the same horsepower as its gas engine counterpart and was capable of lasting four to five hours on one charge, plenty of time to accomplish meaningful work in a field their size. During their first year, they were able to harvest 150 mini-round bales of alfalfa.  
"I would recommend this electric tractor for anyone who has been thinking of the future of energy and how we use it," Vincent said.  
Electric tractors and other farm machinery are becoming more popular due to their efficiency and reduced environmental impact. Electric tractors can be used for plowing, planting, cultivating, and harvesting, offering a cleaner alternative to traditional diesel-powered equipment.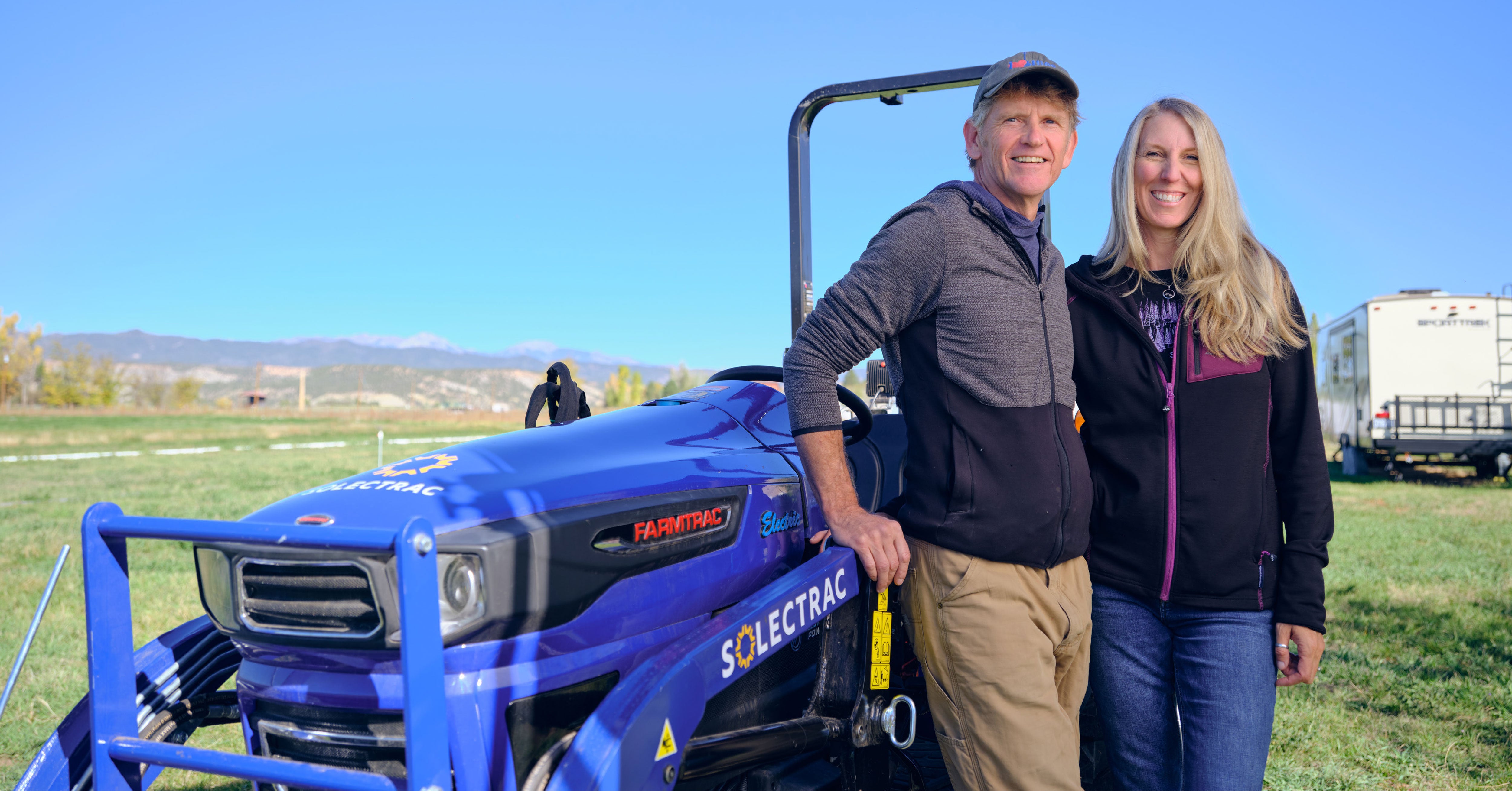 Energy Efficiency in Agriculture 
Beyond electrification, farmers and ranchers in our member service territories are finding ways to boost energy efficiency in their operations, including at Walther Farms in Lisco, Nebraska, powered by Tri-State member Wheat Belt Public Power District (PPD). 
Walther Farms is a third-generation, family-owned chipping potato business operating in eight states. Chipping potatoes are sensitive to heat and like to be stored in dark, dry places. Once the potatoes are harvested, they're taken to bins outfitted with climate-control systems. Farm Manager Henry Nira can monitor the bins' temperature and humidity levels remotely. Each of the potato storage bins is insulated with six inches of closed-cell spray-foam insulation to help keep the bins at their target temperature resulting in lower cooling costs. Because the potatoes are constantly giving off carbon dioxide gases, ventilation is key.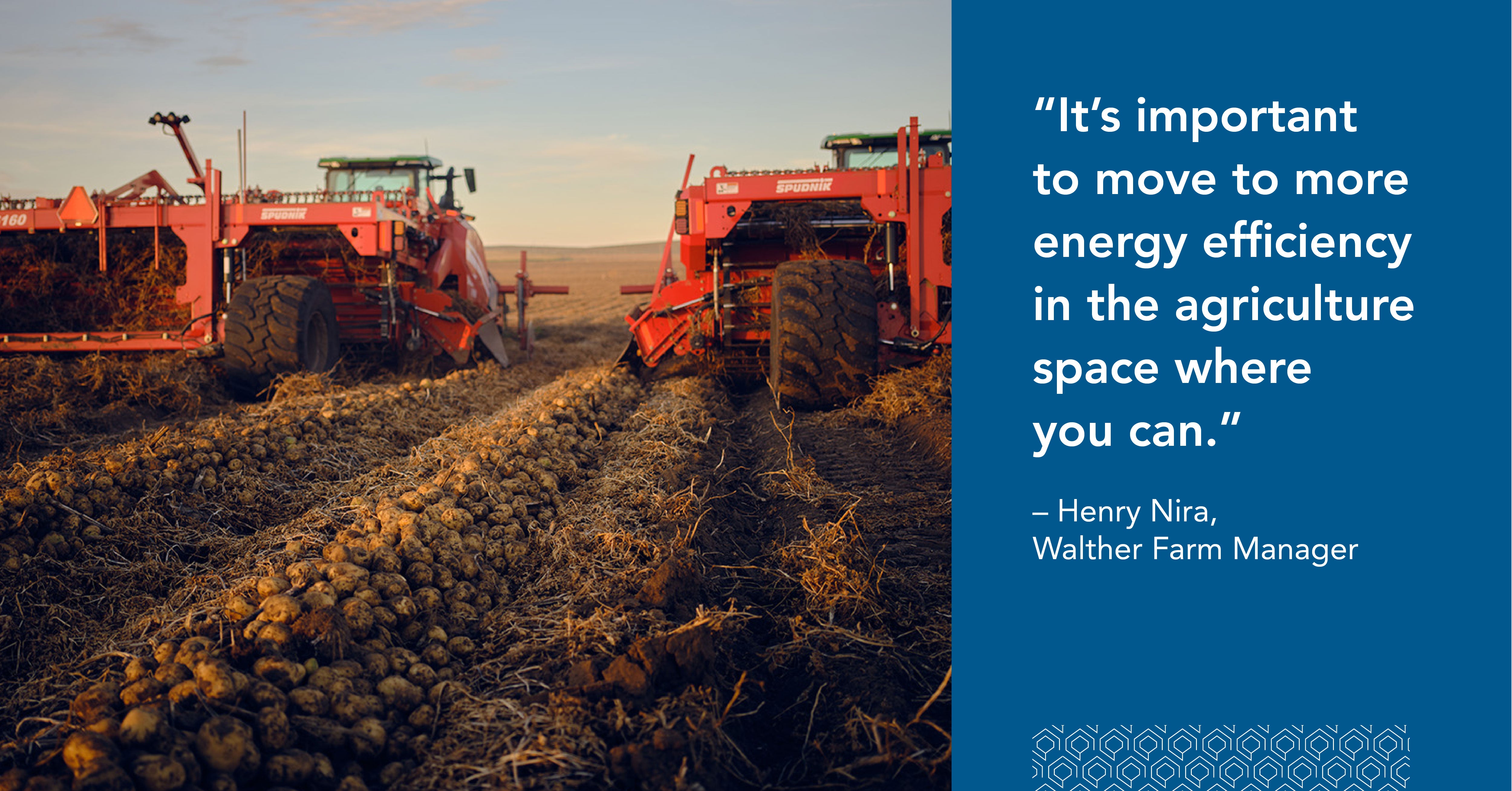 Walther Farms uses a variable frequency drive (VFD) on all its fan systems to adjust the motor speed and control airflow. While necessary, fans consume an enormous amount of energy when used daily on the farm. VFDs allow the fans to ramp down when airflow is in lower demand and easily ramp back up when needed, which consumes the least amount of power.  
"It's important to move to more energy efficiency in the agriculture space where you can," he said. "Whether that's at your storage facilities or out in the field." Read the full Walther Farms story.  
Efficient Irrigation Solutions: Empowering Farmers and Cutting Energy Costs with Wheat Belt's TOU Program 
Mike Blomenkamp also lives in Wheat Belt's service territory and for over three decades has grown corn, wheat, and alfalfa, among other crops. Farming is no easy gig, but an efficient irrigation system makes Mike's life a lot easier. Without it, it would be nearly impossible for him to grow a quality product. Irrigators like Mike make up 40% of Wheat Belt's energy consumption.  
Wheat Belt recognized the vital role of irrigators and worked with Mike (a board member at the time) and other board members to find ways to cut costs. They introduced the time-of-use (TOU) program for irrigators in 2017, which gives farmers the option to use energy at night and in the morning when energy is less expensive. 
Mike automated his system and can make any necessary changes using an app on his phone. From the comfort of his home, he can turn the pivots on and off, and change direction and speed. By modernizing his operations and running during non-peak hours, he saved approximately $25,000 in the first season. 
"It's been a game changer," Mike said. "I'm a huge unabashed proponent." With a little practice, Mike discerned which crops thrive on the new watering schedule. His irrigation system now starts at 10 p.m. and shuts off at noon the following day, just before the afternoon heat hits.   
"Everyone thinks of farmers as doing things the same old way but it's not true," he clarified. "Ag is changing and we're getting better, just like every other industry." Read the full TOU story.  
Energy efficiency in agriculture holds immense promise for farming practices. From reducing environmental impact and energy consumption to enhancing precision agriculture and post-harvest processes, electrification is reshaping the way we approach food production. While challenges such as infrastructure and initial investment need to be addressed, the potential benefits for both farmers and the environment make electrification an avenue well worth exploring. As technology continues to evolve, electrification will likely play a pivotal role in shaping the future of agriculture towards greater sustainability and productivity. 
About Tri-State   
Tri-State is a not-for-profit cooperative of 45 members, including 42 electric distribution cooperatives and public power districts in four states, that together deliver reliable, affordable and responsible power to more than a million electricity consumers across nearly 200,000 square miles of the West. For more information about Tri-State and our Responsible Energy Plan, visit www.tristate.coop.