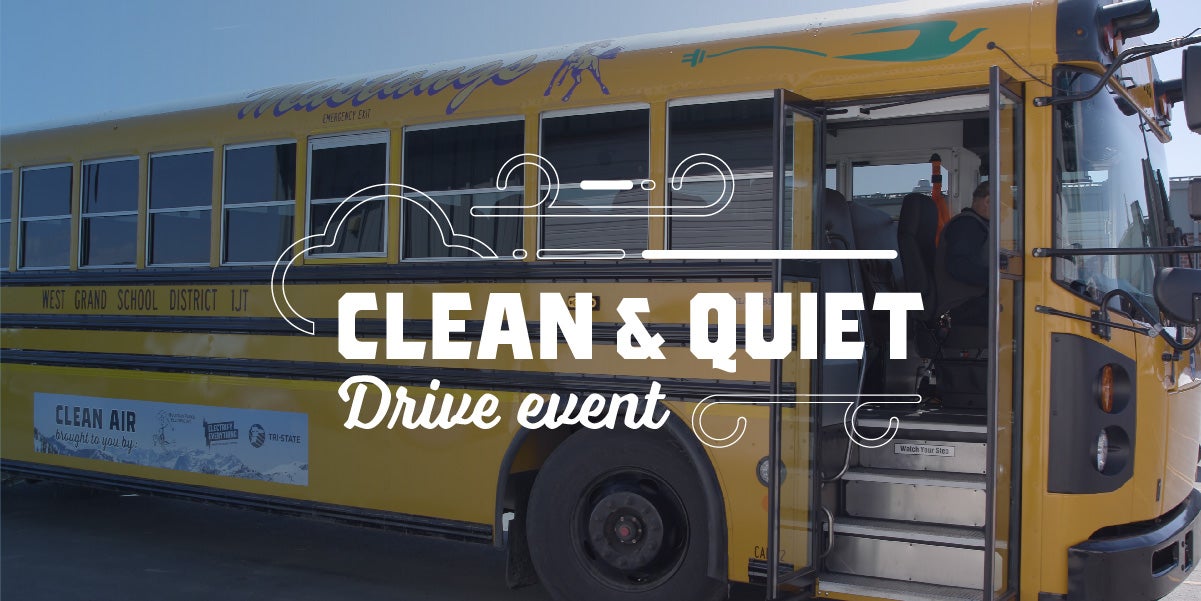 3/21/2021
Second EV Bus Rolls Out from Colorado's West Grand School District
It was a sight to see - a bunch of high school students excited to get on a school bus, during spring break, no less.
But that's exactly what happened when a group of West Grand School District (WGSD) seniors had the honor to be the first official riders on the district's new electric vehicle (EV) school bus during a dedication on March 18 in Kremmling, Colo.  
"It's so quiet and smooth," students said at the clean air ride event. It's so quiet, in fact, Bluebird All American added an artificial engine noise when the bus is moving under 15 miles per hour for safety. The quiet ride has a second benefit of making a safer environment for the students and drivers, who can hear what's happening at the back of the bus.
State and Co-op Grants Cover Entire Cost of EV Bus
The district acquired the $400,000 bus at no cost to taxpayers, thanks to several grants. Colorado's Regional Air Quality Council (RAQC) awarded $300,000, and support from Mountain Parks Electric and Tri-State covered the remaining cost of the bus and charging station.
"We really appreciate everyone's help on this project," said WGSD Superintendent Darrin Peppard. "Especially Mountain Parks Electric, for encouraging us to apply for the state grant and for providing additional financial support along with Tri-State."   
The 78-passenger all-electric bus has a 120-mile range and three times the torque of the diesel bus it replaced. The district plans to use it on a daily route that's around 50 miles round trip. In between morning and afternoon routes, the bus can fully charge in about four hours.
Tri-State CEO Duane Highley said school buses are an ideal EV solution because they charge at night, when electric demand is low, and operate a predictable route that eliminates range anxiety.  
"Thank you all for being so forward-thinking to bring this electric bus into the mountains and prove to everybody it can be done," Highley said during the dedication. "It's a great opportunity for the school district to have better performance, a lower operating cost, and cleaner air emissions."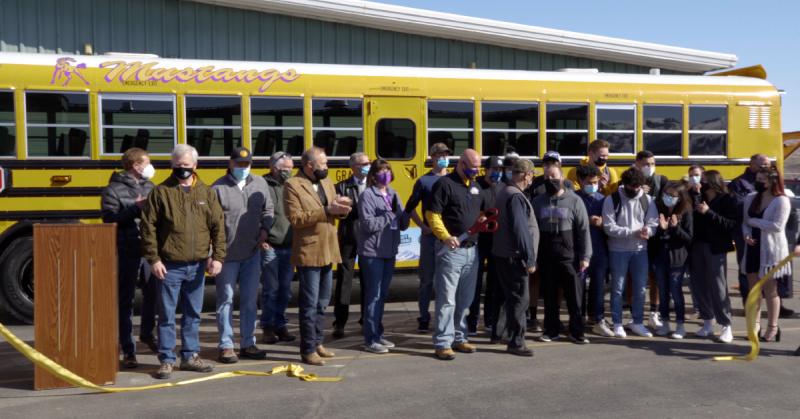 EV Bus By the Numbers
Manufacturer - Bluebird All American
Cost - $400,000
Engine – battery-powered electric
Range – 120 miles
Charge time - 4 hours
Capacity – 78 passengers
EV bus fuel and maintenance savings can total more than $10,000 annually
An EV bus on a typical school route can save a district more than $10,000 in annual fuel and maintenance costs compared to a diesel engine, according to Jeffrey Koza, a Blue Bird school bus dealer in Colorado.
As Colorado's first high-altitude all-electric bus, Mountain Parks and the school district plan to share cold-weather performance data captured at more than 8,000 feet elevation. So far, the district is very pleased with the driving performance and comfort of the cabin heating system. 
Mountain community leaders – including other schools, towns, and ski resorts with public transportation and fleet vehicles – are watching closely with keen interest. 
"Hopefully, this first EV bus will get them excited about the technology," says Chris Michalowski, power use advisor for Mountain Parks Electric.
Transportation electrification drives clean energy targets
In many communities, parents are driving the demand for electric school buses because they want their children to ride in clean, quiet vehicles. While the benefits are numerous, most districts can reduce the cost to taxpayers by seeking additional financial support. 
In Colorado, the state is using its $67.5 million share of the Volkswagen settlement for alternate-fuel projects in electric and natural gas. The state aims to have nearly one million EV vehicles on the road by 2030.
Transportation electrification  - replacing gasoline with electricity to power vehicles, trains and busses - offers one of the fastest ways communities can take advantage of renewable energy while reducing carbon emissions. About one-third of the energy consumed by Tri-State member cooperatives and public power districts comes from clean energy sources. By 2024, it will be 50% renewables, and by 2030, at least 70%.
The kids on the bus represent the EV drivers of the future. Mountain Parks hopes the school bus drives EV adoption, serving as a "mobile billboard" across the community.
"We are thrilled to see the school district go electric," said Mountain Parks Electric GM Mark Johnston. "Mountain Parks Electric's power supply is becoming increasingly renewable. And one of the best ways to put that renewable energy to work is to replace fossil fuels with electric alternatives, like this school bus."
___________
Tri-State is a not-for-profit cooperative of 45 members, including 42 member utility electric distribution cooperatives and public power districts in four states, that together deliver reliable, affordable, and responsible power to more than a million electricity consumers across nearly 200,000 square miles of the West.