5/1/2023
Warm Weather Tools to Get Your Yard Summer Ready 
As temperatures rise and the grass finally turns green, you're probably looking forward to using your outdoor space in the upcoming summer months. There's nothing like relaxing outside and soaking up the fresh air, but sometimes our yards need a little work before we can fully enjoy them. Don't sweat it, with the help of a few tools you'll have your yard summer-ready in no time.  
Electric power tools don't require gasoline, oil changes, spark plugs or filters; simply slide in the battery and go. Gone are the days of pulling a cord to get your lawn tools started; electric tools start with the push of a button and are designed to be lightweight and easy to handle. Not only are they easy to use, but they also make it simple for you to reduce your environmental impact. Because they don't require fossil fuels, electric equipment consumes less energy without sacrificing power. Ready to go electric? Check out the top outdoor tools below.  
Electric Lawnmowers 
Mowing the lawn used to be a chore that required a lot of preparation. Between checking all the parts, filling them with gasoline and lugging them out to the yard, it was quite a production. Then, after all of that you had to yank the cord as hard as you could and pray it started on the first try. It was an exhausting job made more exhausting by constant motor noise.  
Enter electric lawn mowers. They're quiet, compact and require little maintenance. Simply keep the battery charged and you'll be ready to mow at a moment's notice. Thanks to high customer demand for the new technology, battery-powered lawnmowers are quickly becoming the standard. Most electric lawn mowers can cut a half acre on one battery. Don't worry if you have a larger lot, many outdoor lawn manufacturers have electric riding mowers and there are several options for commercial-level equipment.  
Models to Look For (Walk Behind Mowers) 
Popular Mechanics claims the Ego LM2150SP Cordless Lawn Mower is the best model available in 2023 due to its cut quality and bagging ability. The battery is sold separately so be sure to account for that when budgeting.  
The best bang for your buck comes from the Greenworks 25223 Cordless Lawn Mower which includes two batteries with purchase. 
Electric Weed Trimmer 
Unlike mowers, weed trimmers require a little preparation whether they're electric or not. While you still must thread the string, you won't have to worry about a sore arm the next day because electric weed trimmers only weigh about 5-7 pounds. Their weight makes them easy to maneuver and will leave your edge looking professional.  
Models to Look For 
The top pick from Popular Mechanics is the WORX WG163 Cordless String Trimmer. The tool can easily switch from a string trimmer to a wheeled edger and weighs about 5.3 pounds.  
Their second choice was the Makita XRU15 String Trimmer for its lack of noise and vibration, as well as balance.  
Electric Leaf Blower 
Your work isn't complete until your patio, driveway and sidewalk are clear of grass and other debris. To finish your yard day, you'll want a leaf blower that doesn't skimp on power. Ditch the cord and opt for an electric leaf blower to move around the yard with ease. Electric leaf blowers are much quieter than their gas-powered counterparts and with zero emissions, they're better for the environment and your health. Not convinced? They're also better for your wallet because they don't require fuel, oil or other pricey pollutants.  
Whether you're using it to gather leaves, clean out the gutters or dry the car, leaf blowers are an essential tool to have on hand. 
Models to Look For 
Popular Mechanics votes the Ego Power+ LB6504 Cordless Leaf Blower as the best overall choice, primarily due to airspeed. 
Another top choice was the Greenworks BL80L2510 Cordless Leaf Blower for being lightweight (8.8 pounds) and powerful.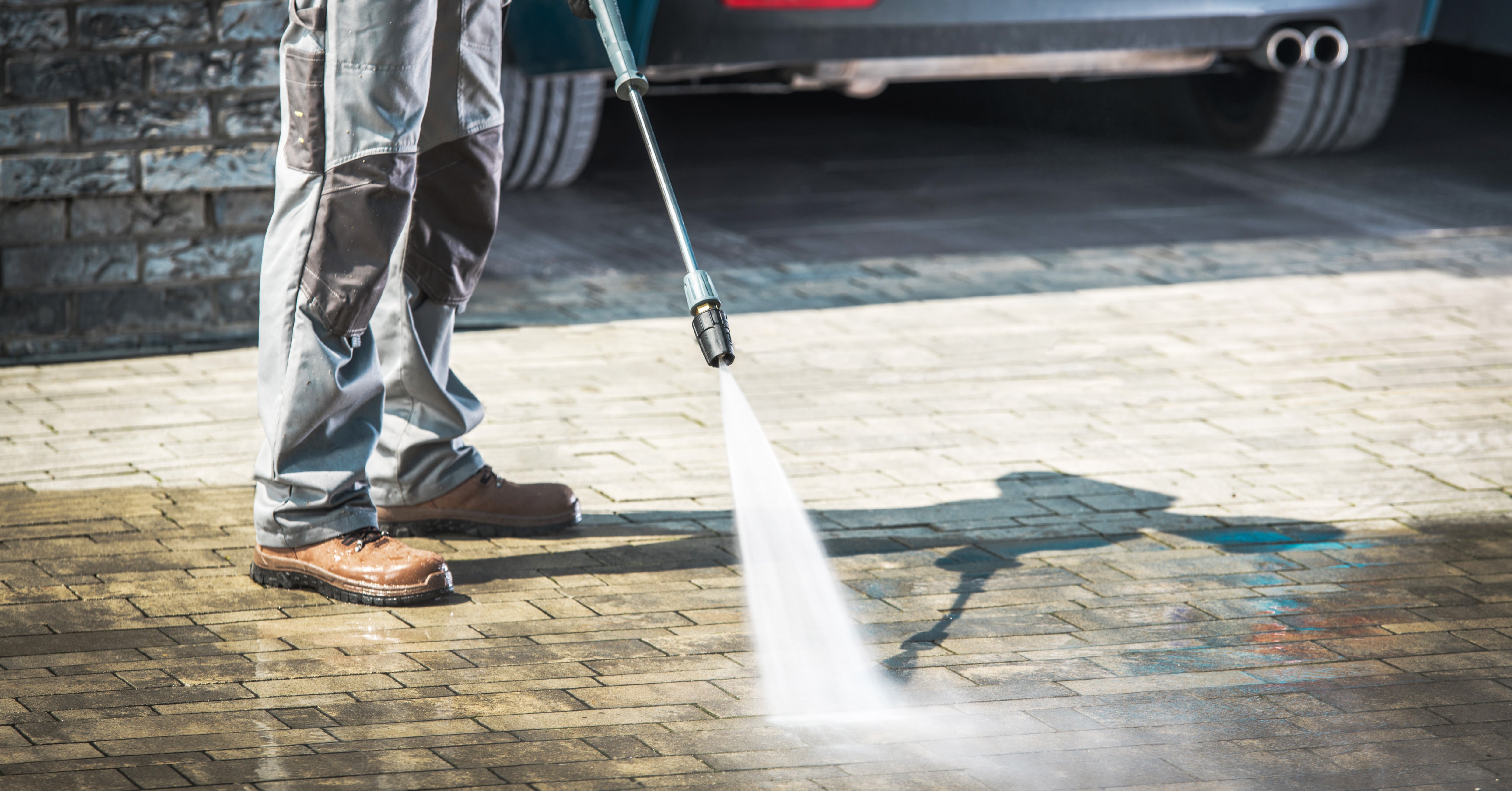 Electric Pressure Washer 
If winter weather has your outdoor surfaces looking a little grimy it may be time for a power wash. A good pressure washer can rinse years, even decades, of grime off your exterior surfaces. Use it for your driveway, deck, sidewalk, outdoor furniture, siding and more – just make sure the pressure is set accordingly so you don't cause damage.  
Unlike gas-powered models that must be used in well-ventilated areas, electric pressure washers can be used anywhere and are more user-friendly.  
Models to Look For 
The Sun Joe SPX3000 Electric Pressure Washer is a favorite pick for its affordability and power. It's lightweight at 27.6 pounds (gas pressure washers can weigh anywhere from 60-300+ pounds) and can get the job done with five quick-connect spray tips.  
In second place, the WHOLESUN 3000PSI Electric Pressure Washer is easy to store and saves energy with its Total Stop System that turns off the pump when the trigger is not in use.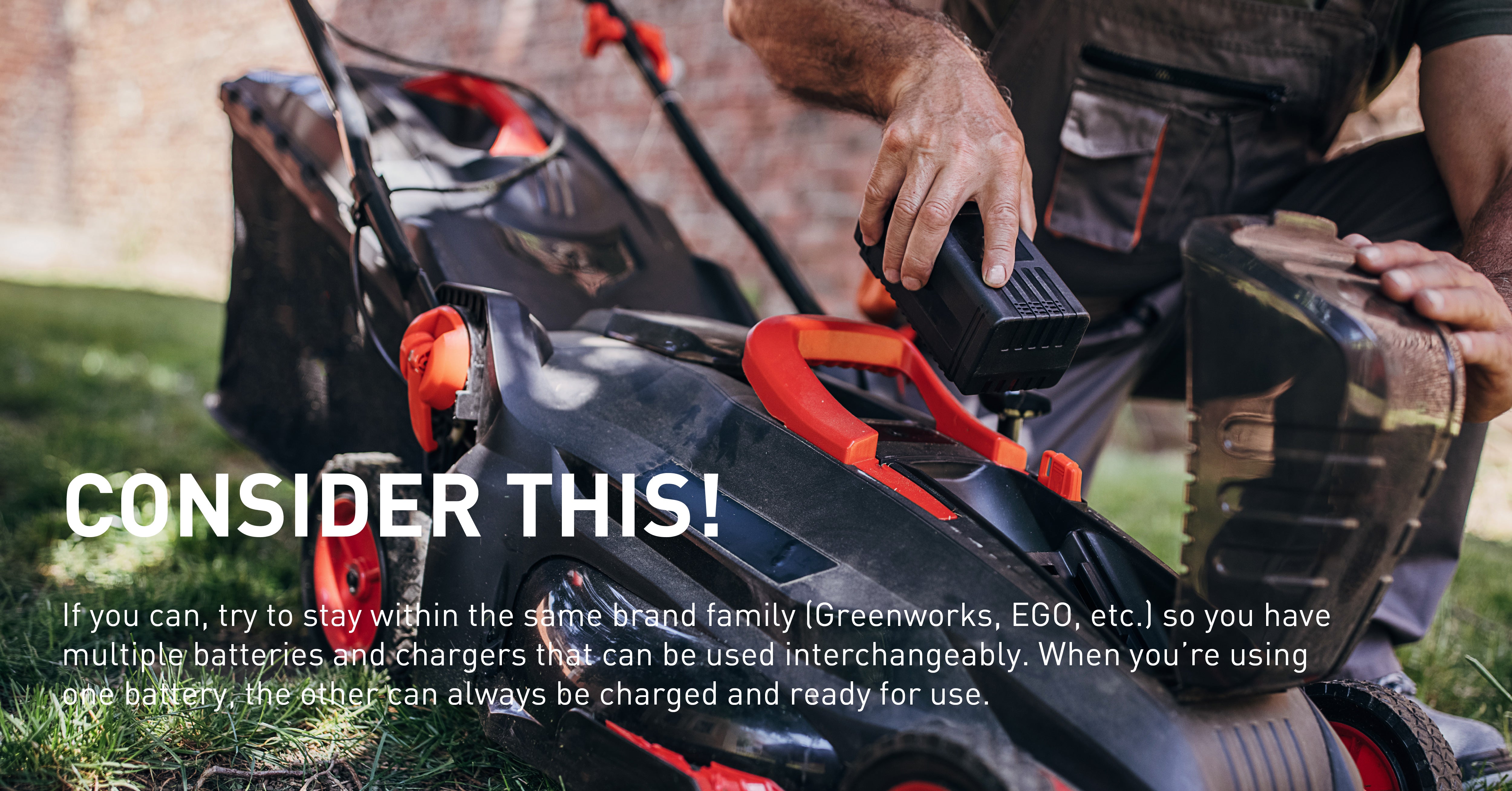 Pro Tip: Consider The Same Brand Family
If you can, try to stay within the same brand family (Greenworks, EGO, etc.) so you have multiple batteries and chargers that can be used interchangeably. When you're using one battery, the other can always be charged and ready for use.  
Outdoor LED String Lights 
They may not be a tool but they're the perfect finishing touch when yard work is finished. Sit back and enjoy summer nights with the warm ambiance of outdoor string lights. You can hang them on the front porch, around your favorite tree or on the pergola. Wherever you choose to hang them, make sure you choose a strand that uses energy-efficient LED bulbs and follow our outdoor string light safety tips.  
If it's not in the budget to introduce all these tools at once, try introducing one new tool each season. They're guaranteed to literally lighten your load! Check with your local electric provider to see what rebates and incentives are available for electric outdoor power equipment. 
Love your electric tools? Tag us in a photo (@tristategt) using them for a chance to be shared on Tri-State's social channels.  
Electrify and Save™  
___________ 
Tri-State is a not-for-profit cooperative of 45 members, including 42 member utility electric distribution cooperatives and public power districts in four states, that together deliver reliable, affordable, and responsible power to more than a million electricity consumers across nearly 200,000 square miles of the West.