2/3/2022
Northwest NRPPD Leading the EV Charge in Nebraska
The excitement for electrification is unmistakable in Dawes County, thanks to efforts by Northwest Rural Public Power District (NRPPD). Last year they set out to promote beneficial electrification by providing and promoting Tri-State's rebates, education and demonstrating how the technology can benefit consumers at their homes. Perhaps most exciting was introducing electric vehicles and outdoor power equipment to their territory.   
For those who have experienced driving or riding in a Tesla, or any of the other electric vehicles available today, it's no surprise that these vehicles are steadily growing in recognition. Although the Tesla brand has been around for well over a decade, it's only been in the last five years we've seen a massive increase of Tesla drivers. And excitement is growing around electric trucks, including from Ford and Rivian.
When Tri-State Member Relations Manager Sander Blackburn brought Tri-State's Model 3 to Northwest's territory last summer he immediately noticed the attention garnered by residents.
"I was in the Tesla for a parade in Gordon, Nebraska, and people definitely recognize it, especially the 8–18-year-olds," said Sander. Using Tri-State's EV Experience program, Northwest had more than 150 people take advantage of a test drive in an electric vehicle since the program's inception.
Seeing a Tesla on the street is one thing. They certainly catch your eye with their sleek, futuristic appearance. Experiencing a Tesla firsthand is something totally different. Knowing this, and that electric vehicles are rapidly taking over the automotive industry, Northwest General Manager Chance Briscoe decided it was time to lead the charge. In 2021, Northwest made the leap and became Tri-State's first Nebraska member to purchase and introduce an all-electric EV, the Tesla Model 3, to their territory. "It's going to happen," said Northwest General Manager Chance Briscoe, "so let's be prepared for it to happen."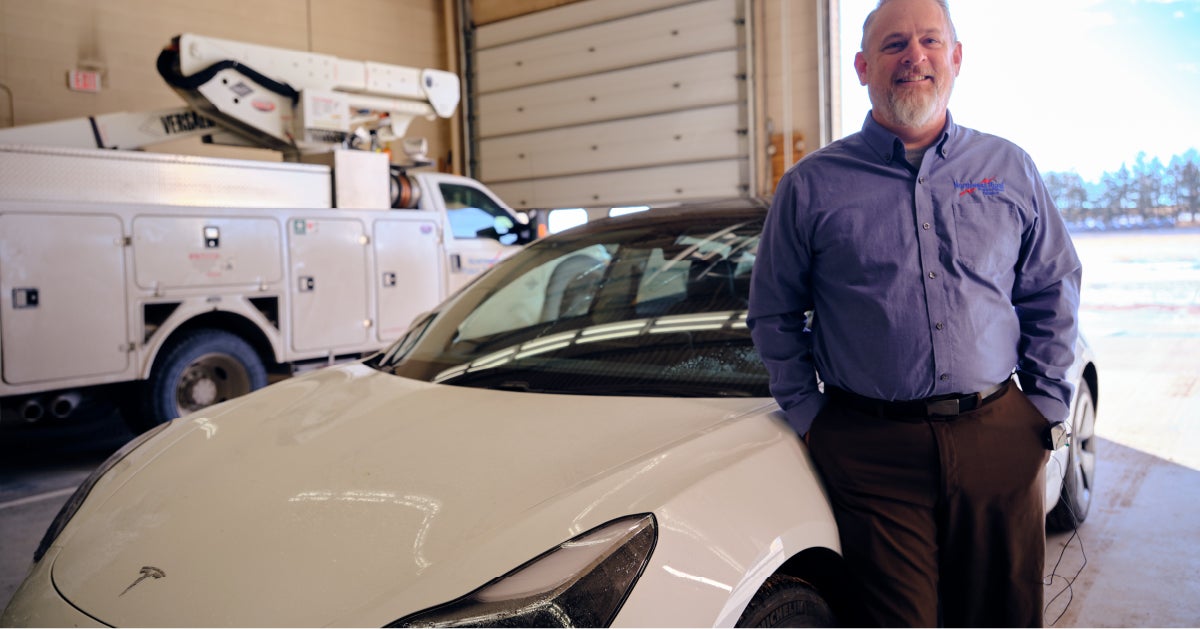 Paving the Way for Customers 
Northwest is looking to EVs to help counter the decline in load they've seen in recent years. The average EV requires 30 kilowatt-hours to travel 100 miles, equivalent to what an American home uses daily for appliances, computers, lights, heating and cooling.    
Chance drives the Tesla to meetings, using his trips as information-gathering sessions. He keeps a journal of benefits, challenges and tips so he can share his experiences and help educate other new EV buyers. Besides sharing information, Chance wants to smooth the way to future purchases as the industry evolves. "If a driver is thinking about waiting for an electric truck, they can start preparing now," Chance explained. "I want people to be able to get the information they need and get questions answered, so when the truck is ready, so are they." 
Chance has driven the Model 3 across Northwest's territory, charging at stations that vary in amperage and charge speed. He's learned there are differences new drivers should get familiar with, depending on the time needed to charge and the trip distance. NRPPD has paved a way for their members to explore electric vehicles, including providing a webpage with helpful resources.   
In addition to the Tesla, Northwest introduced an all-electric side-by-side vehicle to their fleet in 2020. Linemen drive the side-by-side in more remote or rugged areas when they need to be in the field for staking, underground locates and line patrol. With their side-by-side and now the Tesla, Sander said, "Chance has been a leader for EVs, really pushing the concept and experience in Nebraska, and for Tri-State in general." 
Northwest invites their utility members to a Tesla test drive by scheduling time from their website, and to use the two-receptacle charging station at their Hay Springs location.
Electrify and Save™ 
About Tri-State 
Tri-State is a not-for-profit cooperative of 45 members, including 42-member utility electric distribution cooperatives and public power districts in four states, that together deliver reliable, affordable and responsible power to more than a million electricity consumers across nearly 200,000 square miles of the West. For more information about Tri-State and our Responsible Energy Plan, visit www.tristate.coop.