Energy Efficiency for Manufactured Homeowners
A place to call home means something different for everyone. For some, it may be in a van traveling the country and for others, it could mean converting storage containers into a livable space. With home prices on the rise, people are thinking creatively to source cost-effective housing. 
It was the same type of creative thinking that led to the birth and popularity of manufactured homes in the early 1950s. A manufactured home, formerly referred to as a mobile home, means the home was built entirely in a factory under a federal building code administered by the U.S. Department of Housing and Urban Development (HUD). Once built, the homes are transported to a site and installed.   
Affordability has always been a key driver for choosing a manufactured home. The average price per square foot was $57 for manufactured homes versus $119 for site-built homes, based on a 2021 report. Today's manufactured homes are customizable and offer endless ways to modernize, including opportunities to increase energy efficiency.  
While most new manufactured homes are more energy efficient than their predecessors, the standard energy code that manufactured homes must meet was put in place in 1994. A more efficient standard goes into effect in May 2023 for all new homes manufactured after May 2023. The following tips can be applied to a newly manufactured home build or a home manufactured built decades ago.  
There are many ways to make your manufactured home more energy efficient. The following tips can help you save money on your utility bills and be more comfortable in your home. 
Energy Audit 
Start with a home energy audit, also known as an energy assessment. The audit identifies how your home consumes energy and the best strategies to reduce consumption and costs. An energy assessment for most manufactured homes is not complicated and there are resources for a self-directed energy assessment. Visit Your Home's Energy Use to learn more about home energy assessments and to access free tools and calculators. 
Energy-Efficient Windows and Doors 
Temperature gain and loss in home openings like windows and doors can account for as much as 30 percent of residential heating and cooling energy use. Homeowners who replace or install energy-efficient fenestration windows save a significant amount on their electricity bill because their HVAC system isn't having to work as hard to maintain the desired temperature. In addition to energy savings, upgraded windows and doors increase the home's property value by improving the home's appearance and decreasing the amount of outside noise heard while in the home. When shopping for windows and doors, always look for ENERGY STAR® and NFRC labels. 
Another cost-effective way to make openings more efficient is to add storm windows and doors which can now be installed on the inside of your home. Many advancements have been made to storm windows over the last ten years and cost a fraction of the total cost to install when compared to a window replacement.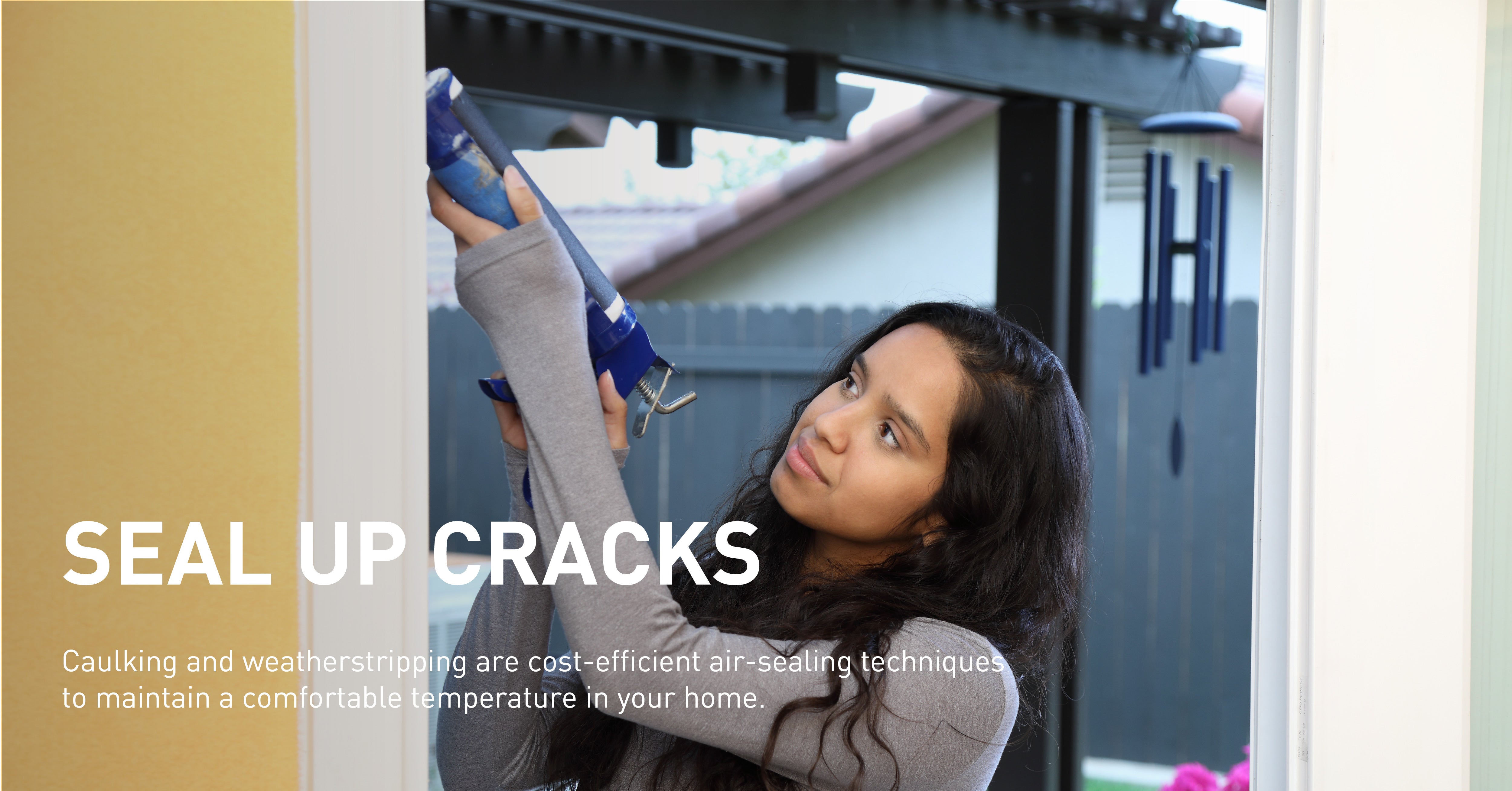 Air-sealing 
Even if you have newer windows or doors, an energy audit can identify where air is leaking. Professionals use equipment called a blower door to pinpoint where air is infiltrating holes and cracks. 
Once leaks are found, caulking and weatherstripping are cost-efficient air-sealing techniques to maintain a comfortable temperature in your home. Caulk cracks and openings between the walls of your home and around door and window frames. Add weatherstripping around the interior of doors and window sashes to make your home more comfortable and reduce your energy bills. 
Insulation 
Manufactured homes have a reputation for being under-insulated. They're designed to be lightweight with thin walls that make installing new insulation or updating existing insulation difficult. However, there are still plenty of options for manufactured homes, including the four most common types of insulation: blanket (or batt), fiberglass board, spray foam, and blown-in insulation. An insulation expert can help determine the best option for your home. An expert may also recommend insulated skirting and roofing. 
Belly Wrap 
A belly wrap is a protective covering on the bottom of manufactured homes that keep out moisture and pests. Like your walls, the belly performs more efficiently when insulated. Older homes likely need updated belly wraps as the materials used have improved in recent years and the existing belly wrap may have tears. Installing a new belly wrap is a great time to add insulation. Insulation can also be added to the existing belly wrap that doesn't need to be upgraded. 
Lighting and Appliances 
Replace incandescent light bulbs with LED lighting. Energy-saving LEDs can be used in most common light fixtures, from lamps and accent lighting to track and outdoor fixtures. If you're gradually switching to LED lightbulbs, start with the bulbs you use the most. 
Energy-efficient appliances are designed to use less energy which saves you money and reduces your personal carbon emissions. Look for the ENERGY STAR® label when purchasing energy-efficient refrigerators, washers and dryers, dishwashers, and other household appliances and electronics. 
Sun and Wind Blocks 
While manufactured homes have the ability to be mobile, many choose to stay in one place for long periods of time or permanently. Planting trees and other vegetation is a healthy practice to shade the home from sun and block wind. 
For those who don't stay put, installing a sun screen or exterior awnings is another option to block the sun but won't help with wind. 
Rebates and Incentives 
If you're considering upgrading your home's energy efficiency, check with your electric cooperative or public power district to find out which rebates and incentives are available to you.  You might also qualify for a free assessment and retrofit program offered by every state. The regulations have changed recently so if you didn't qualify before, check with your electric cooperative or public power district again.   
Electrify and Save™ 
______ 
Tri-State is a not-for-profit cooperative of 45 members, including 42 member utility electric distribution cooperatives and public power districts in four states, that together deliver reliable, affordable, and responsible power to more than a million electricity consumers across nearly 200,000 square miles of the West.