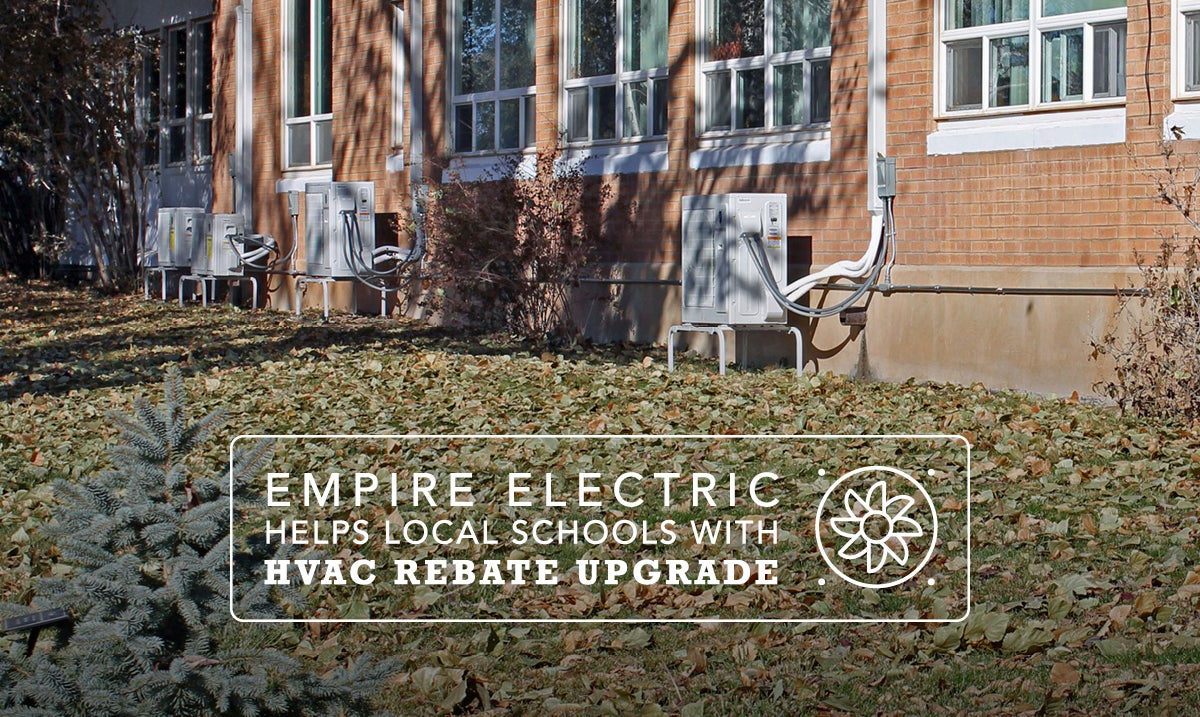 1/4/2021
On Monday, November 30, Empire Electric Association, Inc. (EEA), a member of Tri-State, presented a $48,600 energy efficiency rebate check to Kemper Elementary School of Montezuma-Cortez RE-1 School District. This is just one example of several schools in EEA's service area that are taking advantage of energy efficiency incentive programs offered by EEA to finish out 2020.  
In 2020, Dolores County Schools have added 40.5 tons of air source heat pumps, and Kiva Montessori School in Cortez, Colo., also installed an air source heat pump.  While the schools are different, all of these installations will have a common result: improving the learning environment and reducing energy costs to free up funds that can now be spent in the classroom.
"EEA knows the importance of education, and we are excited to help our schools use efficient technology to provide a better learning environment for their students while keeping their monthly electric bill affordable," said Andy Carter, member engagement manager.
Montezuma-Cortez RE-1 School District is familiar with heat pump technology and in 2014, the district installed a 296.5-ton ground source heat pump system in its new high school. This ground source technology is great for new buildings, but also for existing schools. None of the elementary schools in Montezuma-Cortez RE-1 School District had air conditioning, which heat pumps can provide in addition to heating the schools in the winter. 
Since 2014,  air source heat pump technology that moves heat to and from spaces via the air instead of the ground has improved rapidly. Air source heat pumps are much easier and less costly to install in retrofit applications, such as schools, compared to ground source heat pumps. You will hear this technology called an inverter, variable, or cold climate air source heat pumps. This cold climate heat pump technology is one way to improve rural school buildings and ensure that students can focus on learning.  
Air Source Heat Pumps, New HVAC Installations Benefitting Schools
The HVAC solutions for the schools will not only save money but more importantly, will greatly improve the learning environment for the student. Higher temperatures in the spring months and August or September can raise indoor temperatures into the mid-80s, which makes it difficult for students to maximize their potential. 
Schools with a central heating system, fueled with propane or a natural gas boiler, have no easy way to add central cooling,  until now. An air-source heat pump with an inverter or cold climate technology can be a drop-in solution to easily add cooling and reduce operating costs compared to propane for many heating months.
Not only does Tri-State provide some of the country's (yes, country's) strongest incentives for air source heat pumps, but many of our 42 utility members also add their own rebate onto what is offered by Tri-State. 
Heat pump benefits include:
Affordability: reduced installation costs with Tri-State and member incentives.

Comfort and temperature control: air source heat pumps help create a more suitable learning environment for students and teachers. The new units will allow for better temperature control in the hotter summer months, where before some schools were without air conditioning. 

Efficiency: during the winter, air-source heat pumps are typically less costly to operate than propane heating equipment.

Improved indoor air quality and healthier indoor air: Units can be designed to serve only one classroom and bring in fresh air without mixing across classrooms.

Flexibility: This technology works in almost any building: schools, administration buildings, retail locations, homes, and any building in between. Let's all be comfortable! 
To get started or find out more Contact your local co-op for more information.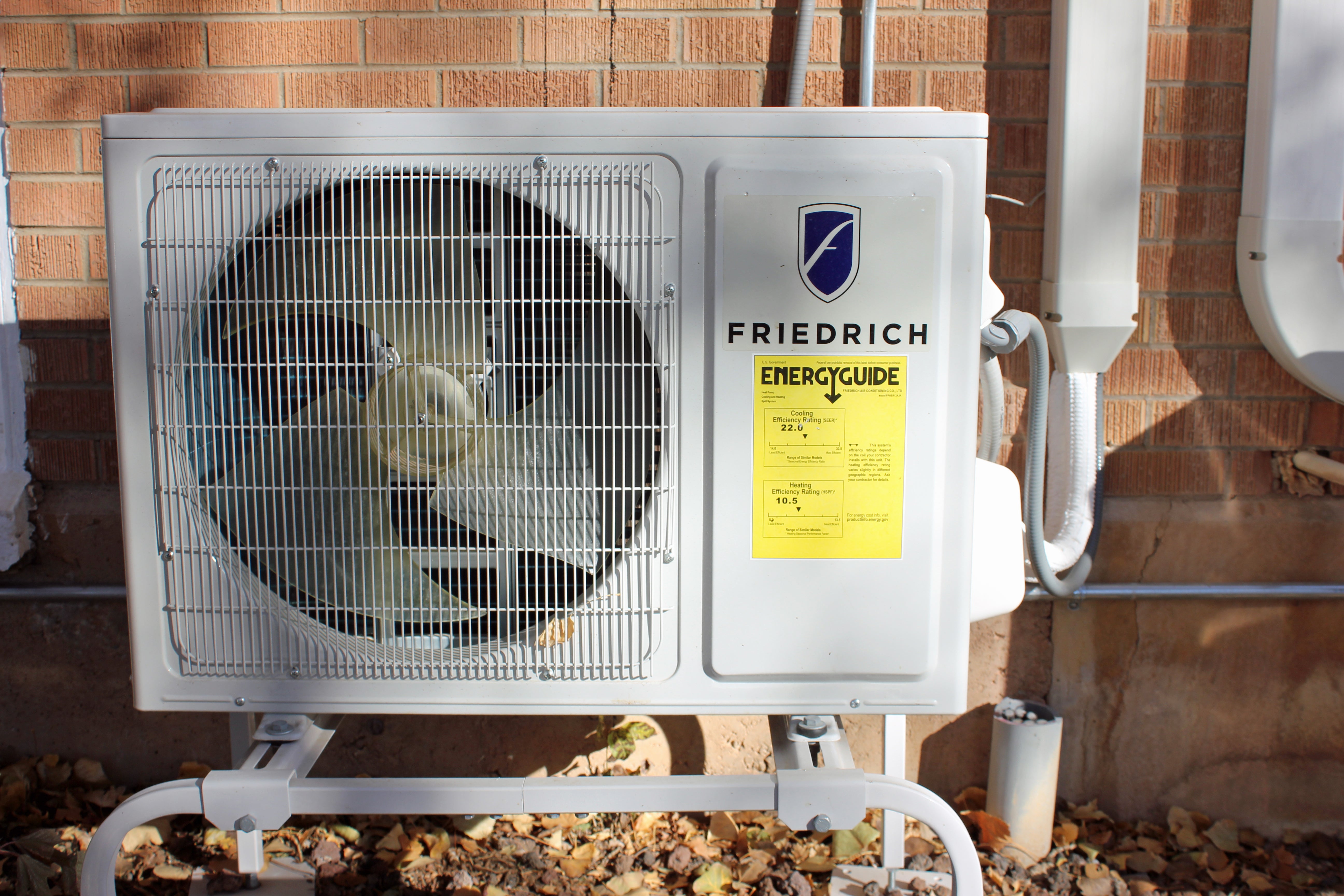 Example of one unit outside of Dove Creek Elementary School
Deeper Dive HVAC Rebate Project Overview
The Kemper Elementary project included installing three different size units: (3) 10-ton units, (2) 8-ton units, and (2) 4-ton units for a total of 54 tons installed. Since all units had a Seasonal Energy Efficiency Rating (SEER) greater than 17, they were rebated at $900 per ton, which equated to the rebate amount of $48,600.
The Cortez Middle School replaced an older existing unit that conditions the space in their computer server room. The unit was a 3-ton / 15.9 SEER unit that was awarded a $1,800 rebate in September 2020.
Dove Creek Elementary School (part of Dolores County School District) had a slightly different approach where they installed many smaller units along the exterior of the school. The total rebate payout on that project was $33,750.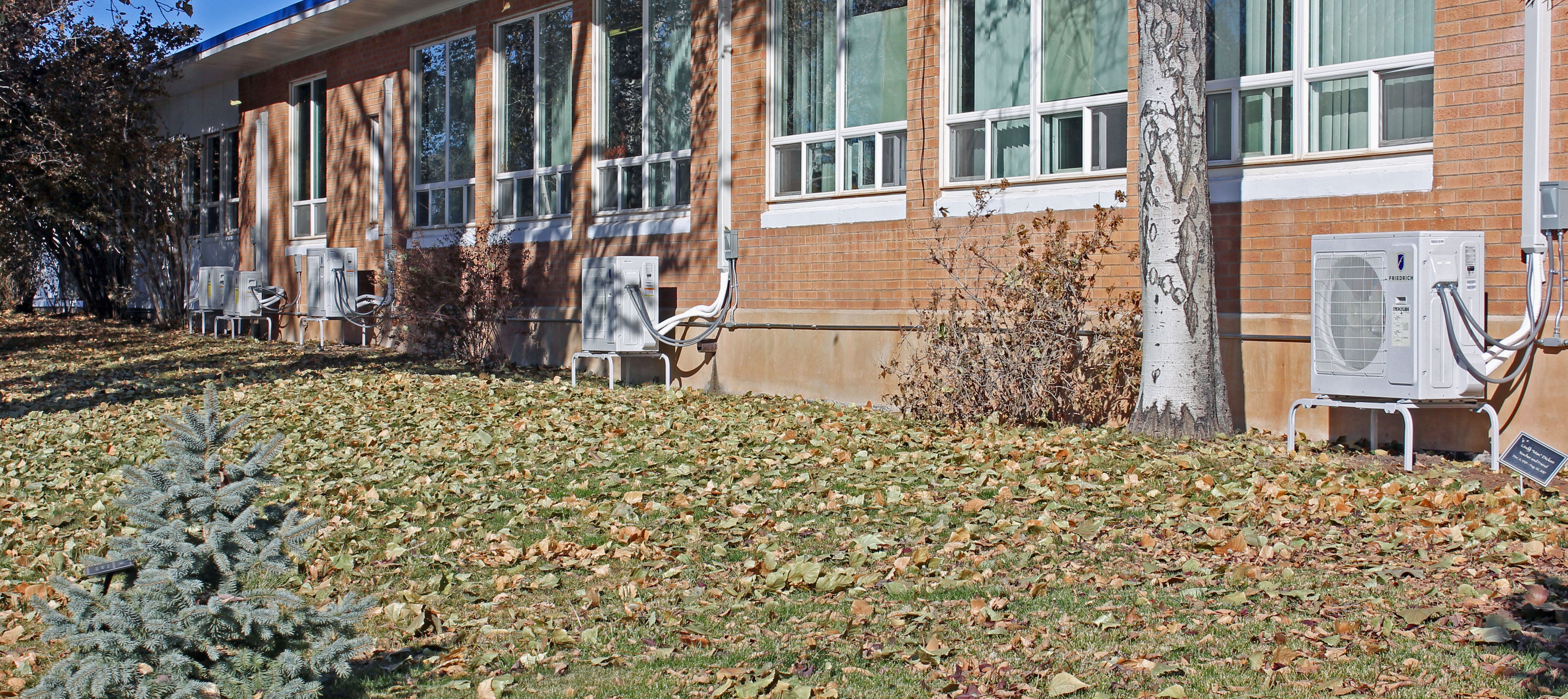 New HVAC units outside of Dove Creek Elementary School
Tri-State Beneficial Electrification and Efficiency Program 
The Tri-State rebate contribution was made possible through our Energy Efficiency Products (EEP) program. The BE&E program has been in place since 1985 and is a partnership between Tri-State and our member systems. It is designed to promote efficient electric products, the wise use of electricity, and new electric technologies.
"Tri-State's BE&E program is one of many ways we bring value to our members and their consumer-members," said Peter Rusin, Tri-State's relationship manager for Empire. "Tri-State appreciates the opportunity to be able to support schools in our members' service areas and help support quality learning environments for our children. " 
Tri-State is working with others to promote beneficial electrification to increase efficiency and productivity, reduce carbon emissions, and enhance safety for Tri-State, our member systems, and their consumer-members. All Tri-State member systems are eligible to participate in the BE&E program and they may tailor their offerings to meet specific goals. In 2019, the program provided our member systems over $3 million in EEP program rebates.
Check out more of our beneficial electrification and energy efficiency programs of 2020 here. Tri-State works with its member systems to implement member-consumer energy efficiency through a variety of products and services. Tri-State's BE&E program has evolved over the years with input from all of the member systems and Tri-State staff. Our program provides over 10,000 energy efficiency rebates per year.   
Electrify and Save™ 
__
Tri-State is a not-for-profit cooperative of 45 members, including 42 member utility electric distribution cooperatives and public power districts in four states, that together deliver reliable, affordable, and responsible power to more than a million electricity consumers across nearly 200,000 square miles of the West. For more information about Tri-State and our Responsible Energy Plan, visit www.tristate.coop.