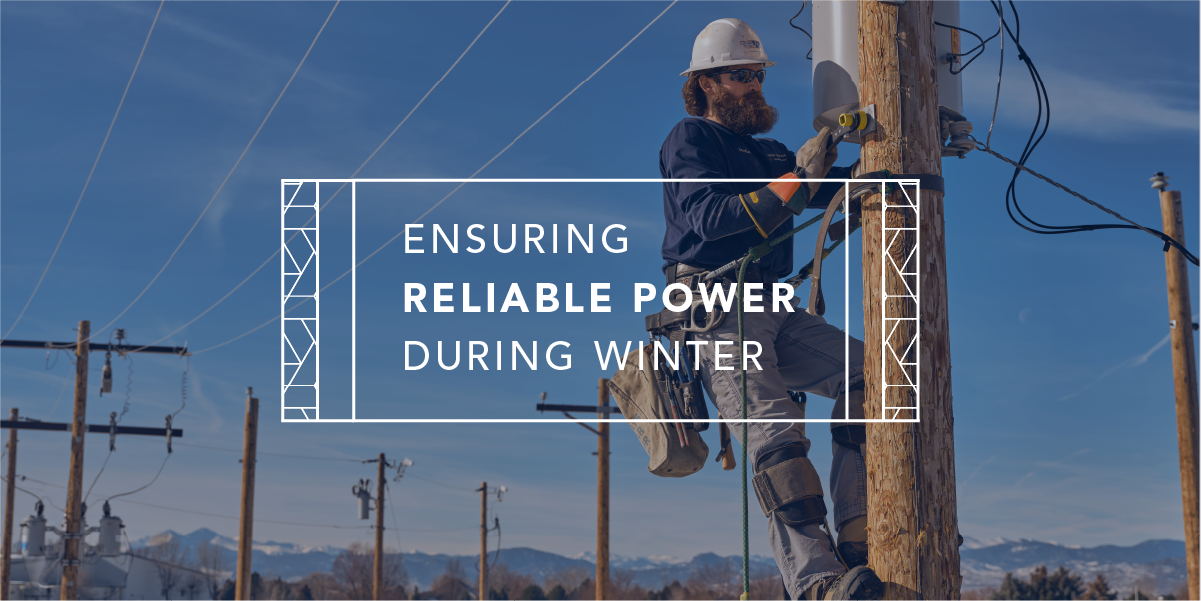 02/12/2021
Winter Storm Readiness to Ensure Reliable Power
When a big winter storm hits, you can count on three things:
1.  Kids will start wishing for a snow day that cancels school.
2.  Skiers, snowboarders and snow-sport enthusiasts will head to the mountains.
3.  Utility crews at Tri-State and your local electric co-op or public power district will spring into action, braving the extreme weather to restore power as needed.
 
Keeping energy flowing to your home and business is a 24/7 job. Tri-State works closely with its 42 member electric co-ops and public power districts to deliver electricity to more than one million consumers across four states.
Tri-State's transmission system includes 5,600 miles of high-voltage transmission lines spanning 200,000 square miles of diverse landscape, from craggy mountain passes in Colorado and Wyoming, to the arid plateaus of New Mexico and windswept plains of Nebraska. 
Utility Maintenance Begins Months Before Winter
Planning and maintenance starts months before winter weather season, which usually begins in November and can extend into late April. Crews perform line patrols using Utility Task Vehicles (UTVs) and drones, looking for damage and making repairs that strengthen the system against equipment-crippling weather. 
"We build our line projects to withstand extreme structural stress from heavy, wet snow to ice and wind," says Sage Williams, Tri-State Transmission Maintenance Manager, East.
When severe weather does hit, we have a number of resources to help restore power quickly. The diversity of our generation resources—their location, technology and fuel source—allow us to respond and make adjustments as storms move through our territories. That strength, bolstered by the resiliency of the transmission system, helps us limit the impact of weather events on our delivery of power to our members.
"The heart and soul of delivering reliable power over our transmission system are the people who plan, operate and maintain this complex machine," Sage says. "When the weather is at its worst, they are at their best."
Tri-State has three maintenance regions, East, West and South, which coordinate how to dispatch resources and crews to safely restore power to the largest number of customers in the least amount of time. 
Power is typically restored first to emergency services and facilities critical to public health and safety, including hospitals, police and fire stations, water reclamation plants, and communication systems. 
At Tri-State, that usually means repairing the transmission structures and lines that feed your local electric co-op substations, which deliver power to neighborhoods, industries and businesses. 
Real-Time Response is Critical
Real-time situational awareness is of utmost importance during extreme weather. Our Resource Dispatch is continually monitoring the weather so that we can respond rapidly to changing conditions. When severe weather is forecasted, Tri-State deploys repair crews to strategic locations ahead of the storm.
"Often poor visibility and road conditions make it extremely difficult or too dangerous for our crews to reach storm damage," Sage says. "By staging crews in strategic locations before the storm, we can respond faster and more safely."
Once we survey the damage, in many cases we can reroute power around trouble spots. When it comes to Mother Nature, however, there are limitations to what we can prepare for, as was the case during the bomb cyclone of 2019, which affected infrastructure in several locations.
"When that happens, our whole co-op community comes together to ensure safety, and a quick restoration of power," Sage says.
This winter and beyond, our team will be doing everything we can to weather the winter storms and keep the electricity on for you. 
To find out how your family and community can stay safe with storm and personal safety tips, read our blog, How to Prepare for Winters' Worst Storms.
___________
 Tri-State is a not-for-profit cooperative of 45 members, including 42 member utility electric distribution cooperatives and public power districts in four states, that together deliver reliable, affordable, and responsible power to more than a million electricity consumers across nearly 200,000 square miles of the West.