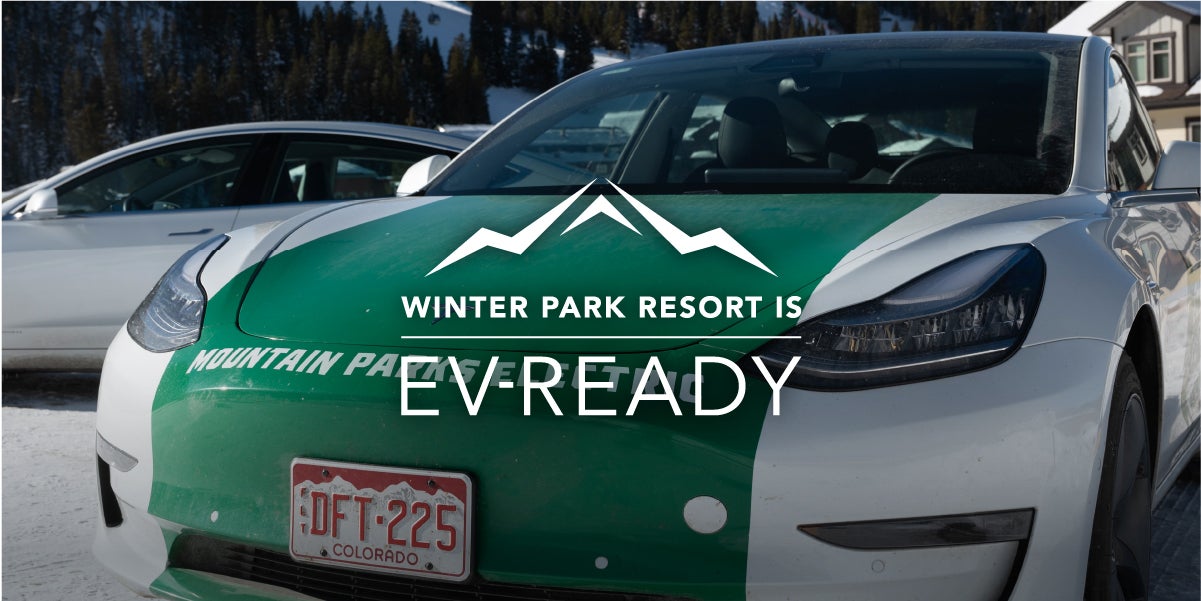 1/31/2022
 Winter Park Resort is EV Ready
A long-awaited ribbon cutting took place at Winter Park Resort to celebrate 14 new EV charging stations at the base of the slopes. Conversations about the project first began between the resort and Mountain Parks Electric (MPE) back in early 2020. Both teams were excited about the partnership to bring the much-needed chargers to the resort. 
Unfortunately, when ski resorts were hit hard early in the pandemic those conversations came to a halt. The completion of this project marks a slight return to normalcy as Winter Park welcomes skiers back. It also serves as a great example of three entities (Tri-State, MPE and Winter Park Resort) working together toward a common goal.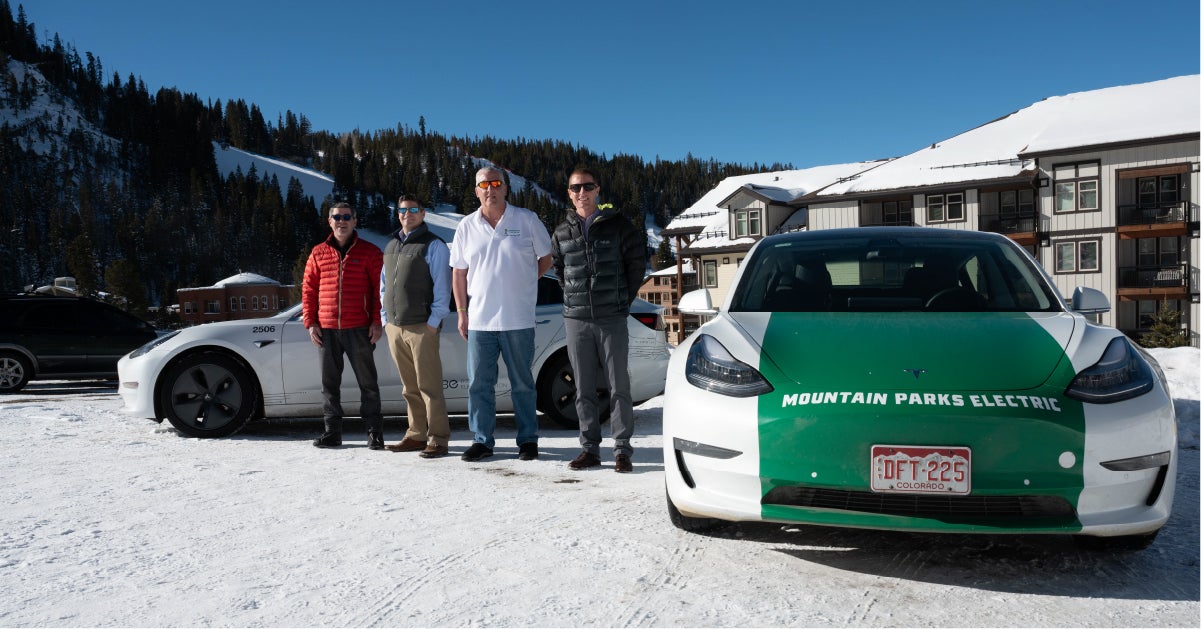 Mountain Parks Electric Partners with Tri-State
Mountain Parks took advantage of funds available through Tri-State's EV Infrastructure Program, which provided $45,000 towards the project. They're one of the first of Tri-State's member co-ops to utilize the funds, leading the EV transition. The install is part of Tri-State's commitment to work with our members to help extend the electric vehicle charging network across their service territories.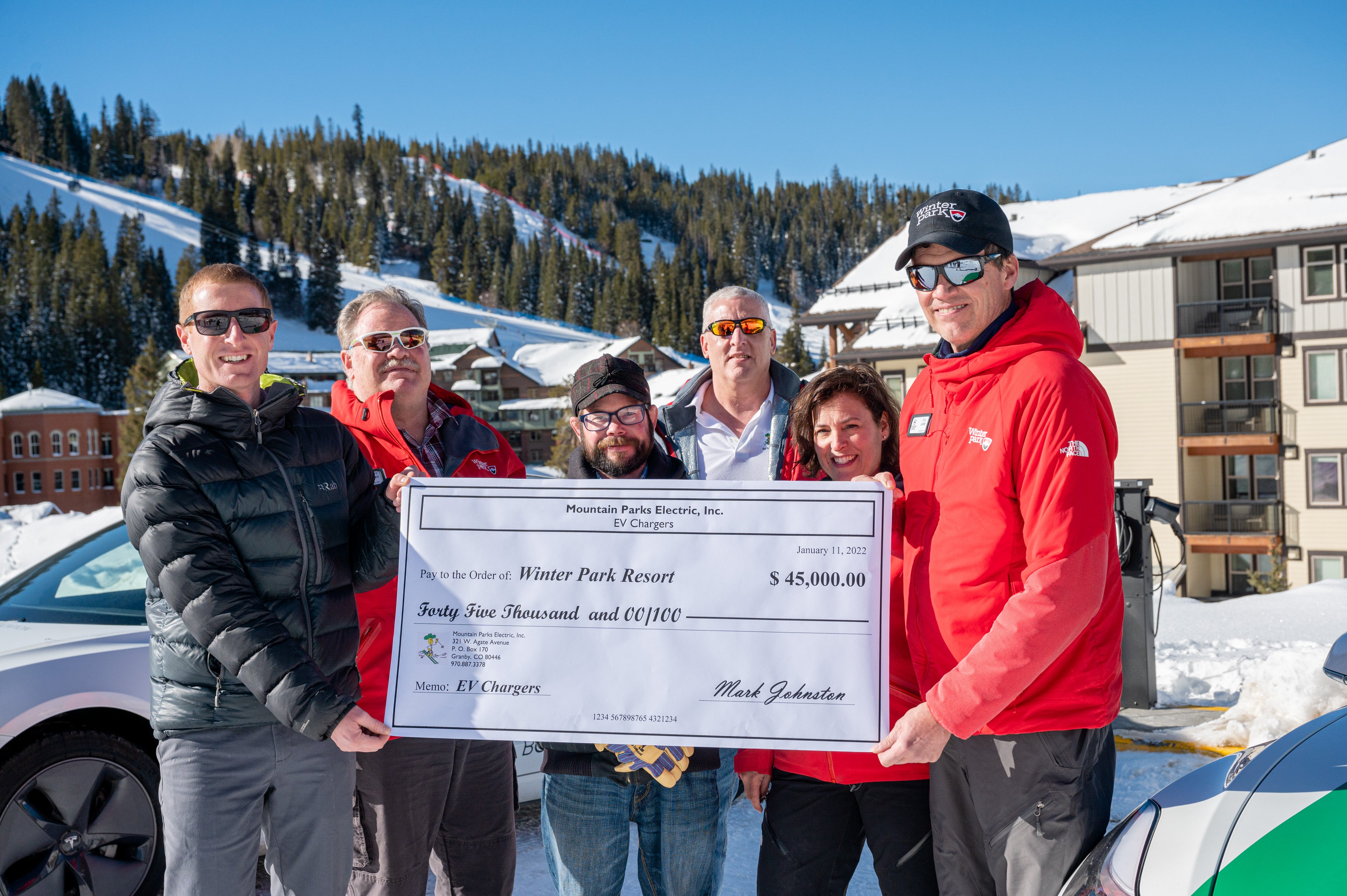 The project also meets a need for the community. "We saw drivers bringing their own chargers and trying to park near outlets at the resort," said MPE Power Use Advisor Chris Michalowski. "The chargers have been live on the PlugShare app for a few weeks and were used almost every day through early December." With 14 new chargers available, the project accommodates current EV owners and prepares the resort for the future as EVs become increasingly more popular. Eight of the new chargers are located at the outdoor B lot. Six additional chargers are located at the indoor Village Parking Garage.
Bright Future for Reduced Emissions and Collaboration
"We share common goals with Mountain Parks and know this is not the last ribbon cutting we'll have together be it for EV Chargers, local solar projects, or EV buses," said Tri-State Member Relations Manager Pete Rusin. 
This is to say, the future is bright for reduced emissions and collaboration. Tri-State's hope is that this type of project can be replicated across its utility members.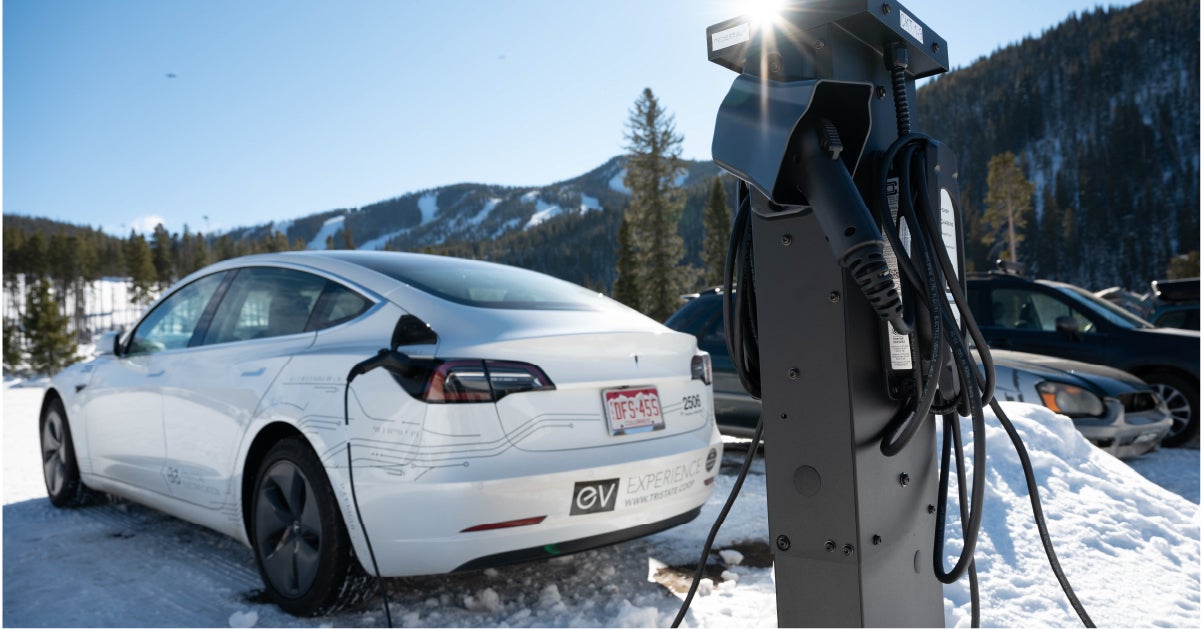 "This EV charger project that MPEI and Winter Park put together is definitely a win-win in my book," said Tri-State Senior Beneficial Electrification Analyst Mike Frailey. "First, it demonstrates a commitment to beneficial electrification by all involved and second, it will provide current and future EV drivers with confidence that they can easily charge their cars with these publicly accessible chargers."
Promoting electric vehicles is just one way Mountain Parks has taken the lead in the push towards beneficial electrification. The morning of the ribbon cutting, Mountain Parks sponsored a Coffee and Snowblower event at a local cafe in Granby where they covered five dollars of every patron's order and invited them to sign up for a chance to win a free electric snowblower. Mountain Parks staff were onsite to discuss the benefits of electrification and ways to take advantage of Tri-State's rebates through their Electrify Everything program. Mountain Parks consumers who are eager to learn about beneficial energy are well-equipped to do so in the new year. 
Electrify and Save™ 
About Tri-State 
Tri-State is a not-for-profit cooperative of 45 members, including 42 member utility electric distribution cooperatives and public power districts in four states, that together deliver reliable, affordable and responsible power to more than a million electricity consumers across nearly 200,000 square miles of the West. For more information about Tri-State and our Responsible Energy Plan, visit www.tristate.coop.