08/17/2023
Transmission crews restore three lines after tornado damage 
Transmission Maintenance crews responded quickly and in force to restore electric service in southeast Colorado, northeast Colorado and southeast Wyoming after tornadoes damaged three of our transmission lines over a six-day period. Their dedication and skill, along with that of the Engineering and Construction department and Inventory Control department, ensured the resiliency of our transmission system after severe weather extensively damaged or destroyed 40 structures. 
In each case, Keith Carman, VP of Transmission Maintenance, activated Tri-State's storm procedure, which kicked off a series of processes to respond to emergency outages quickly and efficiently. Here is a look at what happened and how we recover from storm damage to our lines. 
A powerful storm in northeast Colorado, which included a tornado, hail and wind, damaged our Alvin-Sandhills 115 kV line and bent and flattened vegetation in some areas.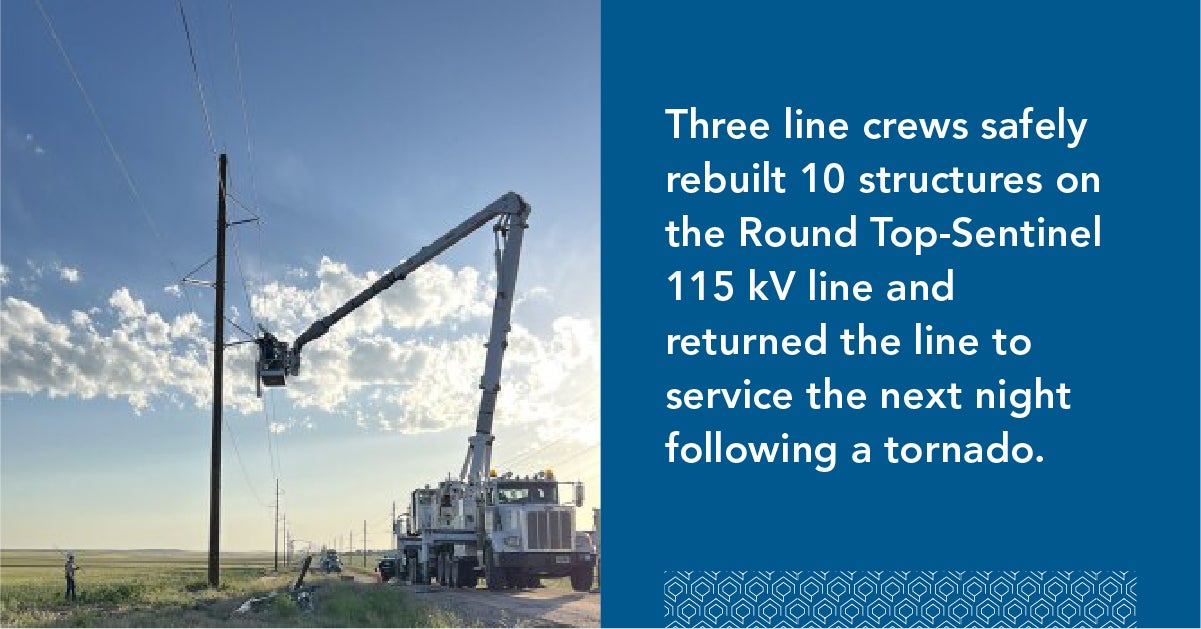 Behind the Scenes of the Lamar-Vilas 115 kV Line Restoration 
The Lamar-Vilas 115 kV line tripped at 5:04 p.m. on June 23 when a tornado plowed through the line in southeast Colorado, causing six structures to collapse and damaging two other structures. Tri-State member Southeast Colorado Power Association (La Junta, CO) also experienced damage on one of their 69 kV sub-transmission lines, which they were able to re-energize about 4 a.m. Saturday, restoring load in the region. 
Tri-State's initial transmission responders were on site Friday night to evaluate damages, secure the work location and to clear the damaged structures. Challenges of the restoration included muddy conditions after the storm, overnight travel and work, followed by continuous work until the job was completed.  
 
"This was a powerful storm," said Cody Hale, Line Maintenance Superintendent (West). "Some Southeast Colorado Power employees told us the tornado ripped up eight to ten inches of topsoil." 
Meanwhile, Tri-State's Senior Transmission Line Engineer designed the replacement structures and itemized the needed materials Friday night through early morning Saturday. The redesign was completed by 6 a.m., including the drawings and materials list. 
"When incidents like these occur, our transmission field crews are the first on the scene to evaluate the damage, make it safe and initiate clean-up efforts," said Chris Pink, Vice President of Engineering and Construction. "However, the process of rebuilding can't normally commence until Engineering has finalized the design and specified all the necessary components and materials." 
Everything needed for this line restoration was available in our warehouse in Sidney, Nebraska. Our warehouse personnel began loading materials at 6 a.m. Saturday, and our driver was on the road at 9 a.m. Material was on site in southeast Colorado by 2 p.m. Saturday.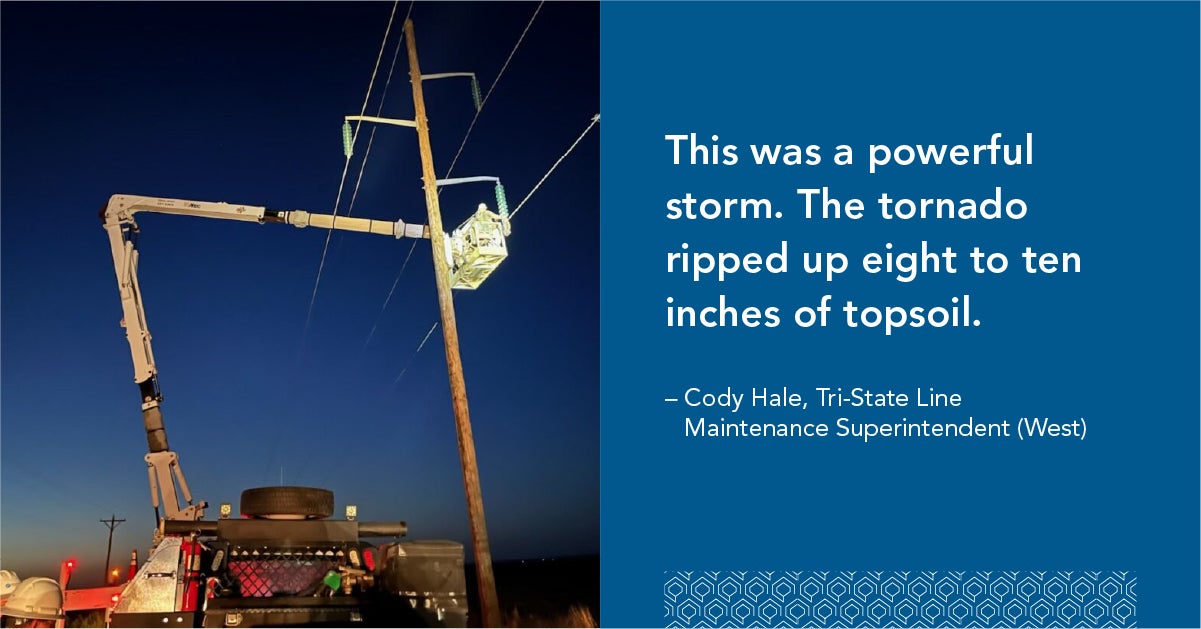 Tri-State Ensures Uninterrupted Operations with Strategic Emergency Inventory Management 
Tri-State's Board of Directors decided many years ago to keep material for five miles of our three most common lines constantly in stock as our emergency inventory, according to Mark Dreyer, Inventory and Asset Recovery Manager. The emergency inventory is based at our Sidney warehouse, which has the most space to store it. 
"This has served us well throughout the years to have this material in inventory when events like these happen," Mark said. "In addition, it is key to have good communication and coordination among crews in the field, engineering and the warehouses to get everything done safely and quickly." 
Tri-State crews completed the replacement of all damaged structures Saturday evening, and the line was energized at approximately 10 p.m. on Saturday, June 24. Transmission crews responded quickly to help from Pueblo, Craig and Brush, Colorado, and Ogallala, Nebraska. 
"I would like to give a shout-out to everyone who stepped up and put forth a truly tireless effort with this restoration," said Doug Dean, Senior Manager of Transmission Maintenance (West). "Most of all, it was completed safely and professionally every step of the way. Special thanks to the Transmission East crews that responded quickly to help from Brush and Ogallala, and everyone that responded from Craig, Pueblo and the Sidney warehouse. We also want to thank Engineering and Construction for working through the night to get the field folks what they needed. This was a team effort by all and a demonstration of being Tri-State strong." 
Round Top-Sentinel 115 kV Line Restoration 
The behind-the-scenes efforts described above in the Lamar-Vilas 115 kV line section were set in motion again three nights later when a tornado ripped through our Round Top-Sentinel 115 kV line in southeast Wyoming just before 7 p.m. on June 26. We lost 10 single-pole structures. The three Transmission Maintenance East (TME) line crews safely rebuilt the 10 structures and returned the line to service at 9:40 p.m. on June 27. 
"There was great teamwork and collaboration among all departments within Tri-State on this job," said Ryan Kelly, Line Maintenance Superintendent (East). 
About Tri-State  
Tri-State is a not-for-profit cooperative of 45 members, including 42 electric distribution cooperatives and public power districts in four states, that together deliver reliable, affordable and responsible power to more than a million electricity consumers across nearly 200,000 square miles of the West. For more information about Tri-State and our Responsible Energy Plan, visit www.tristate.coop.