April 10, 2020
Lineworker Appreciation Day:
Celebrating the Teams Behind Electricity Transmission
Lineworker Appreciation Day, April 13 | Contributor: Ruth Marks, Senior Manager Transmission Maintenance
Lineworker Appreciation Day is a celebration of the linemen, substation and telecommunication technicians that keep our infrastructure powering homes, schools and communities. It is a great day when I get to share the hard work, skill, and dedication of the people who make up Tri-State's Transmission Maintenance staff. 
Our team's focus is on safely providing electricity by keeping the wires in the air, the transformers humming, and the phones capable of ringing. With over 5,600 miles of transmission line, 450 substations and 175 telecommunications sites across our 200,000 square miles of service territory – our 230 Transmission Maintenance employees are hard at work every day. 
Sure, their jobs are about utility poles, high voltage line, fiber optic cable, circuit breakers, switches, transformers, and the network of microwave/satellite/mobile radio systems – but there is so much more to working in Transmission Line Operations and Maintenance. Each member of the team has a story to tell about some of the more challenging working conditions he or she has experienced, whether it be slick mud in the aftermath of a wet spring storm, or the deep snow while patrolling a remote mountain line. I am also confident that they will tell you about it enthusiastically; because that is the kind of person it takes to do this type of work.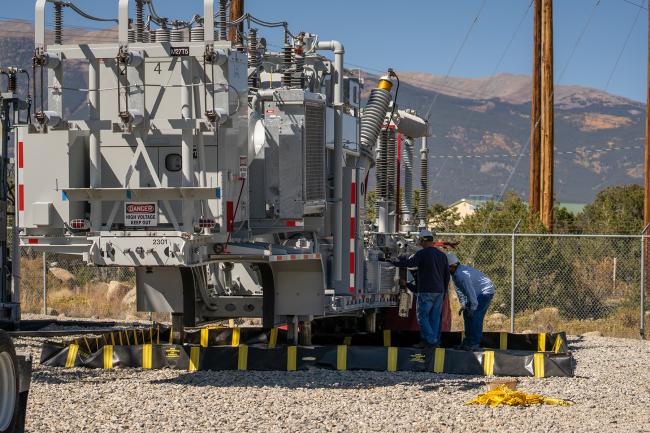 Transmission Maintenance staff are also involved in their local communities. For example, this last holiday season, employees in Nebraska held a pet food drive for a local non-profit serving struggling pet owners. For the last two years, staff from Rio Rancho, New Mexico have partnered with nearby member cooperatives to provide shoes to children at local elementary schools. And on the Western Slope, employees conducted their annual Toy Run and coat drive for kids in Montrose and Bayfield. These kinds of connections within the communities we serve, and the drive our employees have to help, makes me proud to talk about Transmission Maintenance.
When you are in charge of keeping the power flowing, you are an essential service provider. Today, Tri-State recognizes the dedication of our linemen, and substation and telecom techs, and we acknowledge that their jobs sometimes take them away from their families on holidays and birthdays. Being on-call sometimes means braving the snowstorm, being out when others are asked to stay in, and working when you would rather be somewhere else. I want to say thank you to all of the Transmission Maintenance employees for that sacrifice and for keeping the lights on for our members.
"Our employees continue to do the hard work of 'keeping the lights on' while taking good care of each other and their communities." -Duane Highley, Tri-State CEO 
"Concern for Community" is one of the seven Cooperative Principles that guide the not-for-profit cooperative business model. Electric cooperatives, which were formed by their members, have a long history of supporting their communities in times of crisis. Tri-State will re-allocate funds to be distributed to relief efforts in all four states served by the association's members. Tri-State is working with the governors' offices in all four states in which it operates to identify relief fund needs for those affected by COVID-19. Tri-State will donate $200,000 to the Colorado COVID Relief Fund, the All Together New Mexico Fund, the Wyoming Hunger Initiative, all local United Ways of Wyoming as well as the Nebraska Impact COVID19 Relief Fund.
___________
Tri-State is a not-for-profit cooperative of 45 members, including 42 member utility electric distribution cooperatives and public power districts in four states, that together deliver reliable, affordable, and responsible power to more than a million electricity consumers across nearly 200,000 square miles of the West.