If you're heading off the grid for an outdoor adventure this summer you're likely hoping to unplug and relax in nature. You may not be looking for ways to stay plugged in, but would you consider a few ways to power up your campsite in an easy, convenient way? If the answer is yes, keep reading. 
How to Electrify Your Camping Experience
The only thing better than a weekend in the woods is a weekend in the woods with an electric power inverter. The name may sound a little intimidating, but a power inverter is simply a device that turns your vehicle battery's direct current into an alternating current, meaning you can use it like a standard household outlet to power small devices like a laptop, fan, or travel coffee maker. The size of the inverter you buy depends on the number of watts you plan on using so take inventory of the items you intend to bring before purchasing.  
An inverter on hand makes camping more convenient, giving you extra time to experience the outdoors. Appreciate the simple luxury of a hot pot of coffee while you soak in the fresh air or cool your tent on a hot summer night with a portable fan. An inverter makes power accessible whenever and wherever you need it.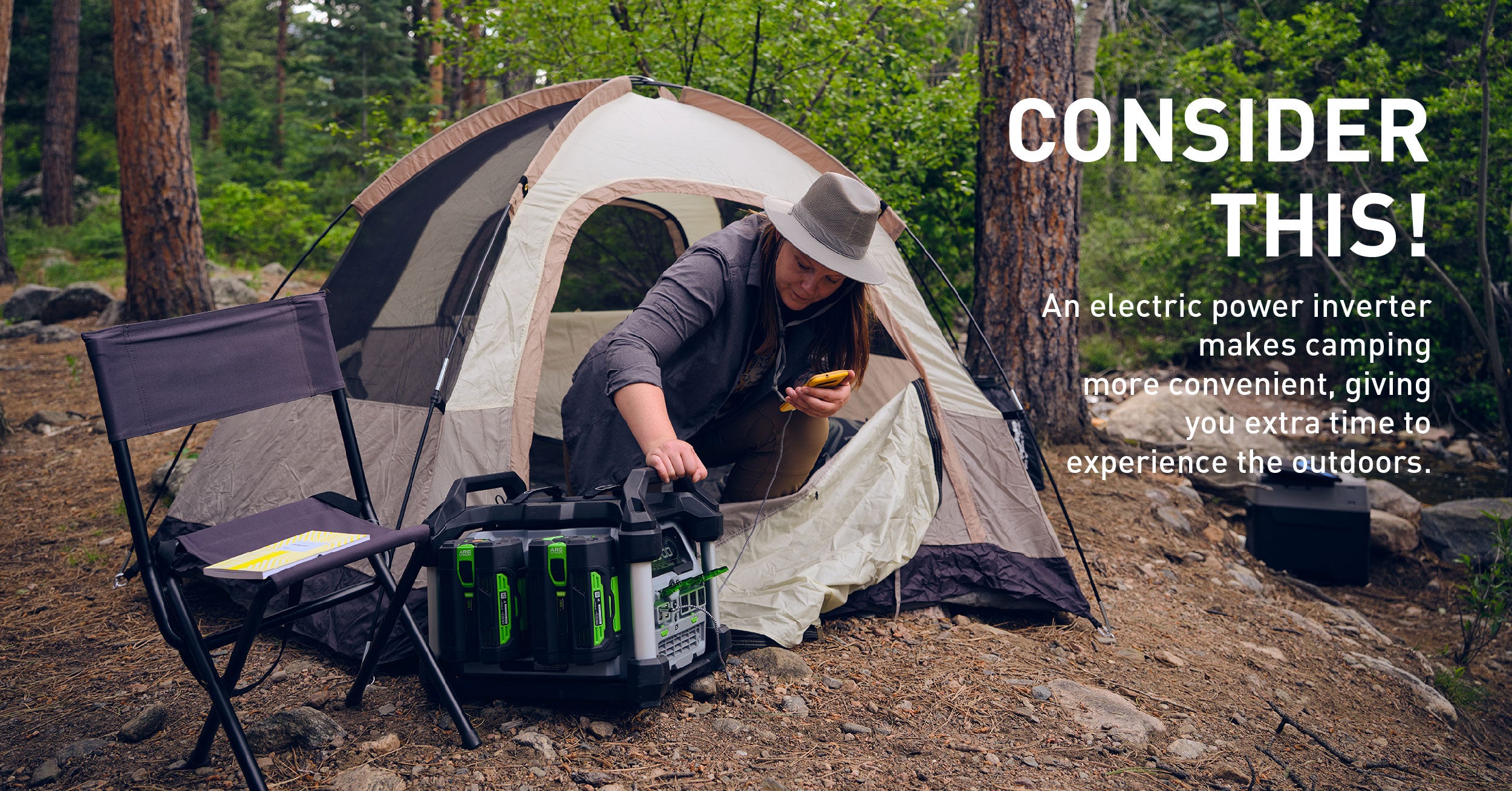 Electric Camping Gadgets
Having a power inverter also opens the door to cooking with an electric stovetop, meaning your campsite cuisine can be elevated to more than just hot dogs cooked over the fire. Camping stovetops are made to be compact, lightweight, and sturdy for use on uneven surfaces. You can choose between a single or double burner stovetop based on your needs, just keep in mind a double burner will be heavier and bigger than a single burner. 
Camping with an electric stovetop is a great way to recharge your body with a home-cooked, hot meal after a busy day outside. Another simple alternative is preparing a meal in a crockpot for easy prep and clean-up.
Speaking of cleaning up, you don't have to skip a shower because you're sleeping outdoors. Stay squeaky clean with an electric camp shower that can be powered by your inverter. 
Camping comes with a lot of smells whether it's smoke from the campfire or sweating from a long hike. Either way there's a good chance you'll want to freshen up during your trip. There are dozens of electric camp showers on the market to choose from including several affordable options that are less than twenty dollars. When shopping for a portable camp shower, look for reviews based on the ease of use, durability, portability, and functionality of the design.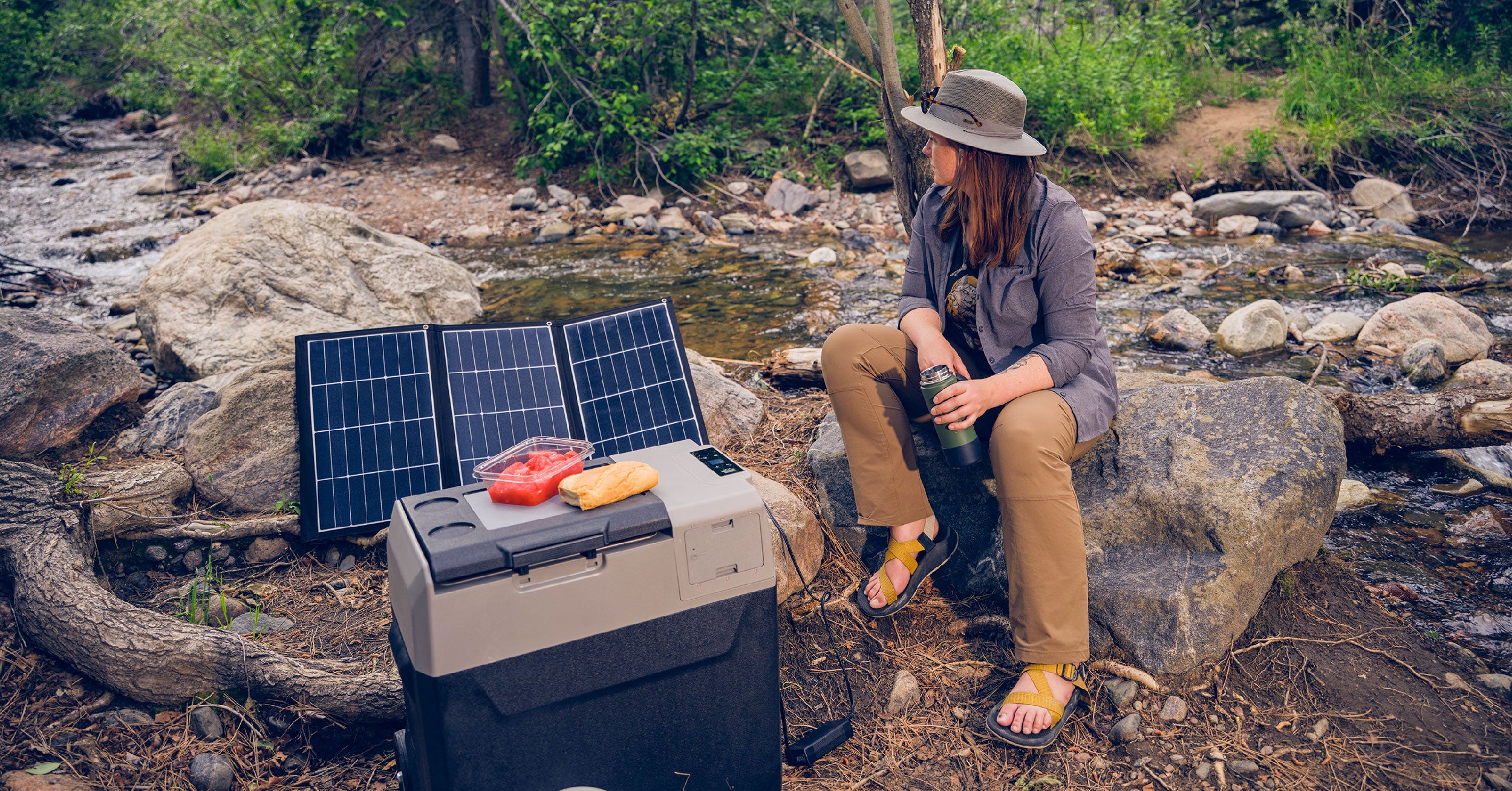 Use some of the time you save to hit the trails on an electric bike (e-bike). Like a traditional bicycle, you pedal with your legs but an e-bike has a battery-powered electric motor so you can explore more in less time. When you're done riding for the day, simply recharge with your power inverter to be ready to ride again tomorrow. 
Incorporating electric gear and fun gadgets into your camping lineup adds convenience, fun, ease and comfort to any trip. Go electric and experience the outdoors in style this summer!
About Tri-State 
Tri-State is a not-for-profit cooperative of 45 members, including 42 electric distribution cooperatives and public power districts in four states, that together deliver reliable, affordable and responsible power to more than a million electricity consumers across nearly 200,000 square miles of the West. For more information about Tri-State and our Responsible Energy Plan, visit www.tristate.coop