1/6/2021
Fun Winter Activities for the Whole Family
Snowy, winter days are here, which means outdoor snow activities. Whether you're heading outdoors for the slopes, trails, ice skating rink, or backyard, remember to practice safety first. 
Is it too snowy to go outside? We also have some unique winter activities within our members' footprint throughout Colorado, Nebraska, New Mexico, and Wyoming mentioned throughout. Finally, note our favorite indoor activities for the kids at the bottom of the list!
Outdoor Winter Activities
Our member territory is wonderful for outdoor winter activities! From snow skiing to ice skating and everything in between, there is something for everyone to enjoy.
Sledding
If you're lucky enough to have a nice, safe slope nearby, there's nothing more fun than sliding down fresh snow on a sled. Find a good hill and grab your tube, or sled and hit the hills. This is a safe, close to home activity the whole family can enjoy for a few hours. For safety reasons, toddlers should ride with a parent and be bundled up in layers for warmth and extra padding. Be sure to check out Legion Park in Sidney, Nebraska located near member,  Wheat Belt Public Power District. This is a great spot for sledding and tubing. Learn more with this list of winter recreation activities in Sidney and safety tips.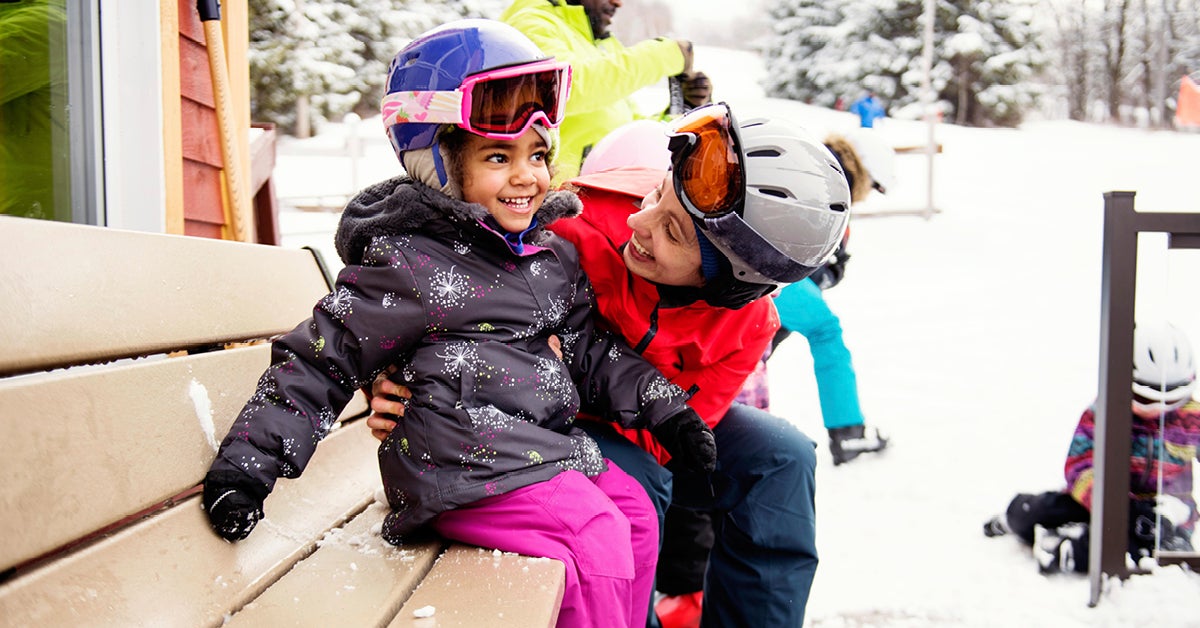 Skiing, Snowboarding & Skijoring 
Skiing is definitely a family favorite during the winter months. Some children start skiing as young as age 3, but the ideal age is around 5 when kids are more coordinated. For beginner skiers, most ski resorts offer "the bunny slopes" for safe, easy learning. Granby Ski Resort in Granby, Colorado, is a wonderful family resort. This resort is part of our Mountain Parks Electric Association service area. 
Ski lessons are advisable for beginners of all ages, and it's essential to purchase protective gear such as a helmet, and  elbow and knee pads for snowboarders, in case of falls or crashes. Keeping with easy slopes, in the beginning, is always advisable until you are ready for more challenging slopes.
Ever heard of "Skijouring"? This is one of our favorite events within our footprint located in Saratoga, Wyoming February 6th & 7th, 2021. Register or bring the family for some great entertainment, food and prizes! This event will follow safe social distancing precautions and  working with Carbon County Public Health to follow COVID-19 guidelines. This event is located within the service territory of our member,  Carbon Power & Light, Inc.
 
Ice Skating
The winter months call for at least one ice skating day! Fortunately for many Colorado residents, the ice-skating season is both abundant and outdoors. Many resort towns such as Aspen, Crested Butte, Breckenridge, Pagosa Springs, and Durango have a frozen pond or lake that opens for ice skating each winter. Most of these rinks are completely outdoor, while some are partially covered with a roof. Bring your own ice skates or rent a pair. An outing to a nearby town for ice skating is the perfect day trip or weekend getaway for the whole family.
Snow Shoeing
Families that like to hike together will enjoy snowshoeing, too! Kids can have fun wearing snowshoes exploring trails through forests. Many outdoor retailers have snowshoes available for adults and children, and poles for kids as young as age 2. Poles are optional depending on the trail, snow conditions, and your child's skill level. Getting out in nature for a snowy hike is a great way to get in some fresh air and exercise for everyone in your family.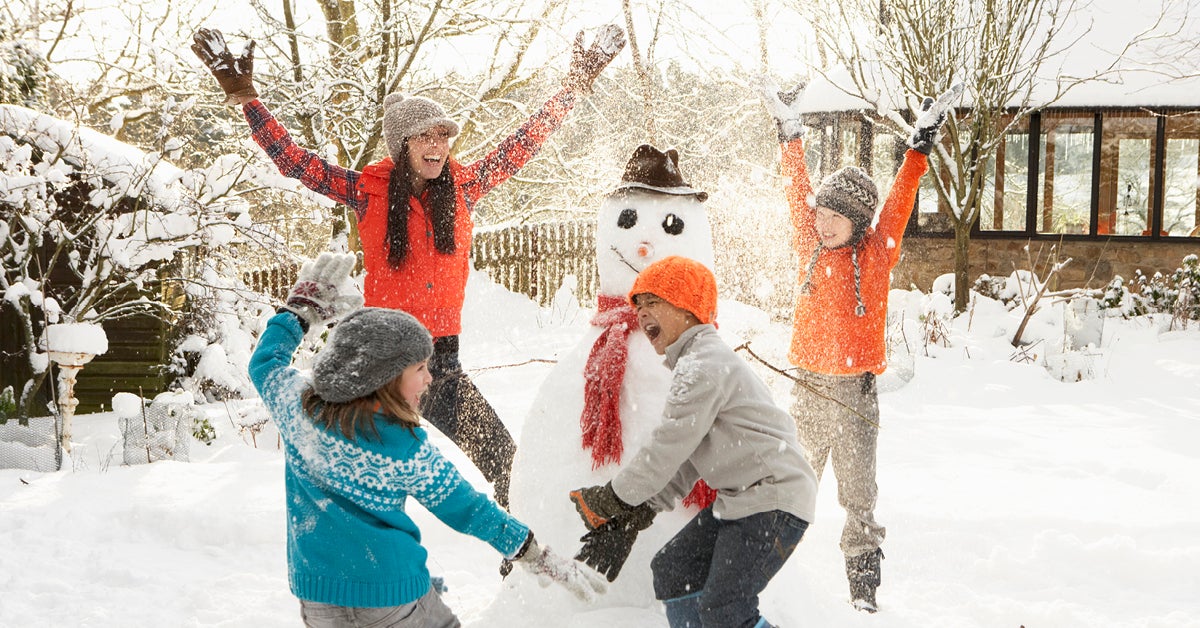 Build a Snowman
Building a snowman has always been a top winter activity for kids and adults alike. Get creative and pick an animal or a favorite cartoon character to recreate in the snow. Add fun accessories like hats, eyes, and scarves, too. While you're at it, make a snow angel!
Build an Igloo
For boys and girls who love forts, there is nothing more fun than building an igloo. For safe instructions and how to build an igloo, visit Home Science Tools. Once the fort is built, have a snowball fight.
Hot Springs
Soak your worries away in one of the many hot springs throughout Colorado, New Mexico, Wyoming and Nebraska. One of our personal favorites is the Jemez Hot Springs in Jemez Springs, New Mexico. Not only is this a great place for rejuvenation with natural mineral springs, but it's surrounded by views of the Jemez mountains. This winter activity is serviced by member, Jemez Mountains Electric Cooperative, Inc.
Indoor Winter Activities
Indoor winter activities can be just as much fun as outdoor sports. To beat the winter blues, indoor family fun is a great time to make hot cocoa, talk, make memories, and just enjoy each other's company. Here are some other ideas to keep everyone entertained indoors.
Create Arts and Crafts Stations 
Set up a painting table, a sewing table, and a general craft table. Keep the kids (and yourself) busy making ornaments, art, cards, pillows, or other crafty crafts. Love to color? Add crayons colored pencils and markers with a variety of coloring books.
Bake Cookies
Who doesn't love the aroma of warm vanilla wafting through the house? Get the family together and bake cookies. Using an electric stove is a great way to get an even bake and the perfect crisp on the edges. The electric grid is increasingly powered by clean energy, so using electric-powered home appliances results in lower overall emissions.
Play Board Games
Classic family board games like Monopoly, Scrabble, Life, Connect Four, or even Checkers are a great way to spend fun, quality time together. Ask the kids if they have any games they'd like to add to the game collection. Try their games, too! You might be surprised by how fun a few rounds of Mario Kart can be!
Create Puzzles
For those who love a challenge and enjoy long term projects over the winter, a puzzle is a relaxing way to pass time and problem-solve. Try adding cross-word puzzles, Sudoku, or other puzzle games to your activity drawer collection.
Make Slime or Silly Putty
Kids LOVE making their own slime – from fluffy slime to crunchy slime. Have younger kids and want a less messy alternative? Make good, old fashioned silly putty or play-doh.
Reminisce with Old Family Photos
Break out the old family photo albums and share stories with the kids. Make a family tree or scrapbook to help kids learn more about their history and ancestors.
Participate in STEM Activities 
For kids who love STEM (Science, Tech, Engineering, Math) we have compiled an entire article on some of the best free STEM websites to keep kids engaged and busy learning.
_________
Tri-State is a not-for-profit cooperative of 45 members, including 42 member utility electric distribution cooperatives and public power districts in four states, that together deliver reliable, affordable, and responsible power to more than a million electricity consumers across nearly 200,000 square miles of the West. For more information about Tri-State and our Responsible Energy Plan, visit www.tristate.coop.