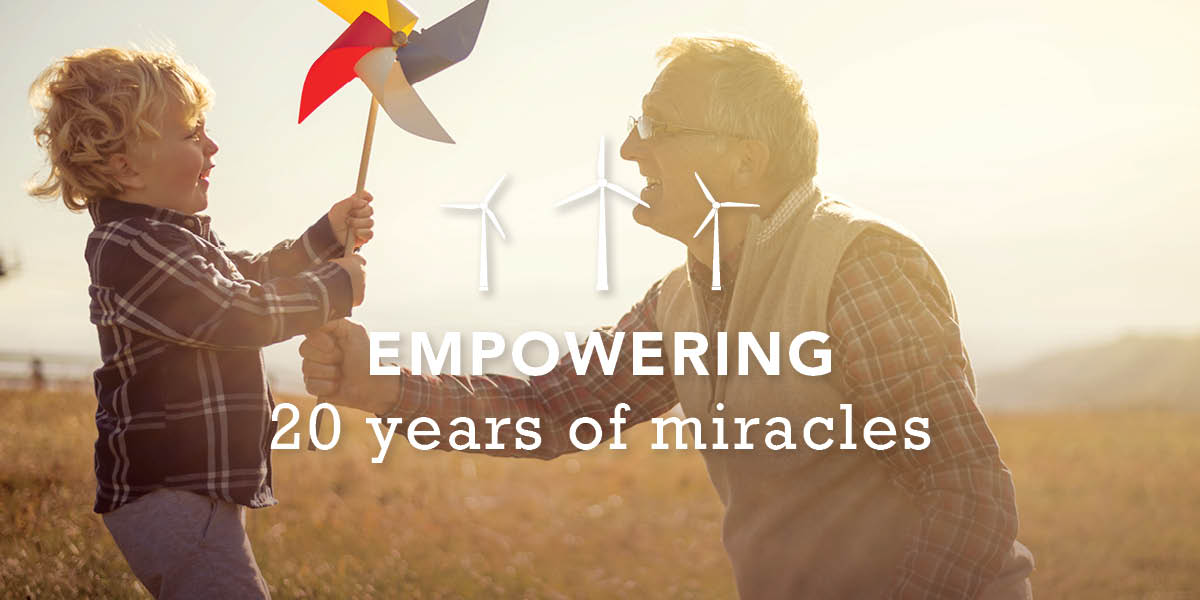 1/21/2021
Empowering 20 Years of Miracles at Children's Hospital Colorado
Alice 105.9 'Cares for Kids' Radiothon raises $23 million for Children's Hospital Colorado
Supporting the health and wellbeing of children and families in the rural communities we serve is a primary focus for us. That's why we are a proud supporter of the Alice 105.9 Cares for Kids Radiothon, which raises money for Children's Hospital Colorado.
Now in its 20th year, the Radiothon has raised over $23 million to support healthier futures for kids through the generous support of listeners who commit to becoming Miracle Maker donors. The nonprofit hospital serves a seven-state region with specialty medical care.
Our employees will once again serve as volunteer callers on Feb. 10 and Feb. 11 during the live fundraising drive. Volunteer callers will work from home this year because of the pandemic, but that hasn't dampened the enthusiasm of employee volunteer ambassadors. 
"This is one of our employees' favorite events," said Brigid Woodward, who leads People and Culture for Tri-State. "Ambassadors are personally moved by the experience listening to callers' stories of challenge and loss, and their compassion to help other families."  
Tri-State member Morgan County Rural Electric Association (MCREA) supports Children's because the hospital directly impacts its community. MCREA member, Kristen Mettlen credits the Children's medical team with carrying her through the last two years of treatment for her 13-year-old son Ben, who has an inoperable brain tumor. 
"The doctors and staff do a really good job of not just caring for the patient, but caring for the patient's entire family," Kristen said. Read the feature about her son, Ben.
Matching Gifts up to $40,000 Supported by Event Sponsors
Please join your local electric cooperative, Tri-State and all our members in supporting the next 20 years of miracles at Children's Hospital Colorado. Gifts made to the hospital will be matched up to $40,000 by generous event sponsors. Visit the Alice 105.9 Cares for Kids Radiothon website to learn how to give. 
Highlight Reel from 2018 Radiothon
Because of the pandemic, our team is supporting Children's Hospital virtually, but we're there in spirit. Here's a video from 2018 to highlight the positive culture of this annual event.
Living Our Cooperative Principle of Commitment to Community
Tri-State and our members are proud of our role in providing electricity to rural communities. Our commitment to our cooperative family runs much deeper than the essential service we provide.
Our members are at the heart of our cooperative. We support them when they face challenges and we celebrate their achievements. Tri-State and our members support dozens of organizations across the rural communities in the four-states we together serve, helping address local needs, create capacity and sustain the fabric of rural life. 
By supporting our cooperative family, our employees, members, and the communities we serve, we live up to our cooperative principle of Commitment to Community.
Employee Volunteerism and Matching Gifts
Our people are given a paid volunteer day off to give back in their communities. We also match employee contributions to local non-profit organizations, allowing them to give more to the causes most meaningful to them and their communities.  
Community Boards and Committees
We encourage our employees to serve volunteer positions with community boards and commissions, including Chambers of Commerce, economic development associations, water and agricultural statewide groups, and business associations. This keeps us connected to the non-profit organizations, in-kind assistance, and community programs that are most important to our members at the end of the line.  
---
Tri-State Volunteers Team Up With Houses For Warriors to Rebuild a Local Veteran's Damaged House
Tri-State, EPRI Team Bring Farm in a Box to Craig, Colorado School District
Carbon Power & Light, Tri-State, WREA team up to support fire departments
---
About Tri-State
Tri-State is a not-for-profit cooperative of 45 members, including 42 member utility electric distribution cooperatives and public power districts in four states, that together deliver reliable, affordable and responsible power to more than a million electricity consumers across nearly 200,000 square miles of the West. For more information about Tri-State and our Responsible Energy Plan, visit www.tristate.coop.