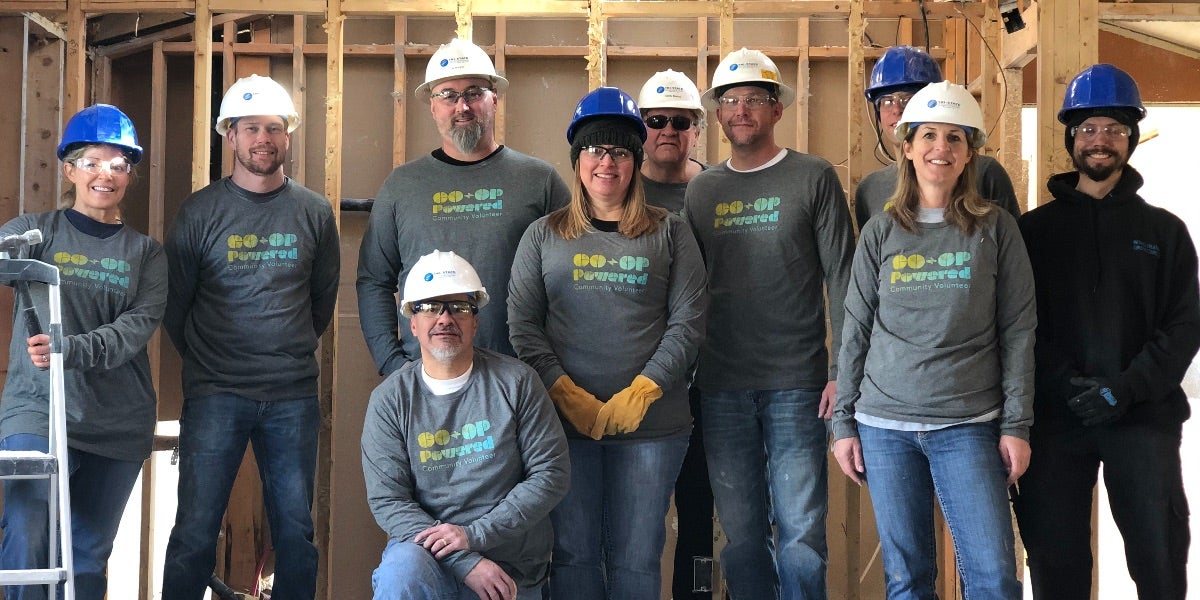 Tri-State Volunteers Team Up With Houses For Warriors to Rebuild a Local Veteran's Damaged House
Modeling the cooperative principle of concern for community, Tri-State employees have the option to take a paid day to volunteer in their communities. To make the most of that opportunity, a team of Tri-State volunteers from our Transmission Maintenance team partnered with Houses For Warriors to help rebuild a home in Lochbuie, Colorado, on Wednesday, February 26, 2020. This local nonprofit provides stable housing for transitioning homeless and at-risk veterans.
The home of Army Veteran Del was hit by a major hailstorm in 2018, leaving a damaged roof and ongoing problems caused by the subsequent leaks. The conditions would be challenging for any homeowner, but were further complicated by the fact that Del suffers from a rare form of spinal cancer that has confined him to a wheelchair. Houses for Warriors rallied support for this project in many forms, including sponsorship of the project, donated roofing and electrical materials, and the labor of teams like the Tri-State employees who helped remove the old roof, light fixtures, trim, doors and more.
"We saw this opportunity and wanted to come out and help the community," said Sage Williams, Transmission Maintenance Manager (East). "It's close to my heart because of the focus on veterans, which we have a lot of at Tri-State. We see veterans out investing in their communities all the time, and it was nice to be able to give back to them as well."
"This project is also to launch the nonprofit," said Andrew Canales, Founder of Houses For Warriors. "And we'll be doing multiple projects like this throughout the year. Tri-State is awesome for coming out, I really appreciate all the volunteers!"
As a cooperative, community involvement is at our core. We offer each employee the opportunity to take a workday to volunteer for a cause they are passionate about. Throughout the year will be highlighting these events on social media @tristategt and in our news stories at triste.coop/media. Watch the video below to learn more about Houses For Warriors, stories from our volunteers and behind the scenes renovations.