2/17/2021
Electric Vehicles in Colorado: How Tri-State is Helping Members Transition 
As States Speed the Transition to Electric Vehicles, Tri-State is Helping Members Prepare
One of the next big technological transitions we will see in our lives is the electrification of transportation. Nearly every state – including all four served by Tri-State and its members – offer incentives for electric vehicles (EVs), and in just the first half of this year alone, most states have taken additional steps related to EVs. As our states adopt policies to speed up this major change in the transportation sector, Tri-State is taking action to ensure its members are ready.
How Colorado is Pushing for 1 Million EVs by 2030 
Recently, Colorado became one of the states making the most ambitious moves toward a nearly all-electric transportation sector with a flurry of new legislation and an updated 2020 Electric Vehicle Plan. The state aims to have nearly 1 million light-duty EVs on the road by 2030, with the ultimate goal of a 100% electric fleet of passenger cars, trucks and light commercial vehicles.
"We see transportation electrification as something that is very much in the economic interest of the state and something that will bring significant cost savings to consumers across Colorado. But it's also essential to meeting our climate goals and achieving federal air quality standards throughout the Front Range," said Will Toor, executive director of the Colorado Energy Office, in a recent presentation to the Colorado Rural Electric Association.
In just the last couple of years, Colorado lawmakers have passed several new laws to assist the transition to EVs. They include: an extension of EV tax credits, a requirement for investor-owned utilities to develop transportation electrification infrastructure plans, the removal of restrictions on EV-only manufacturers to allow them to bypass dealerships and sell directly to consumers, and a new Zero-Emissions Vehicle standard that requires auto manufacturers selling in Colorado to increase the percentage of electric or hydrogen vehicles they sell each year. 
Colorado is also working to quickly expand the network of EV charging stations. The state has awarded more than $6 million in grants for the installation of almost 1,000 EV charging stations through the Charge Ahead Colorado program. It is also coordinating with seven other states to align EV plans, policies and investments to allow for seamless travel across the Intermountain West region.
"A bunch of policy pieces have gone into place to help address the upfront costs of the vehicles, the availability of EV infrastructure, and vehicle model availability," Toor said about barriers to adoption of EVs. "But it's pretty clear there's a force that needs to be addressed: the understanding that Coloradans have about EVs."
Colorado's EV Fast-Charging Network in 2020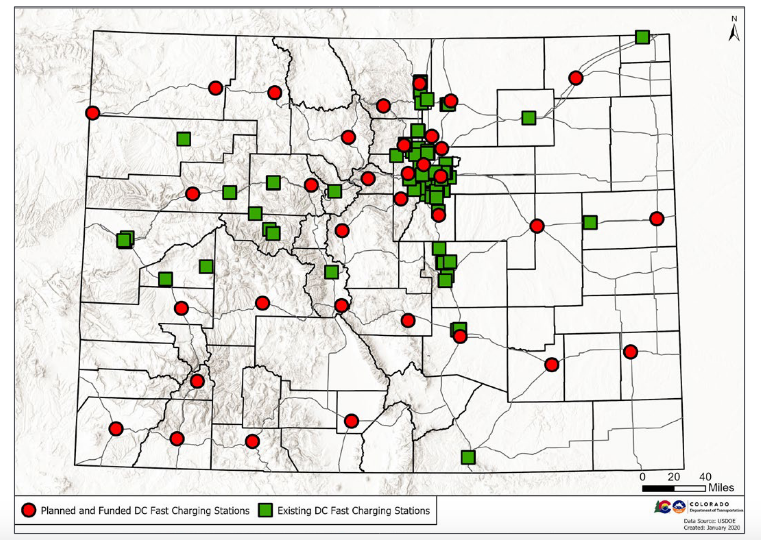 Most EVs are charged at home overnight with standard electrical outlets, but special DC Fast Chargers allow travelers to recharge their vehicles in just 20 to 30 minutes. Source: Colorado Energy Office
Consumer Adoption of EVs in Colorado
The number of EVs registered in Colorado has nearly tripled over the last few years, from 11,238 in August 2017 to about 30,700 today. But there is still a long way to go to get to a million, and researchers say getting consumers to understand more about EVs is key.
"EV awareness is low and not improving as quickly as we would like in Colorado," said Bill LeBlanc from the E Source consulting group, which recently completed an EV market research project for the state's energy office.
LeBlanc shared a graph of the anticipated timeline for mass adoption of EVs in Colorado, showing the state currently in the early market for EV purchases, driven by "early adopters" of the new technology. He expects the mainstream market for EVs adoption to begin around 2024 – if informational and marketing campaigns successfully reach consumers.
EV Adoption Timeline for Colorado
According to market research, the majority of EVs in Colorado will be purchased between 2024 and 2032.  Source: Colorado Energy Office and E Source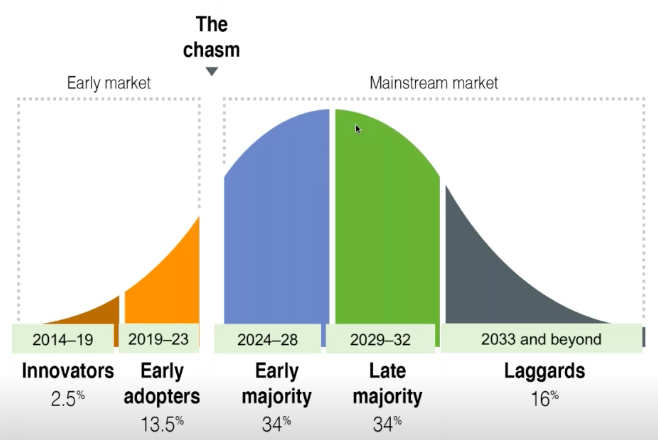 Based on market research, LeBlanc believes some of the top misconceptions consumers have about EVs are:
Charging: Nearly 70% of Coloradans believe you need special equipment to charge your EV at home. Many believe charging has to be done at special charging stations with a process they don't understand. In reality, most EVs can be charged overnight with standard 110-volt or 240-volt outlets, and charging an EV is as simple as charging your cell phone—you just plug it in. (Comedian Tom Papa makes this point convincingly with slow-mo replay in a new series of short videos about EVs.)

Range: Consumers cite "range anxiety" as a barrier to purchase of an EV, even though 80% of people drive less than 30 miles a day. They may be unaware of the quickly expanding network of public EV chargers that enable EV use over long distances. LeBlanc says plug-in hybrid EVs which can also be fueled with gasoline may be an excellent bridge technology, but there are limited models available. 

EV Prices: Many consumers think EVs are still too expensive. The majority of Coloradans are unaware of the up to $12,500 dollars available to them in federal and state tax credits that would make their new vehicles cheaper to buy. Plus, when they factor in the thousands saved in fuel and maintenance costs, the total cost of ownership is often lower.
LeBlanc also added that about 80% of consumers believe the environmental benefits of EVs are important, including contributing to better air quality, reducing the country's dependency on oil and foreign oil, preserving Colorado's environment for future generations, reducing carbon emissions, and mitigating the impacts of climate change.
While the environmental benefits are key – especially in Colorado where emissions from vehicles will soon be the top source of greenhouse gas emissions and where metro areas have struggled to meet federal air quality standards – LeBlanc believes consumers who have opportunities to ride in an EV discover other practical benefits: EVs accelerate faster, have more trunk space, are quieter, and more.
But getting opportunities to personally experience and learn more about EVs will be difficult if dealerships are not motivated to show and advertise them because they don't have them on their lots. 
"Car commercials are every third commercial on a football game. Until car companies start pushing them because they can make money off them and they have the models available, it will be harder to get the message out to people," said LeBlanc.
Tri-State Promotes Initiatives to Expand EV Access and Adoption
America's electric cooperatives are making sure their communities are included in the EV transition – sharing information and ensuring access to public EV chargers in rural areas. 
Tri-State Generation and Transmission Association is taking a number of steps to support its members' efforts. These include:
The EV Experience Fleet – Tri-State has purchased several all-electric and plug-in hybrid electric vehicles – including sedans, minivans and, soon, trucks – which member systems can borrow for up to a month at a time. Staff at local utility electric distribution cooperatives and public power districts can use the vehicles, and they can hold ride and drive events in their communities, which are especially helpful in rural areas where residents may not have easy access to EV test drive opportunities.

EV Infrastructure Funds – Each Tri-State member system is eligible for up to $45,000 to use for the purchase and installation of public EV chargers in their communities. 

EV Charger Rebates – Tri-State offers rebates for residential and commercial installations, ranging from $500 to $7,500 for the purchase and installation of EV chargers. A consumer member who installs a Level 2 charger (which is a 240-volt outlet like those used for electric dryers) is eligible for up to a $500 rebate for a residential installation or up to $1,000 for a publicly available Level 2 installation. Rebates are available for up to $5,000 for the installation of a publicly available DC Fast Charger. 

Choose EV Digital Toolkit – Tri-State offers this web tool to assist member systems in sharing EV education resources with their communities. The local cooperatives can embed Choose EV modules on their websites, which include helpful information for consumers such as an EV model comparison tool and fuel cost savings calculator.   

EV Consumer Education Videos – Tri-State is beginning a new collaboration with other stakeholders to develop short informational videos about EVs and EV charging that member systems can co-brand and share out with their communities on social media.
Tri-State's efforts to expand EV access and adoption in rural areas is an important part of its bold new Responsible Energy Plan. It outlines how Tri-State is quickly transitioning to low-cost renewable energy and ensuring the communities it serves can reap the economic and environmental benefits of clean power – in their homes, farms and businesses, and, increasingly, on their roads.
Electrify and Save™ 
___________
Tri-State is a not-for-profit cooperative of 45 members, including 42 member utility electric distribution cooperatives and public power districts in four states, that together deliver reliable, affordable, and responsible power to more than a million electricity consumers across nearly 200,000 square miles of the West.