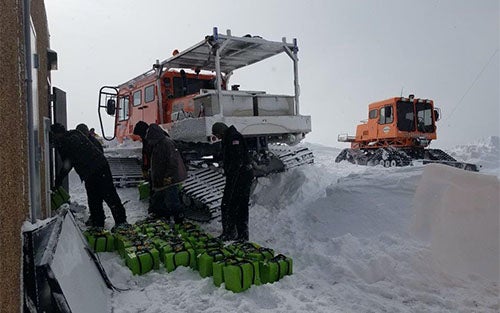 Tri-State's Montrose Maintenance Center helps out a neighbor
Chris DePuy is a community-oriented guy.  As a communications technician at Tri-State's Montrose Maintenance Center and a 25-year resident of Montrose, Chris has been involved in regional first responder activities for several years. Chris is also a volunteer with the Montrose Sheriff's Posse and keeps up with the latest issues involving the county.  
Those relationships came in handy in mid-January when the Hinsdale County communications tower located on top of Hill 71, a 12,305 foot mountain, went dark. The solar battery pack providing energy to the station had drained and there was a problem with the back-up generator.  The tower is critical for emergency service response and serves a 30-mile radius for calls including Colorado State Patrol, CDOT snowplows and other first responders in Hinsdale, Gunnison and Mineral Counties.  
With an urgent need to replace the drained batteries, Hinsdale County appealed to its neighboring counties Gunnison and Montrose for workers and equipment to assist them. Montrose County Emergency Manager Don Angell called Chris and asked Tri-State to contact the Hinsdale County Emergency Manager to ask if they would like assistance in reaching the high altitude station. They said "Yes." Chris immediately notified Transmission Maintenance Manager Mac Fellin, who quickly worked through Tri-State's internal channels (Ruth Marks and Joel Bladow) for final approval to provide assistance to the county, setting up a successful neighbor-helping-neighbor situation. At the same time Dave Sayles, Tri-State's Business Resiliency Manager and Crisis Management Manager was coordinating efforts with the Colorado Emergency Operations Center. 
Montrose Maintenance Center employees John Verhoeven, Jeff Perkins, Bob Schwab and Keegan Burke were ready. The first problem: how to reach the tower at the top of the mountain through the heavy snow. Mac Fellin and Line Maintenance Supervisor Brad Hauger decided to use Tri-State's newer and larger Tucker snow cat because it could haul heavier loads such as solar batteries or possibly a temporary replacement generator.  They sent Jeff on an eight-hour roundtrip drive to Craig to retrieve the equipment and haul the wide-load, 40-foot long snow cat and trailer back to Montrose. Craig-based Keegan Burke followed Jeff, hauling additional equipment to Montrose.  
With snow cat in tow, the group left early the next morning for the three-hour drive from Montrose to Lake City with the Commercial Motor Vehicle Chain Law in effect on Highway 50.  Upon arrival they met for a safety briefing and project planning session with members of Hinsdale County, including the maintenance, sheriff and emergency responders departments as well as with members of the Gunnison County sheriff's office and Hinsdale County commissioner Stan Whinnery.  
Off they went on what became a two-day critical repair project, involving several jurisdictions, multiple trips up and down the mountain, creative problem solving and harsh weather conditions.  
Tri-State's snow cat broke the trail to the tower site through six feet of snow, followed by Hinsdale and Gunnison County snow cats and snowmobiles. At the tower site the team, including Tri-State's John Verhoeven, evaluated the generator for repairs and removed the old solar battery bank. Once back down in town John repaired part of the damaged generator at the Hinsdale County shop and even returned to Montrose to get additional parts for the main unit. The next day the group made several more trips up and down the mountain and successfully installed new solar batteries at the station, repaired the generator and restored service to the communications tower.     
Strong interagency relationships and a coordinated approach to the plan translated into the project's safe and successful outcome. Chris, John, Bob, Keegan and Jeff embodied the Cooperative Model's Seventh Principle – we are committed to supporting and serving the communities where we live and work – and solidified important relationships for the future.