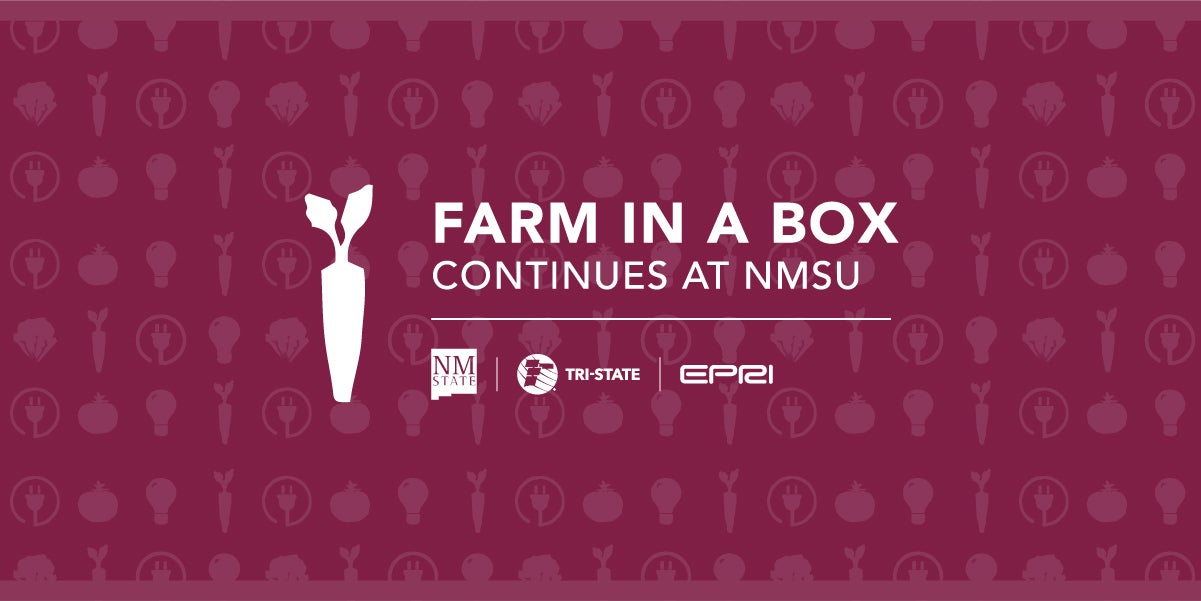 Tri-State's CEO Duane Highley joined New Mexico State University (NMSU) Chancellor Dan Arvizu and Electric Power Research Institute (EPRI) Senior Director David Porter on Sept. 10 in Grant, N.M., to dedicate the generation and transmission cooperative's second "Farm in a Box" effort to identify value-added alternatives for sustainable agriculture production in the region.
EPRI's agricultural pod, located at NMSU's Center of Excellence in Sustainable Food and Agricultural Systems in Grants, gives students the ability to produce various year-round crops, such as lettuce, kale, arugula herbs, flowers, carrots and radishes. It also will help educate students about agriculture, energy use, water use, light use, temperatures for growing crops, and other skills for the future.
"Tri-State recognizes that the transition brought on by our Responsible Energy Plan will have a major impact on coal-dependent communities, such as those tied to our recently retired Escalante Station. It is critical to us, under our cooperative principle of support for the community, to find new ways to leverage programs that can bring local educational, economic and lifestyle benefits," said Duane Highley, CEO for Tri-State.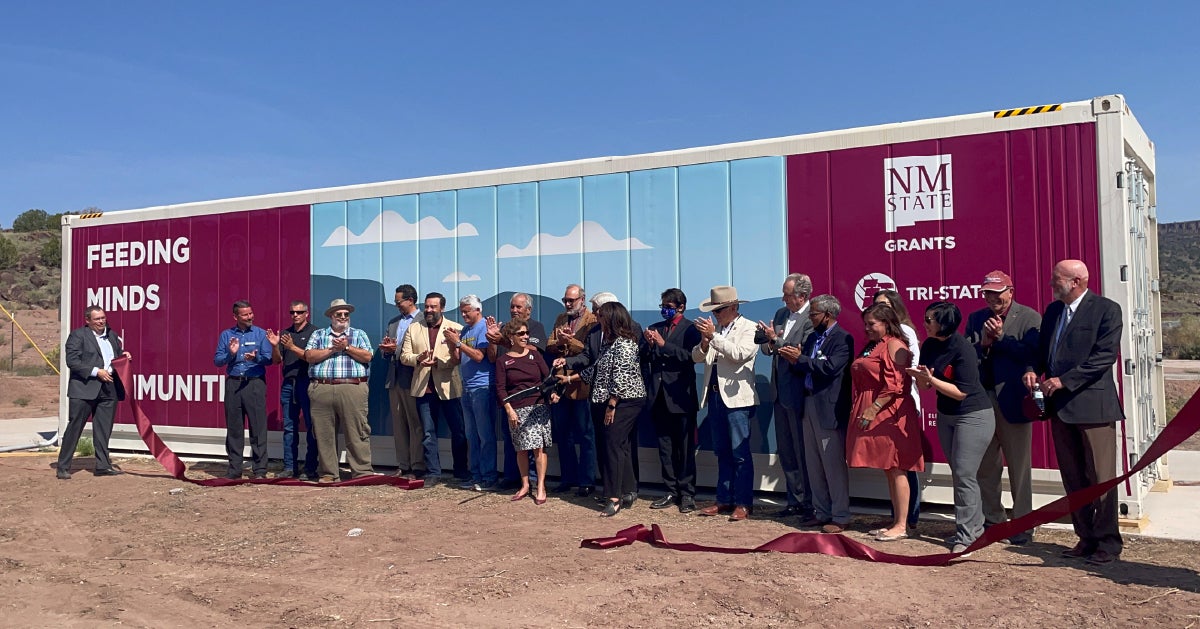 Tri-State provided funding for the EPRI container-farm project, and a one-time grant to cover costs associated with the indoor food production system and related analysis. Tri-State supported its first agricultural pod through the EPRI program at Moffat County High School in Craig, Colo., which was dedicated in November 2020.
For EPRI, the new agricultural pod in Grants was the eighth such installation, included in a total of 14 planned through the first quarter of 2022. 
"We're looking forward to working with Tri-State," Arvizu said. "They will be an important partner in our efforts to look for new options in both energy efficiency as well as economic development for our state."
The Center of Excellence in Sustainable Food and Agricultural Systems (CESFAS) was created in 2019 by New Mexico Gov. Michelle Lujan Grisham and the state legislature to drive innovation and build closer links between research, communities and industry. CESFAS will direct the project's research efforts with faculty members from the College of Agricultural, Consumer and Environmental Sciences, College of Engineering and NMSU Grants.
Container farms enable food production in small, tightly controlled environments and provide a solution to food deserts – areas that grapple with limited access to affordable, nutritious foods. They also offer the potential to promote the integration of clean and energy efficient technologies. 
The new, 40-foot-long shipping container installed in September in Grants is equipped with efficient lighting, temperature control, and plumbing infrastructure needed to grow crops inside the container on a year-round basis.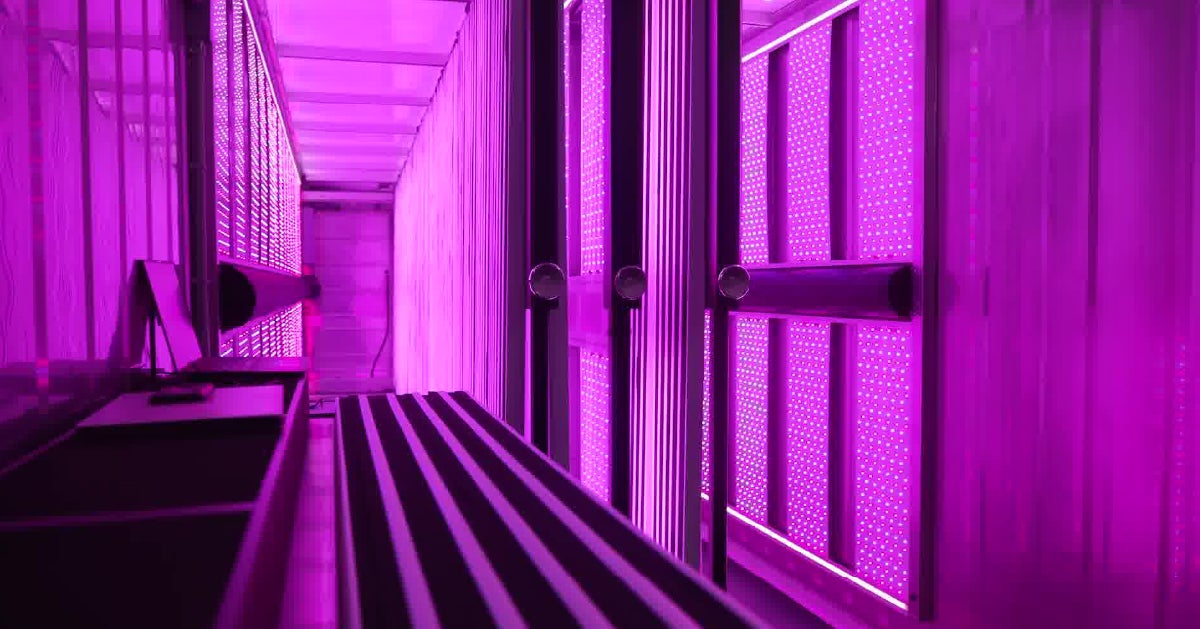 NMSU faculty and students will study the entire container system, which includes vertical, hanging plastic enclosures to grow crops connected to a closed-loop plumbing system to recycle all water. Researchers will monitor all energy and water use, plant productivity, the impact of red and blue LED lighting spectrums on plant growth, and the economics of the whole operation.
Once in operation, the container farm also will provide fresh produce for residents of Cibola County, where 29% of the population lives in poverty, according to the U.S. Census Bureau.
Since 2015, EPRI has been examining the operational, technological, sustainability, and environmental characteristics of indoor agriculture, by installing container farms across the United States and assessing their performance with local electricity providers, academic institutions, and other community organizations. 
For the first two years following installation, EPRI staff also will monitor the container to evaluate nutrient quality of the produce, utility program compatibility, community impacts, sustainability performance, technology trends, market drivers, electricity load profiles, and other broader environmental and economic aspects of indoor food production.
Over a three-year research period, the project will address issues related to food security, workforce development, job creation and economic development.
___________
Tri-State is a not-for-profit cooperative of 45 members, including 42 member utility electric distribution cooperatives and public power districts in four states, that together deliver reliable, affordable, and responsible power to more than a million electricity consumers across nearly 200,000 square miles of the West.