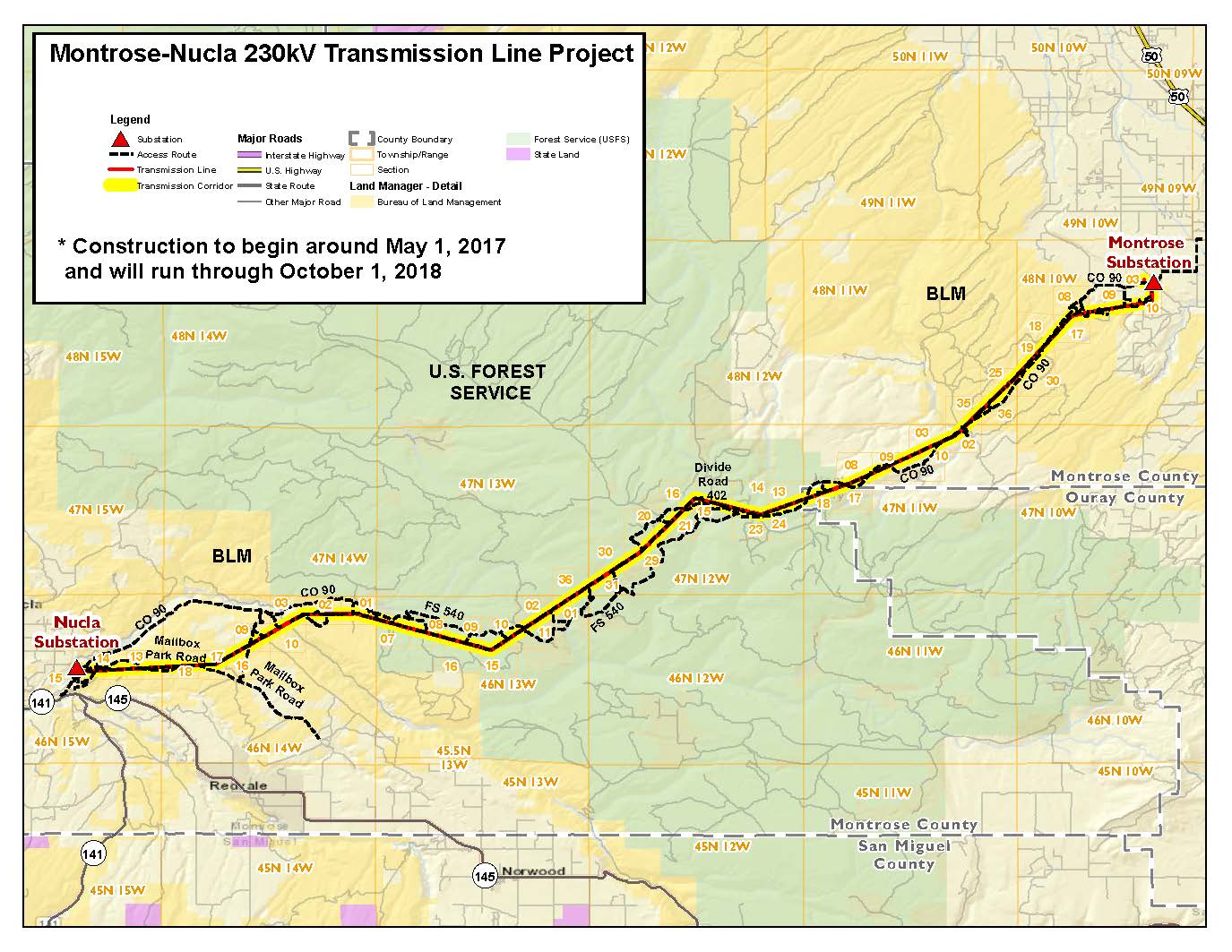 Transmission line construction beginning on Uncompahgre Plateau
Tri-State Generation and Transmission Association, Inc., is upgrading an existing transmission line segment between the Montrose Substation west of Montrose, Colorado, to the Nucla Substation near Nucla, Colorado.
Tri-State's construction contractor will begin upgrading the line segment beginning in September 2017 and is scheduled to complete the project in October 2018. Access road improvements and power pole pad construction is already underway in the Uncompahgre National Forest.
"No site closures are planned at this time," said Diana Leiker, Tri-State project supervisor. "Recreationists are encouraged to continue to enjoy their favorite activities."
The line segment is located in Montrose County and spans public lands administered by the Bureau of Land Management-Uncompahgre Field Office, the U.S. Forest Service-Uncompahgre National Forest and private lands. 
"The construction affects only a very small portion of the Uncompahgre Plateau," Leiker said. "Please be watchful for traffic advisory signs and reduced speeds near construction areas."
Heavy equipment will be used and all safety precautions should be taken to avoid portions of the right-of-way where construction is ongoing. 
"We've enjoyed a perfect safety record on this job so far," said Leiker. "Our primary goal will always be for the safety of our crews and the public."
For additional information, please contact the project hotline at 1-833-360-3393. Informational brochures, which includes a map of the project, are also available at the Montrose Public Lands Center, Norwood Forest Service, Colorado Parks & Wildlife and wildlife license agents.