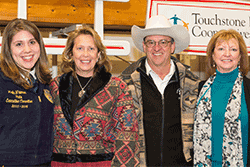 Touchstone Energy Cooperatives and Tri-State supports 2016 National Western Stock Show
For 18 years, Tri-State and its Touchstone Energy member cooperatives have supported the National Western Stock Show in Denver, which wrapped up Jan. 24, 2016. Show attendance was strong, with 686,745 visitors enjoying the 16 days' worth of events, making it the second-highest attended stock show in the event's history.
Touchstone Energy Cooperatives once again participated in the hitch ride. Ellen Connor, Tri-State's senior vice president of organizational services; Gary Small, executive director of Colorado 4H Foundation; Kaila Thieman, Colorado State FFA Officer; and Barbara Walz, Tri-State's senior vice president of policy & compliance were among those who attended. 
Tri-State member systems are primarily located in rural areas, so Tri-State's support of the stock show aligns well with their way of life. Three stock show events fund the National Western Scholarship Trust, producing enough for about 80 agriculture and rural medicine scholarships for students throughout Colorado and Wyoming.
Tri-State congratulates all exhibitors and competitors in the National Western Stock Show and Rodeo.