April 14, 2020
Teachers Re-Energized as Students Learn About Electricity Online
The Story Behind the Switch Sessions Online
Contributor: Michelle Pastor, Senior Education Program Advisor
I manage the education programs for Tri-State where my typical day includes time spent in local schools for The Story Behind the Switch, an interactive classroom session on electricity and science. I feel energized every time a student's eyes light up as they finally master a complex concept, or a child smiles with pride as he answers a tough question. One of the best parts of my day is interacting with students and celebrating these a-ha moments! Available at no cost to students and teachers in Tri-State's members' service territories. To schedule a session, contact your local rural electric cooperative or PPD or Michelle Pastor at: mpastor@tristategt.org
Bringing the Classroom to Kids at Home
My time spent in the classroom has changed with the new stay-at-home directive. Teachers have been tasked with creating these same experiences, but they have the added challenge of doing so remotely. To help out, I've created an online version of The Story Behind the Switch. My goal is to continue those a-ha moments and spark fascination with electricity remotely. Especially now while most kids are out of class during home for stay-at-home orders.
I'm bringing the science of energy to students in an engaging and participative session filled with oohs and aahs as students see the plasma ball light up and discover the science behind the electricity inside. They'll be shocked to see electricity jump through the air with the Van de Graaff generator. We'll also explore:
Power generation by wind, solar, hydro and fossil fuels
Renewable vs. nonrenewable resources
Energy efficiency
The path of electricity from the power plant to the home
Conductors vs. insulators
Electrical safety 
Electric cooperative career paths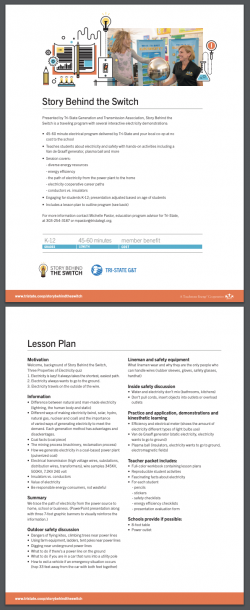 Tri-State is a not-for-profit cooperative of 45 members, including 42 member utility electric distribution cooperatives and public power districts in four states, that together deliver reliable, affordable, and responsible power to more than a million electricity consumers across nearly 200,000 square miles of the West.