7/25/2023
Powering the Future: Celebrating National Intern Day 2023 
Today on National Intern Day, Tri-State proudly recognizes and celebrates the invaluable contributions that our interns play in helping our company grow and succeed. Since its beginning in 2014, Tri-State's Internship Program has offered approximately 70 students experience and enrichment in their desired field. This year, with the arrival of summer, the Tri-State Internship Program offered a warm welcome to six new students, ready to infuse fresh, new energy and perspectives into our operations.  
Interns have expressed their appreciation and emphasized the depth of their growth from participating in the 3-month intensive program. Offering full-time, 40-hour weeks, the interns dive deep into Tri-State departments and tailor their program specifically to their desired interests. 
"The impact on the interns and Tri-State is very much a win-win. They learn and garner experience, which is great for their resume, and Tri-State obtains productive work," said Vice President of Transmission System Support Rick Hillis, a strong supporter of the intern program. 
Learning the Cooperative Business Model   
Exploring all facets of Tri-State business, the Internship Program begins by introducing the students to the Transmission Department and Energy Markets Departments at headquarters to fully understand the scope of Tri-State's internal processes and the cooperative business model. 
For a broader understanding, the interns have the opportunity to travel and explore the service territory, as they embark on tours of the Greenhouse Substation and the Colowyo Mine. These experiences not only supply insight into Tri-State operations, but also provide a chance to break out of the office environment and travel. 
Interns Gain Hands-on Experience at Tri-State  
The Tri-State Internship Program offers the hands-on work experience and positive references needed to thrive in future positions in each student's chosen career path. Some interns also find a long-term place at Tri-State, illustrating the program's efficacy as a successful recruitment initiative, dedicated to securing and nurturing young talent to power Tri-State's bright future. 
"An internship at Tri-State is special because of the incredible support from the employees," shared Jessica Vinson, Water and Remediation Intern. "I've been fortunate to work with a team of helpful and friendly individuals who have gone above and beyond to ensure my learning and growth."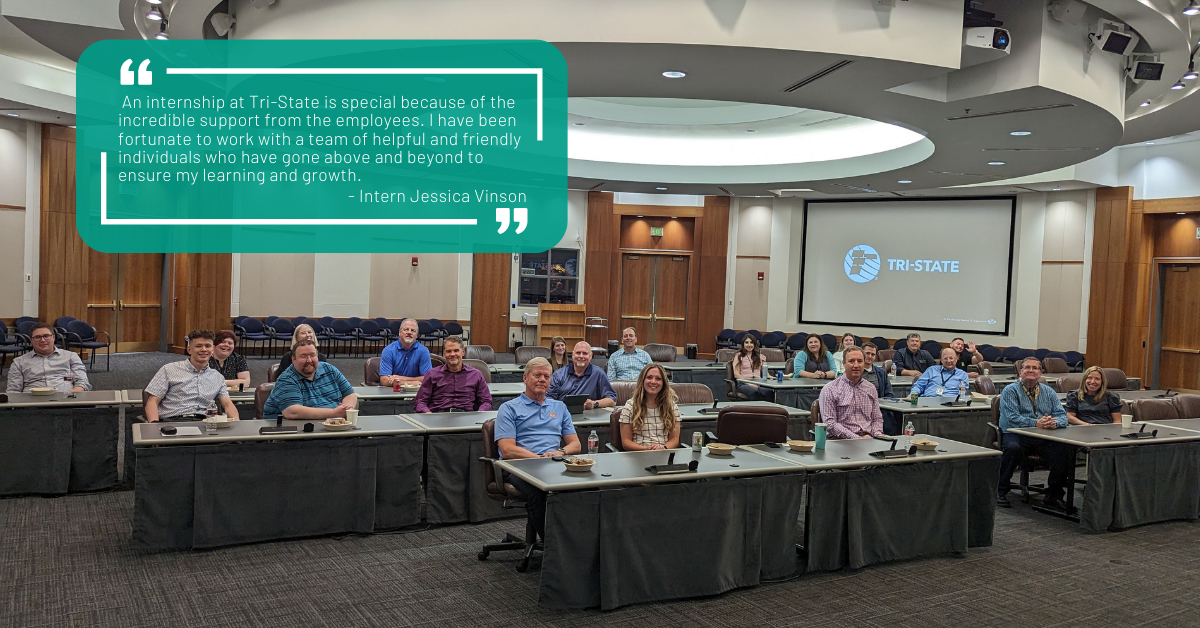 Each of our interns are students and recent graduates from local universities that have been fully integrated into Tri-State departments and programs.  
Here's more from our 2023 interns on their experience: 
Kyle McCarthy, Information Technology Intern - Colorado State University 
I am learning the inner workings of an IT department through my team's specialties like asset management, release/change management, vendor management, and how that holds responsibilities to both IT and directly to my focus with the ServiceNow project. 
My favorite memory is getting BBQ with all the interns after the Greenhouse Substation tour. 
A special part of this internship is the feeling of belonging. I don't feel lost in the crowd which at some internships you do. Here it's a 1 on 1 experience focused on you. You're not competing with anyone else in your department and it's a personalized learning experience. 
Jessica Vinson, Water & Remediation Intern - University of Colorado Boulder 
I have had the opportunity to dive into the world of data visualization using Power BI and work with groundwater data. One of my favorite memories has been attending pre-bids for Escalante and Nucla Stations. I gained valuable insights into various remediation methods.  
An internship at Tri-State is special because of the incredible support from the employees. I have been fortunate to work with a team of helpful and friendly individuals who have gone above and beyond to ensure my learning and growth. 
Molly Glandt, Instructional Designer Intern - University of Colorado Boulder 
I am learning a lot about production (gathering film, photos and recording audio etc.) and composition of our projects to ensure engagement of our audience.  
My favorite memory so far is visiting Craig, CO for the day and getting to go around the plant collecting content for upcoming projects.  
An internship at Tri-State is special because we get so many opportunities not only with tours and events but also with networking and getting to learn and work with several other departments. 
Noah Peterson, Electrical Engineering Intern - University of Colorado Denver 
Thus far in my internship, I have learned a great deal about the power industry and the role of a planning engineer. So far, the best memory I have had was site visits to various substations to see what physical hardware is behind the technical representations. 
The people that we as interns get to work with make this a worthwhile experience as everyone is helpful, knowledgeable, and humble. 
Robert Traxler, Power Plant Engineering Intern - University of Colorado Boulder 
During this internship, I have primarily been learning about the electrical subsystems within the power plant used to maintain the operation of the plant and support the generation of electricity. So far, the most interesting thing that I have worked on was supporting the code research and specification for the installation of a piece of replacement equipment. 
The internship with Tri-State is special because I am gaining hands on experience that is not really offered elsewhere while gaining valuable insight into the industry and company. I also gain new skills through the internship program activities and training. 
Aly Miller, Communications Intern - University of Wyoming 
Through my internship with Tri-State, I am working with both the Corporate Communications and the Marketing and Brand Communications team. I have been able to be a part of multiple projects with each department and gained valuable experience in my field. My favorite opportunities have been attending member events around our service territory and getting to interact and support meaningful community events. 
An internship with Tri-State is special because of the welcoming company culture. This is my 4th internship in my field, and Tri-State's breadth of experiences and intentional integration of the interns stands out above all others. I am very grateful to be a part of the Tri-State internship experience this summer. 
 
About Tri-State  
Tri-State is a not-for-profit cooperative of 45 members, including 42 member utility electric distribution cooperatives and public power districts in four states, that together deliver reliable, affordable and responsible power to more than a million electricity consumers across nearly 200,000 square miles of the West. For more information about Tri-State and our Responsible Energy Plan, visit www.tristate.coop.