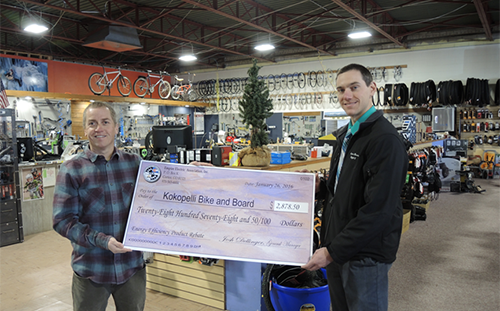 Empire Electric delivers rebates to local schools and tourism industry
Empire Electric's General Manager Josh Dellinger and Engineer Wendell Fry visited three of its consumers, presenting them with rebate checks for installing energy efficient equipment. This new equipment is going to lower energy usage and electric bill for years to come.
Montezuma-Cortez High School
The Montezuma-Cortez High School (M-CHS) installed a Ground Source Heat Pump in the new school building. M-CHS received $69,200 from Empire Electric and Tri-State Generation & Transmission, for a total rebate of $138,400. Heat transfer in the system is so good they were able to reduce the number of wells, and the entire operation can be managed by computer, iPad or phone.
"The rebates are incredible and a real game changer for us," said M-CHS Superintendent Alex Carter.
He also noted that the building was designed not just for today, but for the future. The school has received Leadership in Energy and Environmental Design (LEED) Gold Status – meaning it is an energy efficient and environmentally friendly building at its core. "The community really delivered when it decided to provide our students this incredible building," said Carter.
In addition to the ground source heat pump, the school also boasts a 50kW solar installation, solar lighting tubes, and LED lighting powered by automatic dimmer controls. M-CHS is not just at the forefront of energy technology, they also have the direct needs of students in mind. Principal Jayson Wayman demonstrated classroom technology that allows all classroom speech and writing to be recorded – so students who miss a class can catch up online with the same materials that were presented to their peers.
Ute Mountain Travel Center & Casino
The Ute Mountain Travel Center and Casino installed LED lighting for their parking lot. General Manager Bob Brooker said, "The new lighting really makes a big impression on our guests, they feel safer because its so much brighter." The Travel Center and Casino now has more efficient lighting which saves them money on the monthly electric bill. Empire General Manager Josh Dellinger presented them with a check for $11,603.